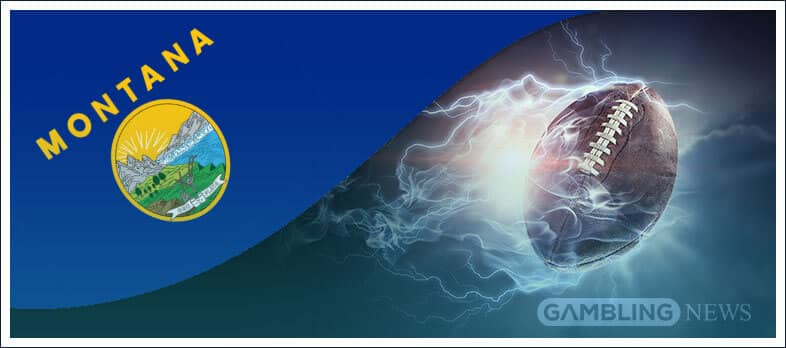 Sports betting in Montana is legal. The state successfully introduced remote sports gambling options through the Montana Lottery in March 2020 at the same time that the COVID-19 pandemic brought most sports to a halt.
However, Montana online sports betting has been doing well, and despite the initial lack of major US sports to bet on, things picked up soon after in the fall that same year. Today, the only legal sports betting option available to the state's 1 million residents is through the lottery, which runs on a platform supplied by Intralot.
In general, stakeholders do not believe that this is a successful model, but Montana's lottery has been collecting a fair bit of revenue. The highest betting handle was placed in January 2021, reaching $5,799,090 ahead of Super Bowl LV, which featured the Tampa Bay Buccaneers and the Kansas City Chiefs.
Montana lottery sports betting may not be ideal, but it allows the state to generate revenue and gradually limit the clout of offshore betting markets, which is ultimately what any successful sports gambling legislation should do.
Latest Gambling News in Montana
Montana Sports Betting Apps
Sports betting in Montana may be concentrated in the hands of just the State Lottery, but you can expect that Intralot's solutions are actually quite user-friendly. The state's app, Sports Bet Montana, uses advanced geo-tracking software that guarantees that you may only access sports gambling products from earmarked physical locations within the state's borders.
Having Montana authorize remote sports gambling would have been best, but as things stand today, Sports Bet Monta only allows you to place a wager "remotely" if you are actually in-person in one of the 2,000 or so authorized lottery locations.
The bets are limited to $250 at kiosks and $1,000 through the app or website, which should give you some flexibility and an additional incentive to place your next wagers on any sports betting event in Montana via the app.
Naturally, the market is hardly limited to local sports events, as the small state doesn't have much going on. Nevertheless, you can bet on any major American league or international sport and do so swiftly from the app, notwithstanding the small drawback of having to physically travel to a location before you do.
What Sports Bets Can You Place in Montana?
With the industry regulated and Montana residents having access to the full array of sports betting events from across the country and around the world, the question naturally comes up – what types of wagers and events can you back?
Sports Bet Montana allows you to access the website from over 2,000 locations, and this is good news, but more importantly, you have a great selection of wager types to choose from. Intralot's app covers every possible wager out there, including:
Moneyline
Totals
Point Spreads
Teasers
Pleasers
Parlays
Propositions
In-play
You can pick any event that covers a mainstream league or sport, including the NBA, NFL, MLB, NHL, MLS, or anything else. Naturally, you are not just restricted to local American sports, and Montana sports betting is much more versatile when it comes down to a choice.
Speaking of worthwhile markets, there are probably over 30 possible sports you can pick from. They all come with various markets and selections, fixtures, and odds that you can juggle between and pick the one that makes the most sense to back.
The lottery monopoly is not to everyone's taste, but the good news is that it's regulated, and that makes Montana sports betting safe and puts a particular focus on protecting consumers, which is what matters in the end.
At the same time, you are in no shortage of excellent sports betting markets and events to back, and you will have access to wagering options such as the Super Bowl, March Madness, World Series, Daytona, prime fighting and boxing tickets, PGA Tour events, tennis, and so much more.
Is In-Play Betting Available in Montana?
While there are a few challenges to address, sports fans in the state can still very much enjoy a full suite of betting options. Live betting or in-play is very much an option in Montana. Sports fans can place a wager on events taking place in real-time by using the dedicated Sports Bet Montana app.
The app is available for both Android and iOS devices, allowing you to have a reliable way of accessing in-play markets in the state. If you are new to live betting, though, it's good to know that this type of wagering is a little more intense, and it requires a lot more experience and understanding of the markets.
Still, thanks to a good live feed and lightning-fast odds updates, in-play betting is becoming more popular, including in places like Montana. One thing that would benefit the state's sports betting growth, though, is to have in-play wagers allowed remotely without the need to be in a physical location beforehand.
Can You Bet on College Sports in Montana?
Yes. Montana's sports fans will be in no shortage of excellent betting options, and college is one of them. The state may have imposed a monopoly, but it has certainly gone out of its way to ensure that the betting markets available will be up to fans' preferences.
The Montana Grizzlies and the Montana State Bobcats, two college franchises, play on an FCS level and not an FSB level, though, so that restricts the state residents' ability to back local franchised. As to local sports teams, there aren't any to speak of.
So, with this in mind, while you cannot bet on the local college franchises, you can still very much bet on anything college sports-related in the United States. The app makes sure that you have access to all available markets around the clock.
Can You Join Montana Sports Betting Online?
The short answer is yes. However, there is a caveat that will unfortunately still make Montana's sports betting landscape a little more challenging to navigate. While states such as Pennsylvania and New Jersey allow you to access sportsbooks from anywhere in the state, Montana is not exactly the same.
In fact, the only way you can bet online in Montana is by visiting one of the authorized locations and bet from there. Your mobile phone will ping your location to the State Lottery and its partner responsible for geo-tracking, which will then authorize the bet. It all happens instantaneously, of course, but you still need to actually travel in order to place a wager.
It's hard to say if this cuts into the competitiveness of the market. In Washington, D.C., this is definitely the case according to stakeholders. New York has been debating the launch of sports betting through a lottery-controlled entity, but that brought objections from stakeholders.
Are Fantasy Sports Available to Montana Residents?
No. While DraftKings and FanDuel are prominent and trusted brands in the United States as a whole, they are not allowed to operate legally in the state of Montana. This includes traditional and fantasy sports betting.
Daily fantasy sports betting is generally available in many states around the country, but those that fail to legalize it before rolling out traditional sports betting are reluctant to act on it later on.
Sports Bet Montana does not run any fantasy betting options right now, which could be a potential room for growth if the regulator decides to act. In the meantime, though, you can still bet on horse races in Montana, which is an alternative form of betting market to explore on your own time.
Overview
Sports betting in Montana is doing quite alright. The state started very slowly in 2020, but that is understandable as the sports world had effectively come to a halt. Things started to pick right back up with the return of the NBA and NFL in the fall. Since 2021, sports have been going strong, and Montana has been collecting around $3.5 million in the average handle.
State residents are happy to have a viable betting option close to home, but they surely can appreciate a little more freedom than visiting a retail location. Whether this is coming to the state is another matter altogether, though. For the time being, you can benefit from competitive odds, fair pricing, and many events to wager on so long as you are willing to swing by an authorized Sports Bet Montana facility.
FAQ
Is Montana sports betting legal? 
Yes. Montana sports betting was legalized in March 2020. The state operates its entire sports gambling industry through the state lottery. 
Does Montana have online sports gambling?
Yes. Montana offers online sports betting options. However, to place a bet, you need to be physically present in one of the locations approved by the lottery. That is over 2,000 authorized locations today. 
Are there mobile betting apps in Montana?
Yes. Sports Bet Montana offers Android and iOS mobile apps that can be downloaded directly on your phone and play through them. You must be in a physical location to place a bet, though.