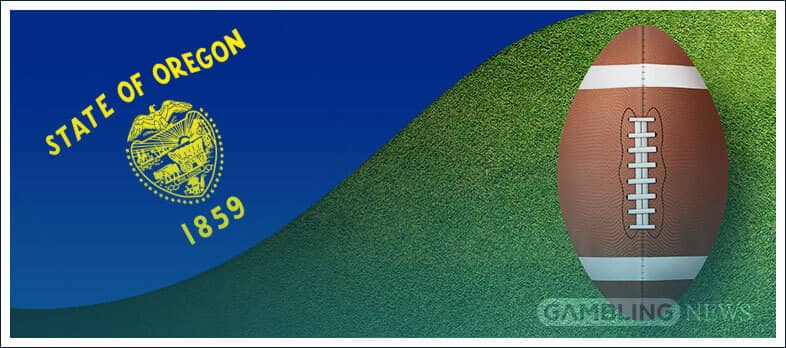 Oregon has legal sports betting, and even though the setup is not ideal, and the industry is controlled through the state lottery, residents are able to bet remotely and through mobile apps. Oregon's dedicated betting landscape is one of the earliest to set its mark on the USA betting industry as a whole.
Oregon launched back in August 2019 and effectively became among the first states to join the newly-regulated federal market where every state decides how to proceed with regulating their industry. In the case of Oregon, the state runs one government-controlled online sportsbook.
While this may appear a little restrictive, and it presumably doesn't allow Oregon to reach its full potential in terms of potential handle, there is still plenty of action going down. The state hasn't done too badly, too.
As a matter of fact, OR sports betting generated $45 million in total handle in 2019 and then topped that with roughly $218 million in sports handle in 2020, even though the year was marked by a pandemic. Things are looking up for Oregon in 2021, and we expect more worthwhile opportunities for bettors and the state alike.
Online Betting in Oregon: Who Is in Charge?
Oregon may have chosen to go after a lottery model, but it has done so successfully. The total annual handle for a state of 4.5 million residents isn't too bad when you consider everything.
Today, the Oregon Lottery has exclusive control and say in everything that pertains to sports betting, and it's backed by its technological partner, SBTech, which is beginning its third year of running successful operations for the lottery at the time of writing.
SBTech is definitely lucky to have secured the partnership as it allows it leeway in the state and eliminates competition outside of daily fantasy sports platforms, more or less. While this is certainly good news for the operator, there has been some bad news for how Oregon chooses to run business.
A report by Willamette Week argued that the state is losing money on its arrangement with SBTech, which proved to be actually against the public's best interest. Oregon took the matter to court and won, forcing SBTech to release the full details of its contract, something that SBTech originally refused.
However, any past contention has been put to rest as the Oregon Lottery has confirmed that it will be looking to shift away from SBTech's products and opt for a DraftKings-powered platform, which is a significant milestone for the fantasy operator.
Things are even more interesting when you consider the fact that DraftKings completed the acquisition of SBTech just last year, and as such, the contract will remain in the same company more or less. Regardless, the results so far demonstrate that interest in sports betting in the state has been significant.
Latest Gambling News in Oregon
Since there are bound to be new developments in the world of Oregon sports betting, it makes a lot of sense to have them all in one place. We make sure to go out of our way and provide you with everything that you need to know. From legal developments to new service providers to revenue updates so that you can see and compare in real-time and have definitive proof whether a state lottery can compete with open markets.
Oregon Sports Betting Apps: Beyond the Scoreboard
Even though Oregon has faced a bit of controversy getting things off the ground, things have been ticking over nicely. Essentially, the state is the sole proprietor of sports betting products, and the SBTech mishap aside, the lottery is coming better prepared into the next contract it will be signing with DraftKings, even though results are modest at this point.
Regardless, Oregon has adopted sports betting apps as the way to empower consumers and allow them to participate in sports gambling products around the clock, making it possible for fans to bet on the go and remotely. The lottery in the state may actually be bucking a trend where stakeholders have objected to concentrating too much power in a single entity.
DraftKings stepping in to replace Scoreboard shouldn't be that bad to begin with since the platform is established and trusted, and more importantly, DraftKings has a fantastic track record when it comes to actual mobile solutions. You will be happy to know that whether Oregon ends up with just the DraftKings or Scoreboard mobile betting app, you will have a quick and accessible way to enjoy yourself.
Retail Sports Betting in Oregon
Remember when we said that the only sports betting in Oregon are controlled by the state? Well, this is more or less true, but tribal casinos in the state are allowed by virtue of their government-negotiated compacts to offer any type of gambling that is allowed in other parts of the state.
As a result, the eight or so casinos controlled by tribes in the state are also eligible to offer sports betting, and some do, along with casino gaming and other gambling products that hold sway with the locals. Here is a list of the casinos that run sports betting in retail capacity in the state:
Indian Head Casino
Address: 3236 US-26, Warm Springs, OR 97761, United States
Kla-Mo-Ya Casino
Address: 34333 US-97, Chiloquin, OR 97624, United States
Seven Feathers Hotel & Casino Resort
Address: 146 Chief Miwaleta Ln, Canyonville, OR 97417, United States
Spirit Mountain Casino
Address: 27100 SW Salmon River Hwy, Grand Ronde, OR 97347, United States
The Mill Casino & Hotel
Address: 3201 Tremont Ave, North Bend, OR 97459, United States
Three Rivers Casino – Florence
Address: 5647 OR-126, Florence, OR 97439, United States
Three Rivers Casino – Coos Bay
Address: 1297 Ocean Blvd NW, Coos Bay, OR 97420, United States
Wildhorse Resort & Casino
Address: 46510 Wildhorse Blvd, Pendleton, OR 97801, United States
Sports in Oregon: What to Bet On?
Now that Oregon is moving towards a more favorable setup of its sports betting industry, you will probably want to know what sports are available to you. Presently, Scoreboard (and DraftKings in the future) offers a great selection of sports to pick from.
There are roughly 30-odd markets you can choose and bet on, including American football, baseball, basketball, boxing, golf, hockey, MMA, soccer, tennis, and more. In terms of wager types, you have a great selection here as well.
Anyone who is betting in Oregon will be able to do so on Moneyline, Point Spread, or Total. There are various opportunities to place Parlays, which are essential selections of multiple events and outcomes. Teasers and Pleasers are more advanced options as well that you will be happy with once you get sports betting down to a T.
One small drawback is the lack of college sports betting. That does not simply pertain to in-state teams but rather comes with a broader ban on all collegiate sports, which is what we would call the chink in Oregon's betting armor.
Without regulated sports betting on college games, it's easy to imagine that offshore sportsbooks still have some clout in the state and continue to draw away interest in a bid to capitalize on important college-level sporting events.
March Madness and the College Bowls pull in billions across the country in total handle every year, pandemic or no pandemic, and it may benefit the state to be the one picking those betting handles.
Daily Fantasy Sports and Oregon
If you are looking to bet on daily fantasy sports, you will be happy to know that you may do so as there is no law that currently prohibits the activity from taking place. However, there is also no single bill that authorizes sports betting on fantasy sports.
Regardless, FanDuel and DraftKings have felt fairly confident to operate without needing an explicit say-so by the Oregon Lottery or any other regulator for that matter. Now that DraftKings is confirmed as the successor of Scoreboard, it's evident that the state won't go against its self-interest and try to contest the status of fantasy sports.
With this said, you can definitely bet on fantasy sports in the state of Oregon. Not just that, but you can actually download a dedicated app and bet remotely. Remember that fantasy sports are different than traditional sporting events.
In regular sports, you bet on a player or a team, but in fantasy sports, you bet on the performance of individual players as a part of the team. It's different, but there is a lot of interest in DFS in Oregon, and they are definitely a factor.
How Easy Is It to Bet on Sports Online in OR?
Oregon may have been criticized for a few poor choices back in the day, but the platform it provides today is a sterling example of what an actual sportsbook should look like. Without going into too much detail about Scoreboard as it may soon be replaced, Oregon has struck the right vein in terms of what an online sportsbook should look like.
The sportsbook offers a fully-fledged sports betting product, bringing numerous markets to place a wager on but also taking a bit of an educational approach towards the entire institution. You will find how sports betting work directly on the website if you are new.
Apart from the spot-on market variety, you can also pick an in-play market. Live betting is very popular in Oregon as well as everywhere else in the country. With 5G networks improving rapidly, making split-second decisions as a sports bettor is suddenly much more accessible and valuable.
You will find numerous in-play betting opportunities with Scoreboard, and we are willing to bet that whatever the DraftKings platform brings us, a replacement will be equally good, if not better.
FAQ
Can you bet on sports legally in Oregon?
Yes. You can bet on sports legally in Oregon. Sports betting is available through an online sportsbook controlled exclusively by the state or through several retail locations based in tribal casinos and accessible only in person. 
Who regulates sports betting in Oregon?
The Oregon Lottery is the sole regulator of any betting operation in the state outside of tribal lands. Tribes hold exclusivity over their in-person betting and gambling facilities, and they operate them as per compact agreements.  
Are there Oregon mobile betting apps?
Yes. Scoreboard, the official online sportsbook, runs mobile betting apps that will empower your betting experience and let you access the full selection of odds, sports, and fixtures anywhere in Oregon. The app is available for both Android and iOS devices which makes it very easy and enjoyable, not to mention convenient for sports bettors to place their wager.
Can you bet at retail sportsbooks in Oregon?
Yes. However, the only retail sportsbooks there are presently in the state are run by tribal casinos. They focus on in-person experience and have a legal right to operate sports betting businesses courtesy of their government compacts. 
Are college sports a viable betting market?
No. College sports betting is completely off-limits in Oregon. The state is trying to keep college markets off-limits as it fears that enabling betting on college-level competitions might enable fraud and match-fixing. However, offshore sportsbooks have no such qualms and continue to offer sports betting markets on college events. We recommend steering clear of offshore bookmakers. 
What is the legal betting age in Oregon?
18. You must be at least 18 years of age to place a legal bet in the state of Oregon. However, for any casino that is serving alcoholic beverages, the minimum gambling age is at least 21 years.