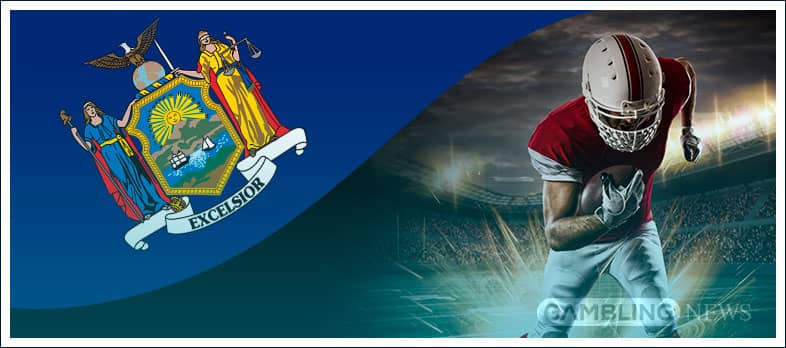 New York has legal sports betting, although limited to the state's brick-and-mortar casinos. This includes both tribal and commercial operators. Right now, a big talking point is the introduction of mobile sports betting in New York, which has many stakeholders hopeful. After New York Governor Andrew Cuomo stated in January 2021 that he is withdrawing his principal objection against online sports betting, New York sports fans and operators were feeling elated at the prospect of taking their betting online.
A spanner was thrown in the works when Gov. Cuomo said that he would seek to monopolize online sports betting under the New York State Gaming Commission – something he has reneged on since. Today, the Empire State still expects the legalization of its mobile sports betting industry, but things are looking up as license holders will most likely be allowed to launch numerous brands on top of the existing commercial and retail casinos in the state.
Right now, to participate in New York sports betting, you must be at least 21 years of age and be physically present in one of the available casinos in the state. An estimated 20% of the population is heading down to New Jersey to bet remotely across the state line, something that lawmakers are now looking to amend.
Let's take a closer look at the floated proposals for mobile sports betting in NY and what the current state of the sports betting market Empire State really is.
New York Sports Betting at a Glance
New York's history with sports betting begins with S 6061, a piece of legislation submitted by Senator Eric Adams in 2009 and hoping to legalize sports betting at horse tracks and off-track betting venues, which was the first of many to fail.
The Empire State really picked up in 2013 when the addition of several commercial casinos was allowed boosting the sports betting climate, but leaving mobile wagering a taboo.
When PASPA was struck down by the US Supreme Court in a lawsuit spearheaded by New Jersey, New York was among the states to seek the legalization of sports betting, but it really took the state until 2019 to see the first sportsbooks open for business.
Sports betting revenue has been low overall, with New York generating $760,000 in tax revenue and $7,783,426 in total handle in 2019 and 2020 posting around 10,948,329 despite the Covid-19 pandemic that paralyzed most sports. The state generated an estimated 1,094,832 in tax.
All in all, New York sports betting is chugging along decently given the challenges it faces. It's definitely not posting the record-breaking $970 million in total sports betting handle New Jersey is, but there are options to place a wager in person. As 888 SVP, Head of US Yaniv Sherman points out New York has immense potential, being one of the most populous and rich states in the country
Lack of mobile sports betting is certainly hurting the potential of the jurisdiction, and all stakeholders would be interested in sitting down with Gov. Cuomo and create a framework that allows the New York State Gaming Commission to guarantee a steady stream of revenue for the state.
Meanwhile, New York has the right make-up for hosting online sports betting as the state currently operates 32 casinos and pari-mutuel facilities, meaning multiple sportsbooks can launch interactive wagering shops.
Mobile Sports Betting in NY: When to Expect It?
Pin-pointing the exact date of mobile sports betting in the Empire State is no easy task. Legal online sports betting has been in the works for over ten years now, with Sen. Eric Adams, Sen. Joseph Addabbo, and Assemblyman Gary Pretlow proving two of the staunchest supporters of the move.
Yet, Gov. Andrew Cuomo has balked at the idea to legalize sports betting time and again. New York sportsbooks have started opening in 2019 in retail capacity at both commercial and tribal casinos, but differences between stakeholders have stopped all operators and industry people from coming together in a unified push to endorse mobile betting.
As 888's Sherman noted, the successful legalization of online sports betting in New York would require all stakeholders to put their differences aside and work together. So, the question of when to expect online betting to go live is still a developing topic.
Many remain hopeful that 2021 is a pivotal year for the legislation with the governor withdrawing his objection, but still a lot of work remaining to be done. Online betting should not be monopolized for starters, as is the original proposal of the governor, as it would not lead to better tax revenue and would lock out many stakeholders out of the state.
Sen. Addabbo has said that voting a monopoly would effectively kill the brick-and-mortar segment, leaving commercial casinos out of work. Tapping the potential interactive sports betting in New York can have huge consequences.
Even today, New York residents cross the state line to leave a pretty penny in New Jersey. Pennsylvania and New Jersey have both created sports betting climates that are far more accommodating to interested parties, and most residents are willing to take a short drive across the border rather than visiting upstate casinos.
Latest News in New York
Is There a New York Sports Betting App?
New York sports betting apps are one of the most hotly-debated topics. New York residents may not have access to online betting, but they still wouldn't mind enjoying the comforts of an interactive betting platform. Unfortunately, the Empire State doesn't yet allow betting through an app, even though some great stakeholders are already in the state.
The lack of apps has sent many residents on an exodus to New Jersey where they can use dedicated apps immediately after crossing the state line and thanks to a technology known as GeoComply. Many have been heading into Pennsylvania where legal sports betting is allowed remotely, and you can download a dedicated iOS or Android app.
Apps have a key part in the successful development of any sports betting ecosystem, and New York should be no different. It's thanks to apps that sports bettors have quick and reliable access to all odds, fixtures, and upcoming sports.
While attending commercial casinos in person can be a bit restrictive; being able to place a bet on the go is just the opposite. It's possible that Governor Andrew Cuomo may agree to legalize mobile sports betting apps in New York, but allow these apps to be used at the premises authorized to use them only.
This would be a step in the right direction, certainly. However, for sports betting to thrive, New York lawmakers will have to create a more liberal framework where apps are free to use from any location in the state, granting access to an interactive sports wagering framework.
New York Sports Betting Bonuses and Promotions
Bonuses and promotions are an important part of the sports betting experience. Yet, to get the juiciest offers you will have to opt for mobile betting as retail casinos don't actually have the same type of promotions online sportsbooks do and this is normal.
With fewer incentives to visit retail sportsbooks, fans often opt out of casino resorts in the state and travel to Pennsylvania and New Jersey where they can scoop up to $1,000 in welcome funds and enjoy various other promotional offers designed as odds boosters, refer a friend and more – even though they have to travel arguably farther out to get to these offers.
With New York still focusing on its brick-and-mortar industry and tribal casinos, the Empire State is at a significant disadvantage when it comes to incentivizing sports fans to come and place a legal wager.
With talks already started in 2021 for an online legal sports betting framework, there is a very good chance that the state will see significant developments in its interactive sports wagering, backed by Sen. Joseph Addabbo and perhaps by Gov. Cuomo.
What this could mean for NY sports betting is the much better bonus offers that allow the upstate casinos to stay competitive. However, to do so, they would need interactive bonus options along with online sportsbooks that are well-versed and experienced in running a mobile sports betting product.
Once New York passes a sports betting bill that allows residents to bet on sports remotely, commercial casinos and tribal operators will see a significant uptick in revenue. More importantly, they will be able to come up with numerous bonus opportunities, such as risk-free bet options, odds boost, various sports betting pools and contests, a hefty welcome bonus, reload offers, and more.
New York Retail Sportsbook Locations
Presently, there are eight properties in the Empire States that you can visit in person and place a wager. For your comfort, we have listed all along with the sportsbook operating in each locale and their address.
Turning Stone Resort & Casino
Address: 5218 Patrick Rd, Verona, NY 13478
Sportsbook: The Lounge with Caesars Sports
Resorts World Catskills
Address: 888 Resorts World Dr, Monticello, NY 12701
Sportsbook: Sportsbook 360
Rivers Casino Schenectady
Address: 1 Rush St, Schenectady, NY 12305
Sportsbook: Rivers Sportsbook
del Lago Casino Resort
Address: 1133 NY-414, Waterloo, NY 13165
Sportsbook: DraftKings Sportsbook
Tioga Downs
Address: 2384 W River Rd, Nichols, NY 13812
Sportsbook: FanDuel Sportsbook
Yellow Brick Road Casino
Address: 800 W Genesee St, Chittenango, NY 13037
Sportsbook: The Lounge with Caesars Sports
Point Place Casino
Address: 450 NY-31, Bridgeport, NY 13030
Sportsbook: The Lounge with Caesars Sports
Akwesasne Mohawk Casino Resort
Address: 873 NY-37, Hogansburg, NY 13655
Sportsbook: Sticks Sports Book
NY Sports Betting Age and Rules
While interactive betting is still taking a back seat, sports betting legislation comes with a certain set of rules and requirements that must be observed in full. To be able to legally place a sports wager in New York, you first have to visit one of the authorized casinos. There are a total of eight properties offering sports wagers presently, as mentioned above.
More importantly, you must be of the legal sports betting age for New York, which is 21. Apart from that, there are certain prohibitions that prevent people who are too close to sports in general to place a wager. The restrictions are put in place to guarantee the fairness of contests.
You cannot bet in New York, and many other states for that matter, if you are an athlete, player, coach, referee, official, trainer, physician or a team employer, or a member of a governing body in the state. In general, people who are too close to the kitchen of sports are prohibited from placing a bet on sports lest this leads to match-fixing.
The New York State Gaming Commission can identify other parts that may not be allowed to bet on NY sports because their own teams have some sort of conflicting interest. Even with these restrictions, New York sportsbooks are doing fairly okay.
Yet, they are performing much worse than neighboring states, which is not ideal for a state that is one of the richest and most populous places anywhere in the United States. Another thing to note is that New York does have a self-exclusion program that prohibits New Yorkers who are problem gamblers from participating in various forms of sports betting contests.
If you do not fit any of the described cases, you are free to place a bet in the state of New York so long as you visit commercial or tribal casinos to do so.
What Sports Can You Bet on in New York?
You can bet on pretty much all sports in New York. This means that you will be able to bet on all the mainstream sports leagues, including the NBA, NFL, NHL, MLS, and MLB as well as place wagers on international events.
When New York decided to legalize sports betting, though, the state focused exclusively on professional sporting events, excluding college sports from the mix and prohibiting wagers on non-sports events. In other words, New York had to sit out the 2020 US Presidential election, which is easily the most grossing political betting event in the books.
Yet, New York was too embroiled in issues of its own to pass a bill that would have allowed political betting to be part of the product available at casinos in the state. Evidently, the state has to grow its offer a whole lot more to match that of New Jersey or Pennsylvania.
The good news is that despite the lack of mobile sports betting, NY is well-poised to take on some of the biggest states in the country, owing to its sheer economic weight and population.
Types of New York Sports Bets Available
While some restrictions exist when it comes to the choice of markets, New York has made sure to introduce enough types of bets to pick from. You will have no trouble navigating through some of the most popular betting options out there available to you. New Yorkers can pick from moneyline, spread, and totals.
There are other available options such as parlays, also known as accumulators, as well as the slightly more-specific teasers and pleasers. You can place bets on various in-play contests as well as take individual bets on players and teams known as proposition wagers.
Players are welcome to place exotic bets as well as place various future betting options as well. All of these betting options are endorsed by sportsbooks in New York's regulated market. The only drawback is that you still have to be physically present in an authorized location to bet.
Professional Teams in New York
New Yorkers are some of the most passionate sports fans out there, and you cannot deny that. The state's 20 million residents all show great appreciation for some of the best sports franchises in the history of sports. As a result, you have solid fan bases who won't hesitate to place an online wager on their favorite outfits, including but not limited to:
New York Mets
New York Yankees
Brooklyn Nets
New York Knicks
New York Giants
NY Jets
New York Islanders
New York Rangers
NJ Devils
Even though college sports are currently prohibited, liberalizing the market further and including NCAAB and NCAAF events can have even more significant efforts and growth opportunities.
Daily Fantasy Sports in New York
Daily fantasy sports was a bit of a contentious subject for New York. It did come with a bit of pushback from the Gaming Commission and lawmakers, but things were settled eventually. Late in 2015, Attorney General Eric Schneiderman decided against daily fantasy sports in NY, suspending DraftKings and FanDuel operations.
Luckily, things picked back up in late 2015 and then in 2016 when both DFS sportsbooks restored to action after New York passed an n official law on fantasy contests, legalizing their framework and establishing binding regulation. Of course, the fantasy sports betting bill didn't make it possible to bet remotely, but still, it was a step in the right direction.
New York Sports Betting Summary
A lot is happening in New York right now. At the beginning of 2021, Governor Andrew Cuomo made it known that New York City is considering passing laws that would allow mobile sports betting. Even though fears of a single skin monopoly were justified, this no longer seems the case. All stakeholders are now looking with hope towards the future.
To reach its full potential, New York will have to embrace mobile and online wagering. As 888's Sherman noted earlier this year speaking to us, the legalization of sports betting is not a top political problem to take as much energy and effort from legislators to settle on.
Sherman is right, and the Empire State ought to embrace the potential of remote gambling and start catching up to its neighbors who are headed for the $1 billion in raw monthly sports betting handle. Hopes are New Yorkers, and stakeholders will see the merits of a fully-fledged industry before long.
FAQ
Are sports betting legal in New York?
Yes, sports betting is legal in New York. NY has had legal sports betting at retail venues since 2019 and has been trying to legalize mobile sports betting since at least 2009.
Is mobile sports betting available in NY?
No, you cannot place bets remotely or online in New York. You have to visit one of the eight commercial or tribal casinos supporting the activity to place a bet.
Can I download a New York sports betting app? 
No, presently you may not download and use any mobile apps for NY sports betting. This will change as soon as New York passes a bill that enables mobile and online wagering.
Is FanDuel legal in New York?
Yes, FanDuel is legal in New York. The sportsbook was briefly outlawed in 2015, but a decision of the attorney general reinstated it on December 11, 2015. You can visit the FanDuel sportsbook at Tioga Downs.
Can you play at DraftKings sportsbook in New York?
Yes, DraftKings sportsbook is available in New York. You can visit the DraftKings sportsbook at del Lago Resort Casino and place bets in person.
Is Bovada legal in New York?
No, Bovada is a popular offshore betting option, but it's not legal in New York. The Gaming Commission cannot protect you or your funds if you choose to bet at Bovada.