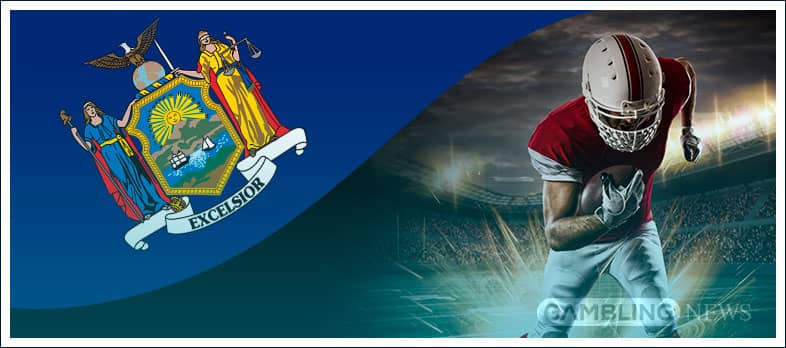 Online New York sports betting has finally launched in the Empire State, allowing local sports fans to benefit fully from a well-developed framework of betting options. On January 8, 2022, four license holders were approved and allowed to roll out their online sports betting products, with Caesars, Bet Rivers, FanDuel, and DraftKings becoming the first fully operational sportsbooks in the state in an online capacity.
Other launches set to take place include BetMGM, Bally Bet, PointsBet, Resorts World, and WynnBET, all of which are some of the biggest names in sports betting in the United States. Even though New York passed retail betting laws in 2013 and land-based sportsbooks were established in 2019, it took until 2022 to negotiate a proper framework for online sports wagering.
New York now expects $10 billion in sports betting each year, which means roughly $840 million in total betting handle each month. The state and operators should be splitting around $1 billion in expected profits.
Best Online Sportsbooks for Betting in New York
Here is a list of the best online sports betting sites in New York that have been reviewed and tested by our iGaming experts:
New York Online Sports Betting Companies
After some debates on how many license holders there should be, the final number was agreed upon as nine. Former NY State Governor Andrew Cuomo sought to only establish four licensees and tax them at a considerable 61%, but industry pushback and a change in leadership at the top allowed for slightly more favorable conditions as a result. All licenses are issued by the New York State Gaming Commission (NYGC).
Today, there are nine license holders in New York, with the first ones to launch, including Caesars Sportsbook, BetRivers, FanDuel Sportsbook, and DraftKings Sportsbook. When the online betting industry in New York launched, DraftKings was the most popular sportsbooks in terms of search data.
| | |
| --- | --- |
| Online Sports Betting Company | Date Launched |
| BetRivers | Jan 8, 2022 |
| Caesars | Jan 8, 2022 |
| DraftKings | Jan 8, 2022 |
| FanDuel | Jan 8, 2022 |
| BetMGM | ETA 2022 |
| Bally Bet | ETA 2022 |
| PointsBet | ETA 2022 |
| Resorts World | ETA 2022 |
| WynnBET | ETA 2022 |
Originally, Cuomo wanted to have a lottery-run monopoly which would have put the Empire State on par with other centralized betting states such as New Hampshire, Washington, D.C., Montana, and Rhode Island, where results are vastly underwhelming because of the inefficient model that is a state monopoly.
Cuomo originally wanted to award a single license holder full monopoly over the market after withdrawing from a state-monopoly idea, but this was strongly objected to by operators and companies. Then, BetRivers, Caesars, DraftKings, and FanDuel created a "super bid" proposal which the New York Gaming Commission saw as favorable and recommended license issuance to all applying entities.
The final rate of taxation under which these sportsbooks would be charged is 51%, which is the highest in the United States anywhere where online sports betting is legal. Regardless, the Empire State is tipped to become the highest-grossing gaming state, according to many industry observers.
Latest Gambling News in New York
New York Sports Betting: The Leftouts
Not everyone is a winner in New York sports betting. With only nine licenses to go around, there were companies that were bound to be nudged out of the race. As online betting in NY is taking shape and winning operators are setting up their digital shops, brands such as Barstool, theScore Bet, bet365, and FoxBet will have to sit this one out, at least temporarily.
Hopes are that the NYGC will soon see the benefit of enabling more license holders into the state in a bid to create healthier competition, but it would be hard to see the left out sportsbooks join any time soon. All four brands applied for online sports betting licenses, but they were ultimately not deemed as good or fit for the state.
The final cut did hurt many of the brands, especially after some spent considerable effort into establishing a foothold in the Empire State. Bet365 has a partnership with Resorts World, but this did not prove enough for the British brand to break ground into what will soon be the most coveted online sports betting market in the United States. Bet365 is still represented through its land-based partnership with Resorts World, though.
College Sports Betting in New York State
With the NCAAB and NCAAF playing a big part of the sports betting calendar in all states across the country, sports fans in New York would be similarly interested in placing a wager on their favorite college team. The good news is that this will be possible, but with a few caveats along the way.
Similar to other states, New York is open to accepting college sports bets, but only when they do not involve teams hailing from the state. In all instances when a college from the state is competing, New York online sportsbooks will be obligated to make sure that no selections are available.
However, the state also won't allow you to bet on any college games hosted in the state as well. This means that if two schools from outside the Empire State are playing in New York, there should be no sportsbooks offering online bets on this action.
These restrictions are not too bad, although they would deprive sports fans of some sports betting opportunities along the way. The good news is that college sports are big, and there are thousands of games played each season.
New York policymakers have decided to take a safer road with college betting, even though the evidence suggests that match-fixing only happens when markets are unregulated. In the future, the Empire State is probably going to revise and lift the restrictions on college betting.
Mobile and Sports Betting Apps
Mobile sports betting is another prominent part of the experience, and it is fully available in New York. Online sportsbooks have made sure to launch suitable software in Android and iOS apps that are available and allow sports fans to bet from anywhere in the state.
The apps use geolocation tracking software which is activated to verify the location of each individual when they try to log into the apps. The apps are available on the sportsbooks' websites but also directly for download on Google Store and Apple App.
Each sportsbook that has received a license by the New York Gaming Commission has an interest in providing you the most comfortable experience, and that includes the ability to bet on your favorite sports remotely.
Online Live Betting in New York
As the growth of live sports betting has been exponential in the United States, so is the New York sportsbook going to bring you the best in-play action. Brands such as PointsBet and Caesars have expended a lot of effort and time to make sure that any online sports betting experience they may offer also features a big emphasis on live wagering.
Each sportsbook has the responsibility to cover the available live betting markets and create opportunities that allow it to connect with sports fans. The in-play selections are well-priced and in line with industry standards, allowing consumers to have the best possible betting experience at New York sportsbooks online.
How to Bet with NY Sports Betting Apps
To get started with mobile sports betting in NY, you would need to follow several simple steps that are easy enough. First, locate the website of a licensed sportsbook. Remember, there are only nine licensed and approved websites, so make sure to pick from them. Then, follow this four-step guide to placing a mobile wager:
Download and install the app: Most apps will only take a moment to download, depending on your connection. Once you have the app installation file, just double tap on it to begin the installation process, which is self-explanatory.
Set up your account: This part is also easy, and it requires you to fill out all required information which will be verified by the app. Remember to always provide your information truthfully.
Deposit money and claim your bonuses: The next step is arguably the most fun. You will want to choose a payment method and deposit it into your account. Not all online sports betting in NY will require deposits, as some casinos will offer you various bonuses, from $5, $10, $20, and more as free bets to place as soon as you register.
Start betting: Now that you have your account funded and set up, it's time to place a wager on your favorite sports. NY online sportsbooks cover 30+ sports and numerous markets.
Payment Options: How to Deposit and Withdraw
To withdraw your winnings or fund your account with any online sports betting site in New York, all you need to do is pick one of the available payment methods. There are several trusted options that make it easy to move your money around safely and securely. Players are welcome to pick from PayPal, Play+ Card, ACH/eCheck (VIP Preferred), Skrill, PayNearMe, Cash at Cage.
However, do take a look at the specific terms and conditions at each online sports betting site. Some may ask you explicitly to conduct your deposits and withdrawals with the same payment method. Usually, the T&C's will prove very useful in clarifying any important details you need to know. If in doubt, just call customer support which should be there to help you.
Details of Online New York Sports Betting
Online sports betting in New York has been the subject of some speculation over 2021. The Empire State first introduced a sports betting framework back in 2013, but it only pertained to in-person wagers. It took another six years of negotiations and the unflagging efforts of Sen. Joe Addabbo, who made sure to bring up the matter in each legislative section.
In 2019, New York agreed to pass a bill that allowed the creation of land-based sports betting businesses. The next two years proved futile in terms of expanding the activity online, with strong opposition coming from the governor's office. At the time, Cuomo said that he would not allow New York residents to become victims of gambling.
On November 2, 2021, however, the New York Post broke the news that nine operators would be receiving licenses to operate online betting. The name of the left out companies was named in the report as well.
Within days, the state commission settled on actual operators and shortlisted the successful candidates. They had all agreed to pay 51%, as was the state's re-negotiated tax rate from previously 64%. While many anticipated a pre-Christmas launch, the actual launch was deferred for early 2022 when Sen Addabbo confirmed that the approved licensees would be launching on time for the NFL playoffs.
On January 6, 2022, the New York Gaming Commission announced that FanDuel, DraftKings, BetRivers, and Caesars had been cleared for launch on January 8, 2022.
New York Sports Betting Promotions
In terms of sports betting promotions, New York is well-aligned with other states in the country. Players should have access to a number of excellent promotions. Most will focus on free bets, sign-up bonuses, cashback, risk-free, and free bets. These promotions are popular in most regulated states in the United States, but once again, each operator will be free to set the terms and conditions of their bonusing campaigns. So far, the New York Gaming Commission gives operators free rein over how they choose to promote their bonuses.
Sports fans will still need to pay attention to the available terms and conditions and make sure that they only accept bonuses that they are happy with. Players are invited to read the terms and conditions and make use of any promotional code that may apply for additional perks.
Land-based Sportsbooks in New York
In-person betting and land-based sportsbooks have been available for several years in New York State. A project by the New York Gaming Economic Development Act in 2013 paved the way to introduce in-person sports betting in the state. The big development, though, followed after SCOTUS struck down PASPA in 2018. Following that, the New York Gaming Commission posted rules for land-based betting in 2019 and saw the creation of several operators that supported in-person betting.
Rivers Casino then became the first one to open a physical sportsbook in Schenectady and was followed by other operators, including Del Lago Resort & Casino in Seneca County, Tioga Downs in Tioga County, and Resorts World Catskills in Sullivan County. Later, Caesars launched retail sportsbooks with the Turning Stone Resort and Point Place Casino, both tribal properties.
Online NY Sports Betting: The Future
Online sports betting in New York is looking promising. The state estimates that it will be collecting $10 billion in total sports betting handle every year. One billion of this should be split between the sportsbooks and state. From here on in, New York will be vying for the crown of the biggest sports betting state in terms of online betting revenue with New Jersey. Many industry experts expect this to be the case. Only time will tell.
FAQ
When did New York online sports betting launch?
The exact date of the New York online sports betting launch is Saturday, January 8, 2022, when four license applicants, including DraftKings, FanDuel, PointsBet, and BetRivers, became the first operators to offer mobile wagers.
How many are online betting websites approved in New York?
Nine. There are a total of nine approved license holders that can carry online betting in New York. They include BetRivers, Caesars, DraftKings, FanDuel, BetMGM, Bally Bet, PointsBet, Resorts World, WynnBET.
Can I bet on college sports in New York?
Yes. However, you cannot bet on games that involve New York college teams, and you cannot bet on college sports if the events are taking place in the state. 
What's the legal online betting age in New York?
Anyone who is at least 21 of age can participate in mobile and online sports betting in the Empire States. The identity of each consumer is verified by the accredited sportsbooks. 
Are New York sports betting available on DraftKings?
Yes. DraftKings is one of the biggest license holders in the state, and it allows you to place a bet remotely on its online platform in New York.