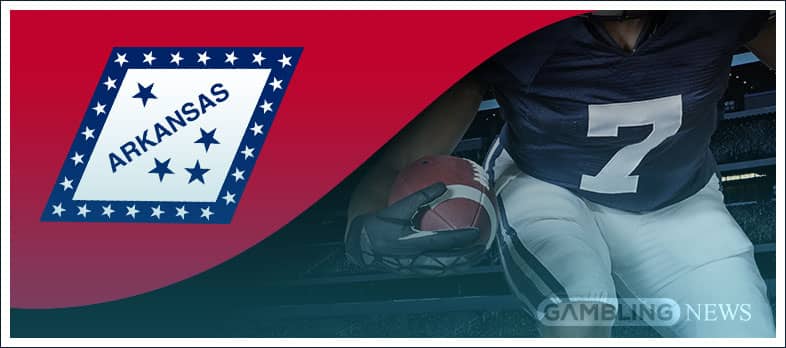 Arkansas has a regulated sports betting industry in-state, making it one of the early adopters following the repeal of PASPA, a federal piece of law that prohibited sports betting in Arkansas and the United States before May 2018.
Things have changed dramatically over the past few years, with the state now running legal betting options, but mostly limited to retail venues. A bill in April 2021 tried extending the reach of the sports betting industry, bumping it online, but it has fallen short.
Nevertheless, with its 3 million people, the state will sooner or later build enough momentum to expand the activity beyond the three locations authorized by the state racing commission to carry out the activity, and a fourth one is in the works.
Latest Gambling News in Arkansas
Best Online Sports Betting Sites in Arkansas
Online sports betting is currently on hold in The Natural State as under current regulation sports fans may only place a wager at one of the three authorized locations in the jurisdiction.
That certainly creates a bit of a bottleneck and prevents Arkansas from reaching its full potential by introducing betting apps, for example, and making legal sports betting far more accessible.
Nevertheless, regulatory moves are underway, and most recently, HB 1942 in April 2021 tried to expand the industry to mobile sports betting giving punters a few more options to bet on. While there are no betting sites yet, this will change once lawmakers agree on a new regulatory framework.
HB 1942 laid the groundwork for what this change may look like. According to it, retail venues should be allowed to host up to three skins each, giving a total of 12 online sportsbooks an entry point into the state.
Now, this didn't happen with HB 1942, but the ambition to liberalize the industry is there, giving future efforts a strong foothold.
Where Can You Bet in Person in Arkansas?
Making betting legal in Arkansas has had its immediate upsides nevertheless, and for fans of horse racing and sports betting, there are three in-person choices to explore as you see fit. Sports bettors may visit the retail sportsbooks at:
Oaklawn Racing Casino Resort in Hot Springs
Southland Gaming & Racing in West Memphis
Saracen Casino Resort in Pine Bluff
Pope County
The venue in Pope County is still not a sealed deal as there has been a lot of local pushback against a proposed casino project in the county. Unlike counterparts in Hot Springs and West Memphis, or even Pine Bluff, locals have not really seen the point of issuing more casino licenses and least of all in Pope County.
While the Pope County sight is still being debated, you can visit any of the other Arkansans sportsbooks available in person and place your wagers on-site.
Unfortunately, you won't benefit from mobile betting in any form, but this is one of the things that properties such as the Saracen Casino Resort will fix once mobile betting is legal in Arkansas.
Arkansas Sports Betting Locations
There are three locations that offer sports betting in Arkansas, as mentioned before. Now, we take a closer look at each of these and briefly go through what each has to offer when it comes to legal sports wagering contests.
Oaklawn Racing Casino Resort in Hot Springs
Address: 2705 Central Ave, Hot Springs, AR 71901, United States
The venue offers numerous betting opportunities that focus on horse racing and casino gaming. Equipped with all necessary amenities, the Oaklawn Racing Casino Resort brings you an array of promotions & entertainment, a busy racing calendar, and a replete menu with some delectable food options!
Southland Gaming & Racing in West Memphis
Address: 1550 North Ingram Blvd, West Memphis, AR 72301, United States
The Betly Sportsbook at the Southland Casino will bring you everything you expect from a great sportsbook. There are on-property kiosks that you can tap into 24/7 and place wagers on numerous competitions, including but not limited to college and pro football, basketball, baseball, golf, hockey, auto racing, mixed martial arts, soccer, and more, as per the official website listing.
Southland Casino similarly offers a racing facility and it has a dedicated casino. While sports betting apps aren't available, the Southland Casino is actually accessible via a dedicated app.
Saracen Casino Resort in Pine Bluff
Address: 1 Saracen Resort Dr, Pine Bluff, AR 71601, United States
The Saracen Casino Resort has style and if there is one thing you can surmise about the property, looking at its digital assets, it's that it has been fully built to cater to the digital age. The sportsbook on-site is equipped with everything you need to participate in sports betting as soon as you enter.
You will get to enjoy the full-service sports bar as well as the dedicated lounge. The Annex works from 9 am through 2 am, covering a wide range of hours and making it possible for Arkansas sports fans to come and place a flutter when they see fit.
Mobile Sports Betting in Arkansas
Since Arkansas sports betting is legal, you are naturally wondering if you can bet remotely from your mobile device. Unfortunately, online betting is still not allowed in the state, and this is mostly because when the original framework was established, the issue was never seen through.
Several efforts have been made to pass it through, but lawmakers have failed to see the successful passage of legislation amending that.
Nevertheless, online sports betting is the norm for many states. While Arkansas still appears to be a hold-out state, lawmakers will sooner or later realize that betting apps do not lead to a higher incidence of gambling addiction so much as they liberalize the market so that consumers are better protected.
Not many residents wish to go to Arkansas sportsbooks in person, and a high number of people continue to explore online betting options offshore, which in a sense defeats the purpose of legalizing the industry in the first place.
Evidence from legal sports betting states suggests that mobile betting is linked to higher customer satisfaction and revenue for the state. While we await Arkansas to launch mobile sports betting, though, the in-person sportsbooks will provide you with a state-of-the-art experience.
Horse Racing Betting in Arkansas
The Arkansas Racing Commission regulates not just the sports betting segment but also horse racing in the state. Home to the Oaklawn Racing and Southland Casino Racing racetracks, the state-approved horse racing way before it approved sports betting. For decades, Arkansas residents had nothing but horses to bet on, and they didn't seem to complain in the slightest.
To wager on a horse, though, you would have to visit in person which is part of the charm. The racetracks used to run greyhound races, but those are gradually phased out as part of a broader national movement for animal well-fare. Licensed and trusted by locals, these two racetracks bring you excellent options to bet on horse races.
What Sports Can I Bet on in Arkansas?
You will have no trouble finding the sports betting market you wish to bet on in Arkansas. All major leagues are covered and you will have access to various betting types as well as professional teams from competitions such as the NFL, MLB, NBA, NHL, boxing, tennis, and more right on-site.
The sports betting lounges at the state's facilities are sufficiently comfortable to provide you with a great experience on-site and the self-serving kiosks will automate some of the experience for you, but you can just as well do over-the-counter wagers if you feel a little old fashioned, at least until online sports betting is launched.
Can I Bet on Daily Fantasy Sports in Arkansas?
Yes, you can. Fantasy sports was legalized even before sports betting in April 2017 when Gov. Asa Hutchinson signed HB 2250 into law and served as a precursor to legal betting in Arkansas. Today, you can pick from a handful of operators, and unlike traditional sports, you can actually bet remotely.
The two websites to stand out the most are FanDuel and DraftKings, which are incidentally the national leaders when it comes to traditional sports betting as well. In other words, once the Racing Commission has the go-ahead to regulated online betting, you can expect FanDuel and DraftKings to dominate the traditional betting market.
Arkansas Sports Betting Tax and Regulation
Arkansas has made a point of taxing the industry to the benefit of the state through a well-elaborated sports betting bill. While greyhound races are off the table, the Racing Commission is still charging 13% on the first $150,000,000 that a casino property generates through sports betting.
That rate goes up to 20% once the receipts exceed this amount, i.e. $150,000,001. Once the money from gambling is collected, the state distributes the funds through the state general fund (55%), the cities in which the casinos are located (5%), the counties in which the properties are based (8%), and last but not least, the regulator allocates 5% to the horse racing industry in the state.
More Gambling in Arkansas Beyond Sportsbooks
Arkansas is one of the late-comers when it concerns the state lottery, but the good news is that it has one. Since 2009, the state's lottery has been chugging along without a hitch, making it very easy for lottery aficionados to pick and place a wager of their own.
Most of the lottery money is allocated to scholarships, and the lottery has distributed over 150,000 scholarships as of today. Most tickets are available offline, but if you download a fitting app that offers Powerball, Mega Millions, and National State Lottery tickets, such as the Jackpocket app.
FAQ
When did sports betting in Arkansas launch?
July 1, 2019. Arkansas sports betting arrived a year after PASPA was finally defeated in 2018.
How old do you have to be to bet on sports in Arkansas?
21. You must be at least 21 years of age to place a legal sports bet in Arkansas. Check out our legal gambling age guide for other states.
Can you bet on mobile in Arkansas?
You may presently only bet online on fantasy sports and horse races. Sports betting is restricted to physical locations only.
Where can I place a bet on sports in Arkansas?
Presently, you can choose from Oaklawn Racing Casino, Southland Casino Racing and Saracen Casino Resort.
Do You Bet on Horses in Arkansas?
Yes, horse racing bets are accepted in Arkansas and you have at least two viable options at Oaklawn Racing and Southland Casino Racing. Both properties offer pari-mutuel wagers and you can wager in person or use a mobile app.