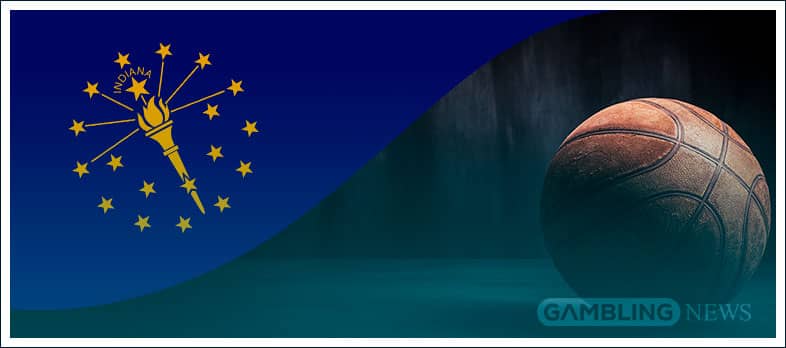 Indiana sports betting is online and running, offering a mix of in-person and remote betting opportunities. Sports fans in the state have access to advanced Indiana sports betting apps, numerous licensed online sportsbooks, promotional offers, banking methods, and more.
Today, we dive not just into what makes the state unique as a sports betting market, but also which the best online sports betting sites in IN are.
The Hoosier State effectively became the 13th jurisdiction in the USA to host online sports betting in September 2019 and has been since running strong, offering an excellent choice of online sportsbooks accessible to sports fans.
You can pick from no fewer than seven online Indiana betting sites these days, all of which are excellent picks. To help you navigate the variety of Indiana's legal sports betting market, we have looked at every aspect of the experience separately, starting with the best sportsbooks first.
Best Indiana Sports Betting Sites
Here is a list of the best online sports betting sites in Indiana that have been reviewed and tested by our iGaming experts:
Sports betting in Indiana is fun because the Hoosier State has managed to create a vibrant ecosystem of sportsbooks that offer a mix of in-person and online sports betting opportunities.
Sports fans will have access to some excellent betting sites that have made their mark on the state, and a handful of others, bringing a variety of fantastic legal sports betting options to Indiana players.
That variety is captured by the numerous risk-free bet options available at established online sportsbooks as BetMGM, William Hill, DraftKings, and FanDuel, to name a few. There is a match deposit to enjoy as well, but more importantly, you will find great betting margins.
Betting margins reflect fair odds pricing, and sportsbooks complement that experience with numerous markets, wager archetypes, odds boosters, and more.
Indiana online sports betting sites are available on mobile devices and you can download a dedicated iOS or Android app from the Google Play and Apple Store to make for a far more rewarding experience.
To top it all off, you can benefit from some tailored loyalty and VIP products thanks to M life Rewards, MGM Resorts International's special program for the BetMGM sports betting brand.
Others IN sports betting sites have their own way of engaging fans, albeit most rely on a combination of fairly-priced odds, risk-free bet bonuses, and quick payment options. Hoosier States online sportsbooks also bring excellent in-play markets to add to the authenticity of the experience.
The live markets are particularly popular with audiences who enjoy the fast-paced nature of NBA and NFL games that make for a perfect in-play betting medium.
How to Find the Best Online Sportsbooks?
Online sportsbooks in Indiana are completely legal and this means that finding one that is tailored to your needs is easier than ever. For starters, you must try to recognize which sportsbooks are licensed.
This is indicated by the logo of the Indiana Gaming Commission. Here is how we find the best sportsbooks in Indiana, drawing from our experience:
Look for licensed sportsbooks: The first thing we do is to look for a sportsbook that has a license by the Indiana Gaming Commission. Presently, you can pick from BetRivers, PointsBet, Unibet, FanDuel, DraftKings, BetMGM, and William Hill.
Check the markets, odds, and prices: Next, we make sure to study the odds a little closer. Market variety and odds pricing are more important than any bonus, risk-free or otherwise.
In-play and live bets: Thanks to their legal status, most online sportsbooks in Indiana will offer in-play wagers, allowing you to take your betting experience onto the next level and place bets in real-time.
Mobile compatibility: Sportsbooks today are designed to offer you a well-rounded experience and Indian's top betting sites are no exception. We verify that a brand works well on desktop and mobile. Having access to dedicated sports betting apps is definitely a plus.
Overall user experience: Having a comfortable experience ranks high in the list of priorities for sportsbooks in Indiana. That's why we check if the sites are highly-functional, offer flawless navigation and quick access to all features.
Bonuses and odds boosters: Bonuses are always good. Sports fans can claim a variety of awesome offers, including $200, $600, or $1,000 risk-free bet options depending on which sportsbook they end up choosing.
Each online sportsbook in Indiana has its own unique fabric. Yet, all betting sites share industry-defining characteristics that make legal sports betting in Indiana worthwhile.
Latest Gambling News From Indiana
Top Indiana Sports Betting Apps
Mobile sports betting in Hoosier State is quite popular. When Gov. Eric Holcomb signed the legislation into law, he opened the sluice gates of both retail and online sportsbooks in Indiana. With this, came mobile betting powered up by dedicated apps developed by the same betting sites that are market leaders today.
Players in Indiana have access to intuitive and user-friendly sports betting apps that make betting a breeze. Each app is available for iOS and Android operating systems and devices, giving you maximum freedom.
You do not have to be physically present in a Hoosier State sportsbook to access the sports betting markets either. Unsurprisingly, these apps bring the full functionality of desktop sportsbooks to your pocket, and more.
You can freely browse and access each of the sportsbook features from mobile. Resolution is never an issue, as the HTML5 build-up of each app allows you to navigate the myriad betting markets with ease.
Players have control over what markets are displayed without any difficulties. You can navigate the hundreds of possible betting selections and place those wagers that you know take you closer to a win.
In-play and live betting markets are quick and simple, offering Hoosier State sports fans a great way to stay connected with sporting events in real-time. Having the added benefit of betting remotely from your app will empower you to explore new bets and more.
Overall, Indiana sports betting apps are some of the best, courtesy of the established brands that have brought them to the state.
Indiana Sportsbooks Pricing and Odds
To fully comprehend the legal sports betting market in Indiana, you ought to have a look at the sportsbooks' pricing and odds. These two criteria alone will tell you whether betting in Hoosier State is worth your while.
Now, thanks to the Indiana Gaming Board's vigilant eye, and the sportsbooks' own experience elsewhere in the USA, odds are right on point. Indiana's pricing is comparable to Las Vegas.
Thanks to having some of the best online sportsbooks bringing their expertise to the Hoosier State, you can rest assured that the odds-crunching algorithms are solid and the analyst desks at BetMGM, William Hill, and all other sportsbooks are spot-on.
While the core principle of fairness is unwavering, you'll see some differences in the odds. Every online sportsbook crunches the numbers itself, and this leads to some slight differences, which is where a smart sports bettor can shine.
Punters can always keep a few accounts available to shop around between sportsbooks and snatch the best fixtures, contributing to a much more desirable final outcome. The small ups and downs in the odds will give you an edge.
So, what do we make of online sports betting odds in Indiana? On the whole, they are pretty solid, and we particularly enjoy:
The fair prices and betting margin
Range of overall pricing
Variety of betting markets to choose from
If we should point out a few drawbacks, though, they would have to do with the fact that locals have a clear preference for some sports.
We will touch on that in just a moment, but right now it suffices to say that lack of enthusiasm for some sports has led to somewhat poorer odds for those markets. An expert sports bettor knows that where the public doesn't often look are opportunities to squeeze some extra value.
Indiana Sports Betting Markets: Pick Your Bets
Indiana offers a plentiful variety of sports betting markets, and all of them are completely worthwhile. Now, speaking of wagering archetypes, you will find a whole lot of options readily waiting for you. Players are welcome to have a crack at all the main types of bets, including:
Moneyline
Parlay
Spreads
Futures
Props
Teasers
Round robins
In-play
Each of these markets is applied to the variety of games, contests, championships, and grand finales you can enjoy. You will find the main betting types Moneyline, Spreads, and Totals as the three go-to options.
Yet, as you keep browsing through individual sports, there will be room for better and more meaningful choices. Teasers, props, and round robins will come into play, allowing you to take a chance on specific sports betting market and potentially enjoy a much better yield.
The best online sportsbooks in IN will generously cover selections and offer adequate pricing to tempt you into successful bets. Yet, the farther you stray from the Moneyline, the riskier the bets would become, so keep this in mind.
If you are not quite sure what to bet on, the risk-free bet sportsbooks offer is a great way to make your first wager.
What Sports Are Available to Bet Online in Indiana?
In terms of sports variety, there is hardly a shortage of excellent options. It's possible for every online sportsbook to have a slightly different market, but overall, you will find yourself choosing from all familiar betting options, and not least:
Aussie Rules
Baseball
Basketball
Boxing
Cricket
Cycling
Darts
Football
Formula 1
Golf
Hockey
MMA
NASCAR
Rugby League
Rugby Union
Soccer
Specials
Tennis
Indiana will cover college sports as well, including NCAAB and NCAAF contests and the College Bowls and March Madness competitions hosted. Not just that, but the state's sportsbooks also make sure to provide you with a hefty selection of main bet types and sub-bet types.
This means that you can often see as many as 50, 100, or even 500 additional bets that you can place beyond Moneyline, Spread, and Totals, contributing to a competitive overall market. Indiana's sportsbooks make sure to price sports well and give you an authentic and fair experience.
In terms of actual events you can bet, you can rest assured sports betting sites in IN have gone the extra mile to provide you with just what you need. You will be able to bet on every domestic, international, and college event, so long as you are of the legal betting age, which is 21, and aren't yourself involved with the sports teams. Indie bookies cover all the worthwhile events out there, counting:
March Madness
Super Bowl
Stanley Cup
PGA Tour
Grand Slams
World Series
NBA Finals
NASCAR Cup Series
You can bet on regular-season or big-season-finale games as you see fit. The markets featured at the leading sportsbooks in Indiana are all entirely worthwhile, bringing you a mix of betting options as well as odds that post excellent opportunities to turn a profit.
College Sports in Indiana
College sports betting in Indiana is live and running. As long as you are 21 and not associated with a team yourself, you can place a bet on any collegiate team, whether it's based in the Hoosier State or in any of the other major NCAA Divisions around the country.
This gives residents in the Hoosier State a lot of leeway when choosing to make their next bet on college sports. Some states, such as New Jersey, restrict collegiate sports when an event is taking place within the state's borders.
The logic goes that this way the state can minimize any potential negative impact on college sports for fears of match-fixes. Only school-level athletics are banned under current sports betting laws and you cannot legally place an online wager in Indiana on these competitions. Here are all the official college teams you may be interested in.
IN College Football Betting
College football attracts a fair bit of interest. With the Hoosier State playing host to some of the best college football franchises, it's no surprise that you will have access to plenty of actionable betting information, gossip, and perfectly-priced markets.
Indiana Hoosiers Football
Notre Dame Fighting Irish
Purdue Boilermakers Football
Ball State Cardinals Football
IN College Basketball Betting
College basketball is a fantastic opportunity to try your hand at some in-play markets. Indiana sportsbooks make sure to provide you with excellent and well-priced odds you will enjoy in real-time, and more.
Notre Dame Fighting Irish Basketball – Men
Notre Dame Fighting Irish Basketball – Women
Indiana Hoosiers Basketball – Men
Purdue Boilermakers Basketball – Men
Butler Bulldogs Basketball – Men
Ball State Cardinals Basketball – Men
Professional Sports to Bet on in Indiana
If you are keen to get your hands on some professional sports, Indiana online sportsbooks have tons of options. We will now take a look at the four sports that generate the most attention and have strong ties in the Hoosier State through sports franchises from the state.
NFL Betting in Indiana
Indiana is home to the eponymous Indianapolis Colts franchise, a team that has not made its mark on the NFL recently, but that has nevertheless been one of the teams to watch out for. Naturally, the Colts elicit strong interest from state bettors. The Colts ended up second in the AFC South, right behind the Titans during the 2020/21 season.
NBA Betting in Indiana
Indiana has a good rapport with the National Basketball Association (NBA) and this is not by chance. The Pacers are a constant part of the NBA's regular season and more often than not, the playoffs. The team's last final face-off was in 2000 when they played up against the Los Angeles Lakers. The Pacers lost in a deciding tie-breaking game with 111-116 in favor of the LA Lakers.
MLB Betting in Indiana
While baseball isn't represented through a local franchise in the state, many locals back the White Sox and the Chicago Cubs. Naturally, Indiana online sports betting sites make sure to cover all baseball wagers out there.
The MLB is clearly heavily featured, but sportsbooks often extend coverage to Japanese baseball, and even some celebratory games around the world, such as the show matches in the UK.
NHL Betting in Indiana
You won't find a hockey team in Indiana, but there are plenty of betting markets to enjoy all the same. Local sportsbooks make sure to cover all viable betting options, giving you the unique opportunity to make good use of the available odds yourself.
How to Make Deposits and Withdrawals on Indiana Sportsbook?
Deposits and withdrawals are simple enough when visiting an Indiana sportsbook. Thanks to the fact that online sportsbooks in Indiana are fully regulated, this gives you access to numerous worthwhile payment options.
Legal also means quick and this is what you get banking with localized payment solutions that guarantee instant deposits. Withdrawals may take up to 48 hours to clear, subject to regulatory compliance. Other than that, you have plenty of payment options to pick from, including:
Credit and debit cards
PayPal
Online bank transfers
PayNearMe
All of these payment options are whitelisted by local financial institutions and you would have no trouble whatsoever making a deposit or requesting a withdrawal. If you would feel more comfortable, you can go visit a retail sportsbook and cash out this way.
Remember that most sportsbooks will ask you to call in ahead of time to arrange the paycheck for you. There is no specific limit to how much you can withdraw as long as you have your money in your balance.
With specificity to the payment options you can use, there are Visa and MasterCard, Discover and Amex, Skrill, and Neteller.
How to Participate in Online Sports Betting in Indiana?
In order to participate in sports betting in IN, all you need to do is to meet the legal requirements. They are fair and easy to check off. To participate in a betting contest in the Hoosier State all you need to do is to be of the legal age, which is 21.
In-person registration is not currently mandatory so you can register your account remotely or just visit the physical location of a trusted betting brand. You must also not have had previous problems with gambling or currently be in debt that you have defaulted on.
All of this is part of Indiana's player protection scheme which targets vulnerable players and keeps them safely away from gambling, with references to free clinics, support groups, and more.
Retail Sports Betting Venues in Indiana
To operate a sportsbook in Indiana, any brand needs to team up with a physical casino. This allows consumers to always have a physical connection with the sportsbook they are trusting, even if over 85% of consumers stick to strictly mobile betting options. Today, there are at least eight casinos in the Hoosier State that support sports betting gambling.
| | | |
| --- | --- | --- |
| Retail Location | Sportsbook | Address |
| French Lick Resort | BetRivers | 8670 IN-56, French Lick, IN 47432, United States |
| Ameristar Casino East Chicago | DraftKings | 777 Aldis Ave, East Chicago, IN 46312, United States |
| Belterra Casino Resort | FanDuel | 777 Belterra Dr, Florence, IN 47020, United States |
| Blue Chip Casino | FanDuel | 777 Blue Chip Dr, Michigan City, IN 46360, United States |
| Lawrenceburg's Hollywood Casino | PointsBet | 777 Hollywood Blvd, Lawrenceburg, IN 47025, United States |
| Belterra Casino | BetMGM | 777 Belterra Dr, Florence, IN 47020, United States |
| Rising Star Casino Resort | BetAmerica | 777 Rising Star Dr, Rising Sun, IN 47040, United States |
| Horseshoe Casino Hammond | Caesars | 777 Casino Center Dr, Hammond, IN 46320, United States |

You can visit each of these locations in person or simply opt for the mobile websites which will work anywhere within Indiana's state borders. While the majority of sports fans prefer to place a wager on the go, the physical sportsbooks are fantastic places to kick back and share your appreciation for sports betting, especially when watching a big event, such as the Super Bowl.
Why Play at Licensed Online Sportsbooks in Indiana?
The benefits of choosing a licensed venue over the offshore markets are many. Offshore markets can often tempt you with a specific betting option that is not readily available at home. In Indiana, this would be an in-collegiate sports betting event, but is it really worth it?
Visiting a black market website, while perfectly safe in some instances, gives no guarantees that a bet would be honored or validated. You can win but never get paid or even have your bet voided because of some arbitrary condition the sportsbook only brings up after-the-fact.
In the regulated Illinois sports betting market, though, this cannot happen. First, the brands that operate here are present in nearly every regulated state. In other words, they do not want any bad press, but more importantly, they don't want the Indiana Gaming Commission to step in and solve an issue.
Not only are you going to receive a fair ruling, but any wrongdoer runs the risk of having their license revoked, an unpleasant process no brand would ever risk by doing you wrong. Overall, retail and online sportsbooks in IN are as safe as their licenses make them out to be.
Conclusion
Indiana sports betting is up and running, providing locals and state visitors with a well-developed ecosystem of pre-game and live wagers. Players can enjoy physical retail betting options as well as numerous online variations.
The betting pivots around popular American sports, but it similarly captures a lot of the international betting action, providing punters with good exposure to some of the more competitive international events, bringing you accurately-crunched odds in real-time.
Players are welcome to enjoy a selection of streamlined mobile apps, fantastic bonuses, odds boosters, swift banking, and 24/7 customer support.
FAQ
Can you bet on sports legally in Indiana?
Yes. Sports betting is legal in Indiana since September 2019. The first sportsbooks began opening in October that same year.
Who is in charge of sports betting gambling in IN?
Gaming and sports betting in the state are controlled by the Indiana Gaming Commission.
Is online and mobile sports betting available?
Yes. You can bet on sports via mobile devices and online. You do not have to be in a physical location to place a bet.
Who can bet on sports in Indiana?
Individuals who are at least 21 of age and who are not excluded from gambling for some reason can participate in sports betting contests.
Can I bet on sports in Indiana if I am a resident of Chicago?
Yes. As long as you are physically present in the state when placing the bet, you can bet safely regardless of your address in the United States.