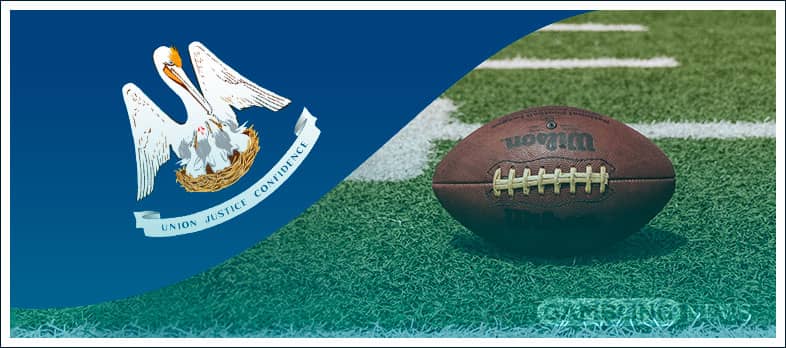 Sports betting in Louisiana is coming and 2021 is proving a key year for betting. After 55 out of the state's 65 parishes voted to back the activity, we are now on track to see online sports betting before long. The vote took place during the November 2020 ballot but the most likely sports betting launch is 2022 as legislators still have to thrash out a few details and decide on what the tax rate would be.
With the pandemic taking a big bite out of tax revenue, the Gaming Control Board will also have to think where the revenue from sports betting would make the most sense. In the meantime, the state of Louisiana is actually very close to launching daily fantasy sports. Already legal, DFS is expected to launch in April or May 2021.
2021 will also bring many exciting changes for the Pelican State, which could soon welcome online sportsbooks, albeit not too soon. Even then, things are looking up, and we can't wait to catch you up on everything that has been happening with Louisiana's pending sports betting industry.
Louisiana Sports Betting: State of Matters
So, how soon is Louisiana going to have a sports betting industry of its own? The question is not too difficult to answer in purely speculative terms – we should see the first sportsbooks arrive in 2022, and possibly in time for the Super Bowl, a milestone event that generates millions in terms of sports betting handle across the United States.
As to when sports betting will become legal, Louisiana stuck to the Professional and Amateur Sports Protection Act ruling until the U.S. Supreme Court struck it down in 2018. It took some time to organize things and, during a referendum held during the 46th Presidential Election, 55 out of 64 parishes voted in favor of bringing sports betting in Louisiana.
Now, it's up to the Louisiana Gaming Control Board to decide how to introduce and legalize sports betting in the state. The 2021 legislative session will be key, but we are unlikely to place our first bet on sports this year partly due to the gridlock the pandemic has caused.
Lawmakers and the gaming commission still have some work to do. One thing is to assess what betting options will be available. At first blush, there should be no reason why online sports betting cannot be part of the official launch.
Yet, the regulator will seek to channel the additional tax dollar in places that need dear penny dollar. Louisiana also has over 25 casinos, most of which are categorized as "river casinos" with a few "racinos" around the state, and three tribal operators.
There are a lot of moving parts, but most importantly, the people of the state have said yes to making sports betting legal and the Gaming Control board has approved sports betting already so at least this is out of the way.
Latest Gambling News in Louisiana
A Brief History of Sports Betting in Louisiana
To get a good read of where sports betting in Louisiana is, it may be a good idea to look at the history of the activity. Louisiana is blessed as it doesn't reunite the interest of powerful stakeholders. There are none of the rivalries between commercial and tribal businesses, and that is a good thing.
Even better, many prominent sports betting brands are already in the state. The Harrah's New Orleans is one of the few brick-and-mortar casinos in the state.
Then again, you have Horseshoe Bossier City, Golden Nugget Lake Charles, and River City Casino, all of which are operated, owned, or backed by brands that have already established sports betting businesses elsewhere. Here are the events that have led to today's success insofar as the sports betting industry is concerned.
2018
The only event that took place in 2018 that has had significant implications for the legality of sports betting in the United States is the repeal of PASPA, a federal ban that prohibited retail and online sports betting. With the law struck down, that meant that each commonwealth could decide for itself whether it wants to have legal sports betting or not.
Some states needed to start considering changes to their constitution, as the only way to introduce legal sports wagering, but for many others, it was a matter of simple legislative consideration. Louisiana was one of the states that had to put the subject up to its 64 parishes for a vote.
2019
2019 shaped up as a pivotal year for Louisiana sports betting, not so much because actual progress was made rather than the fact that lawmakers seemed to support the idea outright.
The first bill to arrive in the state was a daily fantasy sports betting legislation that was submitted in March. Later, an amendment was introduced to also make sports betting legal in Louisiana, but the move failed to gather enough momentum and was eventually mothballed.
2020
Things did look up once again for the sports betting industry in the state and in March, Louisiana saw two bills trying to make betting legal in the state appear during the legislative session. One of them set out that in order for any such thing to actually happen, the state would have it up for a vote in each parish.
As it became evident, while a majority was needed to make betting on sports legal, individual parishes were free to block the activity on their territory if they had not voted for it.
During the November 2020 ballot, 55 out of 64 parishes voted in favor of sports betting in the state but only for retail locations, meaning that mobile sports betting is still a no-go for the state, albeit this could change as well. Mobile is an important source of revenue.
Where Would You Be Able to Bet on Sports in Louisiana?
Louisiana is in no shortage of excellent places that will make legal sports betting accessible. The state has over 25 casinos that range from river properties to racinos, to three tribal casinos and they are all happy to welcome a sportsbook and see their revenues go up.
River, Golden Nugget and Hard Rock are clearly three of the names that would seek to be among the first to welcome Louisiana sports betting. This is particularly true because they can simply transfer their expertise from other jurisdictions in the state.
This basically means that Louisiana will allow in-person sportsbooks as well as consider mobile betting, allowing residents to place bets remotely. However, there has been no definitive legislation supporting mobile betting.
If anything, lawmakers have only discussed the retail sector, but bettors will be keen to see online sports betting approved, whether it's at stand-alone websites or in collaboration with a dedicated land-based casino. In fact, many states today offer the opportunity to bet remotely, and Louisiana would do best to enable wagers that come from a handheld device or simply online.
When it comes to sports betting, the best way to go with the activity is to give it free rein, which should appeal to those Louisiana voters who are also sports bettors themselves.
Where Does Louisiana State Stand on Daily Fantasy Sports Betting?
There is much good betting news coming out from Louisiana right now, and daily fantasy sports is one of them. For starters, the state's parishes voted in favor of the legalization of the activity back in 2018, paving the way for brands such as DraftKings and FanDuel.
In fact, the Louisiana Gaming Control Board is prepared to regulate the activity in the state and readies a launch for April or May 2021. Presently, there is a regulatory framework that binds this type of sports wagering.
Stakeholders have three-year licenses, and the annual fee will be calculated based on gross gaming revenue (GGR) generated over the period. Another noteworthy thing about this legalization framework is how long it specifically took Louisiana to introduce DFS after passing a law successfully back in 2018.
While 2021 may prove slightly more favorable to sports wagering in general, there is a good chance that it will be a while before we see fully-fledged sports betting in the state as well.
What Sports Will I Be Able to Bet on in Louisiana?
Louisiana is in no shortage of sports and now that we are moving towards a fully-regulated market, Louisiana residents will have plenty of sports betting options to enjoy – perhaps as early as next year! The focus of most sports betting would probably gravitate towards sports that have local representatives.
Popular sports teams in the state include the New Orleans Saints and the New Orleans Pelicans. Understandably, both the NFL and NBA are important to Louisiana residents who will be excited to know that the ballot measure they overwhelmingly supported will lead to retail and possibly online betting soon enough.
Apart from these two, though, the state has an interest in pretty much every major American sport, including but not limited to golf, NASCAR, hockey, baseball, and soccer, to name a few. By American, we don't mean to misappropriate the origins of each sport, but rather to reflect the popularity each competition enjoys in the country.
More sports that resonate with residents are boxing, tennis, darts, handball, rugby league and rugby union, Aussie rules, formula 1, cricket, volleyball. The state also roots for college sports with the LSU Tigers a point of pride for locals.
Good Picks to Bet On
As mentioned before, Louisiana has a nice sports tradition. What this means is that you can always quickly reference some possible betting opportunities. Clearly, the New Orleans Saints and New Orleans Pelicans are such.
The Saints won Super Bowl XLIV, and they have been playing in every NFC South Division Championship since 2017. Overall, the team has been doing quite well but hasn't been able to cut to the Conference Championships or the Super Bowl for that matter.
The other team you might want to bet on are the LSU Tigers, depending on whether college sports wagering would be allowed in the state. The Tigers are a strong franchise, and while they have their shortcomings, the university has been spending a pretty penny to keep its roster fresh and sharp.
The Pelicans have been in a bit of a slump in the meantime, with the team posting middling results in the 2020/21 season. While you probably love basketball, it might be a good idea to wait a bit before the Pelicans are once again a decent pick. Surely, they will offer value in some betting selections.
Types of Sports Wagers You Can Place in Louisiana
Louisiana legislature may yet exclude some types of bets you are able to place, but overall, there should be not too many restrictions when it comes to wagering in the state. The way most states do it is they authorize sportsbooks to extend a whole lot of wagers available anywhere when it comes to sports. This means that you would be able to place popular bet types, including:
Parlays
Moneyline
Totals
Spreads
Props
Futures
These are just a few of the possible bet types out there. Looking into some of the specific markets that may or may not be included, a few verticals are usually a little contentious when legislators decide if they should be included. They include:
Politics
Entertainment
Esports
College
Each of these categories is potentially an activity that may be left out from sports betting in Louisiana at least temporarily. College often comes with some strings attached. For instance, you can have legalized sports, but you cannot bet on college events that involve your state teams even if they are playing somewhere else.
All of this is designed to arguably strengthen the integrity of the sport and competition, but there is no actual evidence that this is actually the case. Nevertheless, sportsbooks are more than happy to comply. Many of them know that it's only a matter of time before residents push for the full legalization of every market.
Popular Sportsbooks We Expect to See
When it comes to sportsbooks that may show interest in Louisiana, there are some clear favorites. Because voters paved the way for DFS betting first, it's only logical that DraftKings and FanDuel would be getting an early start in the market, and there is hardly any shame in that. With this in mind, we feel it makes sense to mention a few things about each sportsbook.
FanDuel Louisiana
FanDuel is a fantastic sportsbook, and seeing it enter the Louisiana sports betting climate is a good sign for all. While the primary focus of the operator used to be DFS, it has evolved to successfully cater to traditional betting markets.
FanDuel makes placing a variety of wagers very simple and straightforward, and you should have no issue doing so whatsoever. The dedicated iOS and Android mobile betting platforms make things even easier, and you can access the betting site from both a desktop or mobile device.
The sportsbook comes with a dedicated rewards program as well as a very tempting $1,000 risk-free welcome offer that bettors definitely like. The sportsbook adds a smidgeon of great customer support along with a comprehensive FAQ section to solve any issue.
Not least, in every state that FanDuel operates, the offer is tailored in a way that makes it possible to deposit and withdraw quickly and reliably.
DraftKings Louisiana
A champion of DFS products, DraftKings offers a uniform sports betting experience in the United States, Making sports betting legal in LA means that local bettors will have access to one of the best betting sites in the country.
DraftKings has a $1,000 entry-level bonus that is worth it, and the offer comes with an intuitive betting slip, live betting markets, hundreds of possible markets, and intuitive mobile platforms that work with all operating systems (OS) and devices.
The sportsbook supports PayPal, among other payment options, in the majority of the states where legal sports betting is available, and Louisiana should be no different when it comes to stellar payment options.
The Offshore Betting Market: Still Going On
Unfortunately, while lawmakers are still debating how and when to legalize sports betting, bettors are heading to offshore sites that offer remote and mobile wagering. Naturally, this has proven very tempting to the majority of residents, and sportsbooks located outside the state or even the country are extending various betting offers.
The market generates about $150 billion annually according to the American Gaming Association (AGA), a trade group based in Washington, D.C. One issue that stems from offshore gambling is that when licensed betting sites finally launch in Louisiana, it could be difficult to tell which online sportsbooks are actually legitimate.
States such as New Jersey have become very adept at controlling their betting markets in terms of only allowing legitimate websites and educating residents. New Jersey is also a state where any sites or media that promote offshore gambling are targeted by regulators.
So, are Louisiana bettors still turning to offshore online sportsbooks? This certainly is a case. Yet, if Louisiana passes a mobile sports betting bill, we are sure that in good time, these sites will lose all of their bettors.
Conclusion
Sports betting is on its way to becoming legal in Louisiana, and this is good news for everyone. Bettors will be able to attend trusted and vetted retail sportsbooks and very possibly, online sportsbooks, too. The full-scale legalization of the industry would also mean better tax dollars for the state coffers and a way to bite into the offshore market, which continues to target Louisiana residents without permission.
With a few regulatory nuts and bolts adjusted, sportsbooks can soon begin offering licensed sports betting markets. It may take some time to have all verticals brought up to speed, but offshore is dying, and Louisiana's many parishes recognize the importance of legal sports gambling. It's only a matter of time until everyone catches up. The most likely outlook for legal sports wagering in Louisiana remains 2022.
FAQ
Are sports betting legal in the State of Louisiana?
No, sports aren't legal in Louisiana just yet. The state is getting a lot done, though, and DFS is expected to go online in 2021. Traditional sports betting should follow in 2022 or maybe early 2023.
Can I bet on sports in Louisiana?
Yes, you can legally bet on DFS legally. Offshore online sportsbooks continue to target residents in the state. However, they are not up to industry standards and we advise you to wait for legal betting options.
How old do I have to be to bet on sports in Louisiana?
21. The legal gambling age in the state of Louisiana is 21. You cannot participate in any gambling contests unless you are of the legal age.
Is online sports betting available in Louisiana?
No. Presently, there is no form of online sports betting available in Louisiana. DFS may allow mobile betting in 2021. Lawmakers will decide on the status of professional sports betting later.
When is Louisiana sports betting launch happening?
TBA. Some are hopeful that Louisiana sports betting will arrive early in 2022. Others predict 2023 as a more reasonable time window. It all depends on how much legislators achieve in 2021.
Will I be able to bet on college sports in Louisiana? 
TBA. Lawmakers have not discussed what legal sports betting markets will be available and what may be left out. College sports is a bit of a contentious bone.
Can I bet offshore from Louisiana? 
Yes. However, bear in mind that offshore sportsbooks have no obligation to protect you. They are unregulated by a state regulator and have no verifiable consumer protection measures.
Will mobile betting sites be available?
TBA. Mobile sports betting historically favors states. It brings better revenue and offers a better overall experience.