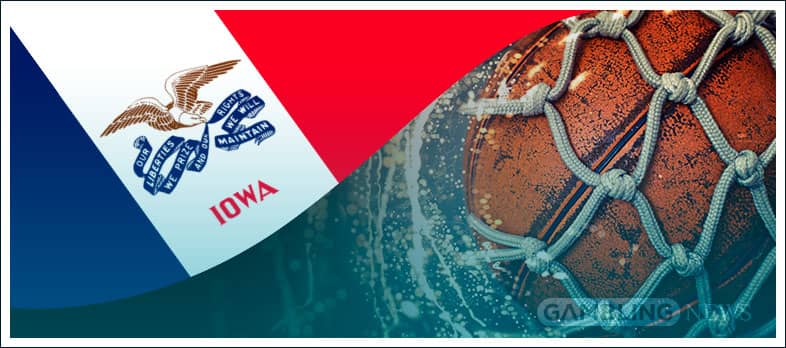 Iowa's online sports betting market is changing quickly. With the state's 3.2 million residents, Iowa may be the biggest in terms of population, but it certainly is one of the best states for sports betting. Local sports bettors have access to excellent online sportsbooks including DraftKings, William Hill, PointsBet, and other worthwhile picks.
Iowa sports betting was legalized in May 2019 and by August 2019, the first retail and online sports betting facilities have launched to bring local residents the expected quality of sports betting markets, promotions, and features covered by the state's active sports fandom.
The state has some of the best betting sites developed by private operators that feature online shopping windows along with dedicated sports betting apps to give you every bit of comfort. And now, Iowa no longer requires you to come and register in person.
Instead, you can jump right into mobile sports betting setting up your account remotely and having a blast while you are at it.
Best Iowa Online Sportsbooks
Iowa is host to many licensed online sportsbooks, giving residents a fair bit of sports betting options. We have listed and reviewed all sports betting brands, and there are plenty to choose from. They are all excellent and approach sports betting from a slightly different angle.
Some are generous enough to offer you $1,000 in risk-free bets and others come up with a $1,000 direct match deposit bonus. Either way, you are advised to consider the strengths and weaknesses of each and every brand.
Thanks to a license by the Iowa Racing and Gaming Commission, you can rest assured that Iowa sportsbooks are some of the nation's best, and they all meet industry benchmarks. Sports betting is legal in Iowa, and here is how you get to enjoy it at some of the finest betting sites.
Here is a list of the best online sports betting sites in Iowa that have been reviewed and tested by our iGaming experts:
Mobile Sports Betting in Iowa
Sports betting sites in Iowa have not hesitated for a moment to debut an array of excellent options. The state's sportsbooks have set up outstanding online options along with powerful sports betting apps to grant die-hard sports fans the freedom to bet remotely and on the go.
Mobile apps in the state are available for both Android and iOS device types, and they are waiting for you on the Google Play and Apple Store. Sports fans who prefer to bet remotely will find a mobile app a welcome ally, as it allows you to quickly navigate the variety of markets and choose a worthwhile market.
Promotions are also available to mobile users, so a betting app will really come with all the bells and whistles you can expect from a sports wagering website. There is even the added benefit of operating your bankroll, tapping into the cash-out feature for your live bets, and receiving free bets as a neat little extra.
DraftKings, FanDuel, PointsBet, and most recently William Hill Sportsbook, all have some superb mobile sports betting solutions to take your sports wagers to the next level.
In November 2020, the total sports betting handle in Iowa reached $87.2 million, with mobile betting accounting for $62.4 million. Numbers are expected to go even higher as new mobile apps are arriving, and not least a planned market entry by 888 Holdings in 2021.
Latest Gambling News in Iowa
Is Iowa Sports Betting In-Person Registration Necessary?
Just before the turn of 2021, you had to visit a retail property and register in person to access sports betting. Thanks to a quick fix in the state's legislation, though, there is no longer any need for you to visit a brick-and-mortar venue. Instead, you can access your preferred betting site remotely and bring your sports bets online right away.
What Online Sportsbooks Run in Iowa?
Iowa is a well-saturated sports betting market, offering a great mix of online and retail locations. As a result, the state's residents have taken fondly to both, although mobile is certainly picking up momentum in 2021. All of this brings the question, what online sports betting sites are available in the state?
William Hill
Retail licenses: Isle Bettendorf, Isle Waterloo, Lakeside, Prairie Meadows Racetrack Casino
Online launch: August 15, 2019
Retail launch: August 15, 2019
William Hill has just launched its mobile sports betting app in Iowa, and it is already happy to take on any mobile bets. The app comes with the brand's signature user interface and intuitive design that allows simple enough navigation.
William Hill Sportsbook is available for iOS, Android, and naturally desktop. The sportsbook is available in five mobile states presently, and nearly all regulated sports betting markets. Iowa is the fifth state in which the sportsbook launched a mobile betting solution adding to the overall quality of the experience.
The website and app are intuitive enough, covering a good number of events, including but not limited to football, basketball, hockey, tennis, martial arts, boxing, Australian rules, and other worthwhile markets that strike home with the local crowd.
There are numerous promotions to tap into as well, such as the Welcome Offer, but also tailored betting markets covering individual games and players, such as "Simmons 20 Pts & 76ers Win" and "Cleveland to Win Conference".
PointsBet
Retail licenses: Catfish Bend
Online launch: November 26, 2019
Retail launch: August 15, 2019
PointsBet entered the online sports betting space in Iowa in November 2019, teaming up with Catfish Bend to deliver a state-of-the-art experience, and it has succeeded. The dedicated mobile app arrived in January 2021. Yet, what makes PointsBet successful is not its choice of partner, but the ability to consistently deliver high-grade sports betting experience.
PointsBet is definitely an interesting addition to the Iowa sports betting climate. The sportsbook comes with great functionality, including the "Booster Odds," and "Name a Bet" option if you are not entirely certain the markets you enjoy are available.
You can benefit from a "quick parlay" option that will help you establish a multi-bet selection or quickly jump to the available In-Play options. The website is available as a mobile app just as well, and you can download the PointsBet experience to any iOS and Android device.
DraftKings
Retail licenses: Wild Rose Casino: Clinton, Jefferson, Emmetsburg
Online launch: February 19, 2020
Retail launch: October 11, 2020
As the sixth sportsbook to go live in Iowa, DraftKings certainly has clout with the local sports betting community. The operator's reach across the U.S. is significant and DraftKings is represented in every regulated sports betting state, including Iowa, but more importantly, in nearly all of the country's jurisdictions owing to its fantasy sports product.
DraftKings' Iowa betting product is tailored to the needs of the locals and it comes with a slick user interface, quick navigation, and a dedicated mobile app that will make the experience simple enough. The company owns both retail and online sportsbooks in-state and across the country, and it's certainly what you would call a household name in the industry.
FanDuel
Retail licenses: Diamond Jo, Diamond Jo Worth
Online launch: September 9, 2020
Retail launch: August 29, 2019
FanDuel has not hesitated to be among the first to launch in Iowa, despite a temporary restriction on remote registration. Nevertheless, FanDuel teamed up with Diamond Jo and Diamond Jo Worth for retail sportsbooks on August 29, 2019, and followed up with mobile and online sports betting options for Iowa residents just a year later.
With the suspension of the in-person registration restriction in January 2021, FanDuel has seen a slightly better new registration rate.
BetRivers
Retail licenses: Wild Rose
Online launch: January 4, 2021
Retail launch: N/A
BetRivers is a huge name in the sports betting segment not just in Iowa, but well across the United States. The sportsbook is backed by Rush Street Interactive (RSI), a company with deep ties in the U.S. betting and gaming industries.
BetRivers is currently available in Colorado, Indiana, Pennsylvania, Colorado, and it's also on its way to launching in Virginia, Tennessee, Michigan, and others. As you can see, a lot is happening very quickly.
The good news for BetRivers is that the company offers one of the most amazing selections of sports markets to go with a great loyalty program that will add up to the overall level of excitement. BetRivers Sportsbook allows you to stack up your rewards and redeem them for an even better sports betting experience in Iowa and beyond.
BetMGM
Retail licenses: Diamond Jo Casino
Online launch: January 4, 2021
Retail launch: N/A
BetMGM was the first operator to pounce at the opportunity of launching a mobile sports betting app in Iowa, following the removal of a temporary ban that restricted registrations to in-person only. The sportsbook launched its dedicated app on January 4, 2021, and has been the first one to do so nationwide.
BetMGM has a big footprint in the United States, and the operator is competing for the juiciest of market shares with markets launched into multiple jurisdictions across the country. The Iowa iteration of the sportsbook is nothing short of a compliment and extension of the already proven track record BetMGM has achieved throughout the United States.
The company is also on a mission to expand its business several-fold in 2021 through 2023. One of the key strengths of the sports betting experience at this bookmaker is its connection with MGM Resorts, the casino company it operates with.
Elite Sportsbook
Retail licenses: Grand Falls, Rhythm City, and Riverside Casino
Online launch: August 29, 2019
Retail launch: N/A
Elite Sportsbook was among the first companies to launch a dedicated Iowa sports betting product. The company has teamed up Bet.Works to provide it with the innings of what makes a sportsbook tick over nicely.
To make matters even better, Elite Sportsbook works with three land-based locations including the Grand Falls, Rhythm City, and Riverside Casino. It provides extensive sports coverage and bonus systems devised to keep sports fans entertained.
The sportsbook definitely comes with slightly less space than many of its competitors, but the lounges are decked out with all the necessary bells and whistles to make for an amazing betting experience all the same. Better yet, from 2021 on in, the majority of the betting handle is headed online, and it's a preferred choice for Iowan punters.
Hard Rock Sportsbook
Retail licenses: Hard Rock Sioux City
Online launch: December 19, 2020
Retail launch: December 16, 2019
Hard Rock Sportsbook is another venue and online betting destination in Iowa that adds to the overall landscape and depth of experience. Teamed up with the Gaming Innovation Group or GIG, Hard Rock's betting product is on-par with all industry standards.
The mobile sportsbook is a neat little affair, with an intuitive user interface, packing available sports, betting markets, and promotions all ready to go.
Q Sportsbook
Retail licenses: Q Casino
Online launch: November 12, 2019
Retail launch: August 2019
Q Sportsbook kicked off as both an app and a retail sportsbook with the help of IGT to deliver impactful sports betting solutions to sports bettors in the state and create a unique experience. The market variety at Q Sportsbook is great and it allows you to pursue all of your favorite sports, players, and other betting opportunities, with a neat little bonus waiting just around the corner.
Pending Sportsbooks in Iowa
Iowa's sports betting market got a significant boost in 2021 and one that the state will long remember, with mobile sports betting taking off in earnest. In this context, it's good to mention the names of those sportsbooks that haven't yet made their mark on the state.
They include household names such as 888, BetAmerica, Barstool Sportsbook, Caesars Sports, bet365, and others. Interest in the state is quite significant, with Iowa hitting $104 million in sports betting handle in December 2020.
Popular Sports to Bet on in Iowa
Iowa has a lot to offer to sports bettors of all backgrounds. The Hawkeye State is well-represented in several disciplines, including basketball, college, and hockey, with numerous grassroots, college, and professional outfits vying for sports' biggest accolades.
This naturally begs the question of what the most popular sports to bet on in Iowa are. There are plenty of options, actually. They include but aren't limited to:
Basketball
Baseball
Boxing
Golf
Football
Hockey
Soccer
Rugby
Tennis
Olympics
This hardly exhausts all the available options. Different sportsbooks will offer slightly different wagering opportunities, but overall, there is decent overlap, and you will be very happy with the competitiveness of the markets.
Shopping around for odds will clearly give you a slight advantage, so don't hesitate to do as much. For those who enjoy college sports or NCAA, there are at least two teams to keep your eyes peeled for, which are the University of Iowa Hawkeyes and Iowa State Cyclones.
For those who bet on NFL, Iowa seems to be fond of the Minnesota Vikings, but the state often endorses the Kansas City Chiefs as their own. Sports allegiances tend to shift from time to time, but sportsbooks approach each sports franchise with objectivity, giving you a chance to shine.
The NBA is another big sport and league in the state. The preferred teams here are the Chicago Bulls, although the Bulls have not had much success recently. Another sport that may be a little odd at first glance is hockey.
There are some six teams that are still active in the state in hockey, and Iowans definitely appreciate a good hockey betting market and season. For the rest of the available sports, MLS is another big event on the calendar and well worth paying attention to.
Banking Options for Sports Bettors in Iowa
If you are looking for a quick way to cash out your winnings or deposit in Iowa's top sportsbooks, you will certainly be in no shortage of good options! Because Iowa offers legal sports betting options, sports fans can benefit from whitelisted payment options that expedite each transaction and get rid of any potential hassle.
You can pick from popular and useful banking methods such as credit and debit cards, bank transfers, casino prepaid cards, PayPal, Neteller, ACH eCheck, PayNearMe, and numerous other worthwhile options.
Deposits and withdrawals are both easy and usually take a few moments to complete. You may not be able to withdraw with some methods, but in case you want to collect your money immediately, you can just stop by the retail sportsbook and request cash at the cage.
Processing times for most withdrawals should only take 24 hours anyway and all deposits are usually instant for your comfort.
Mobile Betting in Iowa: A New Beginning
Iowa's sports betting really started picking up towards the end of 2020, buoyed up by an imminent launch for mobile sports betting. That came in January 2021 when the state's voted amendment allowed for remote registration at sportsbooks, enabling Iowans to register without visiting a sportsbook in person.
As a result, sports fans in the Hawkeye State will have plenty of mobile betting options. This begins with a dedicated Android and iOS version of all the mainstream sportsbooks recommended by GamblingNews.
For additional comfort, you may use the Google Play and Apple Store to download all the sports betting options you need and always be tuned in to the mainstream events in the state.
Conclusion
Sports betting is massively popular in the United States and there is no denying that. Iowa is just one of the states out there that offers a well-developed and maturing market for sports bets, and this is a good thing.
The Hawkeye State has been able to make its mark on the industry by bringing sophisticated and worthwhile solutions, all adding up nicely to a sports betting experience that will be well worth your while.
FAQ
Is sports betting legal in Iowa?
Yes, sports betting is legal in Iowa since 2019. The Hawkeye State passed an amendment allowing sports bettors to register remotely. Since January 2021, all sports fans who wish to bet in Iowa can do so by registering at a mobile sportsbook remotely.
Can you bet from mobile on sports in Iowa?
Yes, since January 2021, you can pick from numerous mobile apps and bet remotely in Iowa. BetMGM became the first mobile app to launch in the state followed by William Hill, PointsBet, and others.
Do I need to be physically in Iowa to bet on sports?
Yes, you must be present in Iowa when placing a bet with any of the Iowa-facing sportsbooks in the state.
Are there sign-up bonuses for sports bettors in Iowa?
Yes, there are numerous sign-up bonuses you can benefit from in Iowa when betting on sports. All sportsbooks in the state offer free bets, deposit bonuses, and more.
What types of sports betting markets are available in Iowa?
You may bet on any type of sports market, including moneyline, spread, and totals, along with many sports and proposition wagers.
How old do I have to be to bet on sports in Iowa?
The legal sports betting age in Iowa is 21. You must be of the legal age when betting on both mobile and retail sports wagering products.
What taxes and fees are there for sports betting in Iowa?
Iowa has flexible betting fees and tax rates. Operators need only pay 6.75% of their sports betting revenue and pay a $45,000 license fee. This is much lower than what most other states charge, and especially Pennsylvania where a single license was worth around $3 million.
Do I need to report my sports betting winnings to tax authorities in Iowa?
Yes, all sports betting winnings are taxable and must be reported on your tax form. As subject to income tax, you must make sure to keep a good track of your sports betting spending and winnings.
Can I legally bet on daily fantasy sports in Iowa?
Yes, the sports betting law passed in 2019 and legalizing traditional sports betting has also impacted daily fantasy sports, legalizing it and rendering it available. This is one of the reasons why DraftKings was one of the first sportsbooks to launch in the state.