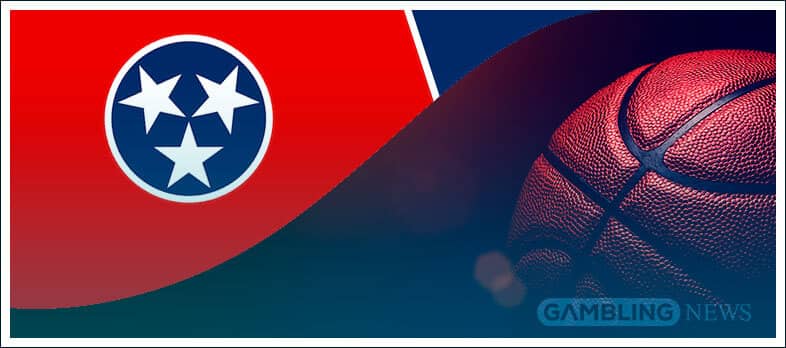 Online and mobile sports betting is already legal in Tennessee, meaning you can place a bet anywhere in the state. TN hosts some of the best sportsbooks in the United States, including BetMGM, FanDuel, and DraftKings, and offers extensive market selections, bonuses, betting apps, and competitively-priced odds.
The activity is regulated by the Tennessee Education Lottery, ensuring that you have access to the fairest market conditions, leagues, and fixtures, including in-play and pre-game bets. Sportsbooks in Tennessee bring you an entertaining selection of options with hundreds of available bets on the Super Bowl, College Bowls, NBA Playoffs, Worlds, March Madness, and more.
Action 24/7 also joined Tennessee's online sports betting landscape and added further diversity to the state's wagering market. All betting options in Tennessee are mobile-only, making the Volunteer State an outlier in the USA. Here is all you need to know about Tennessee sports betting, starting with the best bookmakers.
Top Sportsbooks in Tennessee
Tennessee has gone the road of full digitalization of its sports betting industry, opting for interactive wagering over retail. Where many other jurisdictions feared they would fail, the state excelled, putting its eggs in the same mobile and online betting basket. The top sportsbooks in Tennessee are as follows:
Here is a list of the best online sports betting sites in Tennessee that have been reviewed and tested by our iGaming experts:
Presently, there are four TN betting websites and apps that allow you to enjoy some excellent markets. FanDuel, DraftKings, BetMGM, and Action 24/7 all launched on November 1, 2020, giving the Volunteer State a flying start in the betting industry.
These sportsbooks are proven and established names in the United States, making for some of the most reliable options in the state, and beyond. Besides, they are all licensed by the Tennessee Education Lottery Corporation, making them a trustworthy choice.
Each sportsbook specializes in a particular aspect of the experience. Some are touted as best for odds and prices, and others come with numerous promos. DraftKings Sportsbook, for example, specializes in offering some excellent prop bets.
Even better, Tennessee has decided to steer clear of over-regulating the industry agreeing to license as many mobile apps as stakeholders think there is room for. Many good names may yet enter the state's sports betting ecosystem. Some of them include:
William Hill
WynnBet
PointsBet
Bet365
BetAmerica
FOX Bet
Every one of these stakeholders would benefit from having sportsbooks in Tennessee, and this is a fact. The top sportsbooks in the state all share similar qualities, courtesy of the regulator.
You can expect excellently-priced odds, flexible betting markets, spot-on customer support, rapid withdrawals, and more, all by sticking with the best sportsbooks in Tennessee in the first place.
How to Find the Best Sportsbooks in Tennessee
Even though the Tennessee betting industry is quite liberal, it still focuses on several brands. Yet, there is sufficient variety to make yourself wonder how to find the best sportsbooks in Tennessee in the first place?
There are some proven criteria that sports bettors always look for to make sure they have made the right choice. Here are some of the core principles each sportsbook should uphold to be considered one of the best TN betting sites.
Licensed by the state: A license by the Education Lottery Corporation must know that a sportsbook in Tennessee is licensed and reliable.
Quick navigation: Navigation should be intuitive, allowing for quick use of the website and all of its functionalities and features.
Dedicated mobile app: Sports betting apps are the norm, and having compatible software for iOS and Android devices is necessary.
Fairly priced odds: Offering sports bettors fair markets is essential to winning their trust, and so TN sportsbooks make sure to live up to this expectation.
Fast withdrawals: Once you have your winnings secured, it's important to be able to cash them out. An advanced withdrawal system can help you with that.
Helpful customer support: Not least, you want to know that customer support is helpful and can sort out any issue you may face.
All of the above factors will help you find the best sportsbooks in the state and help you pick one that is cut for you. Even better, it's fairly safe to say that every betting website in TN is up to snuff and can therefore provide you with a spot-on sports wagering experience.
There is naturally an inherent benefit in comparing odds and running lines across different sportsbooks so that you can get the best fixtures possible.
Latest Gambling News From Tennessee
How to Get Started with TN Sports Betting
So, how do you get started with Tennessee online sports betting? It's very easy. You can pick a sportsbook name or names and make sure to head over their website and download their app.
Apps are the preferred medium for betting, but if you choose, you can stick with the websites' online versions. Here are several steps to follow so that you are all caught up with TN sports betting and how to start yourself up:
Find a sportsbook you can trust. Visit our reviews and read up on what every specific brand has to offer.
Download the mobile app. Not a necessity per se, but having an app or combination of apps does make life easier for sports bettors.
Set up your account. Make sure to fill out the details as required by each sportsbook and be as forthcoming as you have to be.
Make a deposit. Once all else is set up, it's time to make your first deposit and top up your bankroll.
Place a bet. Next, you can choose any fixture or selection you feel comfortable with and make a bet.
Once you have done all of these, you are already a full participant in the Tennessee sports betting ecosystem. You can also opt for some sign-up bonuses. Free bets are usually the norm, with some sportsbooks offering a $1,000 risk-free bet right from the start. BetMGM has a $600 risk-free bet, for example.
Alternatively, deposit bonuses will match your initial deposit amount by 100% and make it possible for you to bet with a little more to your name. A bonus is not obligatory, but it can be helpful, and TN sportsbooks have plenty of worthwhile promo opportunities.
What Bets Can You Make in Tennessee?
Tennessee sports betting makes room for a lot of action, courtesy of a well-developed wager types ecosystem. You will find numerous possible selections to place thanks to the many wager archetypes available. They include:
Moneylines
Point spreads
Totals
Futures
Propositions
Parlays
Teasers
Pleasers
Every bet brings with it a unique opportunity to realize a profit, albeit remember that sports betting knowledge can prove elusive, too. Statistically, Moneylines are your best bets as it were. They allow you to carry a small portion of the risk while giving you a fair assessment of the situation.
Point spreads and Totals are two other popular wagering types, and they resonate with Tennessee sports fans. While slightly riskier, these two still make the bulk of the sports betting action in the Volunteer State.
For the rest of the wager types, there are arguments for and against. Propositions are a popular choice for many people who bet on sports leisurely and in a more serious capacity.
They can post all sorts of new conditions tying right into the sport they cover, but also the surrounding events.
Sports betting in Tennessee offers a generous crop of such "props" once a big event occurs. Sportsbooks spare no effort to generate as many great betting conditions as their analysts reliable allow them.
Parlays allow you to observe the bigger picture and make conclusions about very specific betting conditions that involve multiple selections. By doing so, you can wager on a selection of multiple bets, hoping for better returns, while taking on a much bigger risk as well.
Other wager types are equally worth it and worth exploring, but the farther you move away from the Moneyline, the more arguable risk you are carrying.
TN Sports Bets to Consider
As explained, Tennessee offers a fair bit of different bet types. Yet, depending on the sport, you may find an entire selection of brand-new wager types you haven't explored before. Soccer, for example, comes with some sports-specific wagers, such as:
Handicap
Double chance
Halftime 1×2
Total 1st half
Draw no bet
Both teams to score
In tennis, you will find "Who will win set," "Total Games," "2way – Who will win," and others. The truth is there are numerous bets that each sport brings along, and yes, they are part of the Tennessee sports betting industry.
The good news is that the more time you spend focused on a single sport, or a selection of sports, the more accurate your selections will become, allowing you to take advantage of the riskier types of bets and use them to your advantage.
Live Betting in TN
Sports in Tennessee allow for many high-rewarding scenarios that should give you a good variety of wagering opportunities. If you wish to bet on sports live, there is no better option than the available in-play markets.
Part of the Tennessee online sports betting ecosystem, live markets are some of the most entertaining selections you will ever take on. They are also quite risky as the odds change rapidly in real-time with little room for error.
The good news is that thanks to some of the best TN sportsbooks, you can enjoy a great diversity of in-play markets. More often than not, they come with a cash-out feature that makes it easier to moderate and adjust risk.
All top sportsbooks in the Volunteer State-run live games. Understandably, the number of in-play markets is much smaller than that of traditional pre-game bets, but it surges around the time of a big event and definitely during the big weekday plays.
NFL weekends and NBA game nights, as well as College Thursdays, are filled with in-play betting action you can enjoy. It's not just the main American leagues that naturally get coverage in the live sports betting markets.
There are many more worthwhile options trickling in, and you would not want to miss out betting live on soccer, tennis, baseball, and PGA Tour events. Soccer is covered profusely by TN sportsbooks, and for a good reason.
The European sport draws hundreds of millions of fans worldwide, making it one of the most entertaining live markets of all time.
Popular TN Sports to Bet On
TN sports betting will almost certainly come down to focusing on specific events and major leagues. Online sportsbooks in the Volunteer State make sure to go the extra mile in bringing you a vast selection of markets.
There are at least 15 main sports types you can bet on and day out, with all their sub-markets, state, national and global events. Sports fans are invited to pick their preferred market and place wagers on events such as:
NBA
NCAAF
NCAAB
NHL
PGA Tour
Hockey
Soccer
Tennis
MMA
NFL
There are many other available markets, including Aussie rules, boxing, Formula 1, NASCAR, Rugby league, volleyball, etc. College bets are covered, but you may not bet live on NCAAB or NCAAF games, so keep this in mind.
NFL Betting in Tennessee
Naturally, Tennessee has a well-established tradition in sports. As such, you can expect the Volunteer State to cover a fair bit of betting action that surrounds America's largest leagues, and not least the National Football League (NFL).
Even better, TN is represented by the Tennessee Titans. This established franchise has repeatedly soared to the sport's highest level, generating a fair bit of action along with it. This and the fact that the team has been consistently topping the AFC South in the American Football Conference elicit a strong betting bonanza.
But even without factoring in the Titans, there is plenty of betting action surrounding football in the state. The truth is that the NFL weekend action, paired with the mobile solutions available to TN residents, makes for a very convenient betting mode overall.
NBA Betting in Tennessee
If you want to bet on the NBA and do so while backing up a local team, you would have to go after the Grizzlies. Now, the Memphis Grizzlies are no random team, and they have a rich history in the NBA.
However, their most recent performance has been a bit of a slump, with the Grizzlies posting a middling performance throughout the 2020/21 season at the beast. Now, if you are a recreational bettor, placing a sports bet on the Grizzlies is a good call.
It adds to the excitement and helps you dive into the sports betting culture surrounded by Grizzlies fans. To squeeze the most out of your bets, though, you may want to wait until Memphis is back in an upswing first.
Betting in Tennessee revolves around the major leagues, and the NBA is no exception. The busy weekly schedules provide you with a lot of out-of-state betting opportunities to claim in the form of tempting wagers.
NHL Betting in Tennessee
Tennessee sportsbooks offer many hockey bets, and why wouldn't they when the state has its own Nashville Predators that represent TN in the NHL. The hockey markets are well-developed, and they invite specific bets.
You get to experience the "puck lines," which are basically point spreads with a small twist. Sports betting around hockey is quite popular, and even though the Predators have not made much of an impact on the Stanley Cup recently, they are still an interesting franchise to consider.
Besides, there is no obligation for you to bet on the Predators specifically. Any out-of-state or even Canadian team is perfectible acceptable so far as online sportsbooks in the state cover a team selection.
MLB Betting in Tennessee
Tennessee sports betting follows the national logic and responds to interest in sporting events, franchises, and leagues. This is why brands such as DraftKings, FanDuel, BetMGM, and Action 24/7 all focus on providing you with proper coverage.
Since Major League Baseball (MLB) is considered a national pastime and hobby, it's easy to see why a lot of the action gravitates to it. In terms of sheer sports betting handle, baseball doesn't drive the biggest purse.
That would be football and basketball, but Tennessee has a good tradition with the sport. Both the Atlanta Braves and the St. Louis Cardinals play at the highest level of competition, bringing a fulfilling experience, whether you are a spectator or have ventured to try sports betting yourself.
College Tennessee Sports Betting
College sports are very popular in Tennessee, and you would have no trouble making a bet on your favorite collegiate team either. When it comes to college sports betting, though, there is a "but."
The state doesn't authorize in-play proposition bets on college events, regardless of where an event is taking place. This isn't too bad. The logic goes that the measure would make it harder for anyone trying to corrupt college athletes.
When lawmakers agreed on a regulatory measure, they figured that making a player throw a particular sports moment is easy and can be swept under the rug, so eliminating the possibility is a good way forward.
TN sports betting isn't losing money on the lack of live prop bets, which is a good thing. One of the most popular collegiate sports franchises in the state is the Vanderbilt Commodores, but college sports are well developed all over the country.
This means that you can still carry out many college betting, minus live props, which are not too much of a loss anyway! So, yes, you can bet on college games, including college football and college basketball, as you see fit.
Whether you are looking for regular-season games, March Madness, or the College Bowls, Tennessee offers enough sports betting opportunities.
Mobile Sports Betting in TN
When Tennessee passed its sports betting bill, it was immediately clear that the Volunteer State is an outlier. Unlike other states which have been jumping through all types of hoops, from constitutional changes to looking for retail partners, TN decided to save itself the hassle.
It has gone the road of full mobile betting, allowing as many sportsbooks to enter in the process. Optimizing sports betting for both mobile and online has given Tennessee residents a flying start.
Today, you can engage with mobile sports betting products in TN by opting for either the desktop version of online sportsbooks or downloading the dedicated Android and iOS apps.
Tennessee Sports Betting Apps
DraftKings, FanDuel, BetMGM, and 24/7 have all sought to provide state residents with the highest level of comfort when it comes to their mobile betting options. This is where Tennessee sports betting apps come in.
Available as both Android and iOS solutions, you can download and quickly install the version of the software you need to play. Depending on the current Google regulation of sportsbook apps, the Android version may or may not be available on the Google Store.
Online sportsbooks will offer you to download it directly as an .apk file available from the website. However, these days in Tennessee, sports bettors can download directly from the Google Store, saving themselves any ensuing hassle and enjoying seamless installation.
In the cases where an .apk file is installed, you would need to turn on the "accept downloads from unknown sources," which is completely safe.
Why Opt for a Mobile Sports Betting App in Tennessee?
Tennessee betting is fun, but having the added benefit of a dedicated mobile app can easily make it quicker for you to run through selections and enjoy the most compatible bets. Bonuses, customer support, and all sorts of other treats will be fully available for you to explore directly from any compatible smartphone or tablet.
Players can access in-play and pre-game markets while on the go or just use the mobile apps to quickly look in on how selections, odds, and pricing have changed. Mobile betting arguably gives you more control over your betting as it allows you to constantly stay tuned. Some of the key benefits here are:
Accessibility: Mobile betting in Tennessee is available anywhere in the state, and as long as you are of the legal age, you can place your bet remotely.
Intuitiveness: You may be thinking that betting from an app would be the worst, but navigation is streamlined to the point where you can place intuitive wagers without delays.
Bonuses: You can scoop yourself any sports betting bonus you want in Tennessee mobile apps. They are all listed and made available for quick navigation.
Simplicity: Thanks to the mobile app's streamlined betting user interface, finding the exact markets you would be interested in is always easy enough.
Naturally, there are some drawbacks that we ought to bring up here. The first issue is hitting a snag in terms of connection. A loss of connection could interfere with your in-play markets and make you miss an important moment.
Then again, as long as you know where the "connection black spots" are, you should be able to traverse Tennessee without ever risking breaking the connection.
Tennessee Sports Betting Bonuses
Tennessee sports betting bonuses are a popular part of the experience. They welcome new players to various risk-free bets and offer existing customers the opportunity to find new worthwhile options.
Odds boosters, game-specific promos, and even loyalty programs are available to sports bettors in TN. You can even scoop up a no deposit bonus here and there when registering.
Payment Methods in TN Sportsbooks
There are numerous payment options available to sports bettors in Tennessee. All of them are dependable, offering a mix of quick rapid deposits and quick withdrawals. You can bet big money and expect your wagers to be honored, as well as easily cashable once you have settled a bet. Residents and sports fans can choose from methods such as:
Credit/debit cards
PayPal
Online banking
Wire transfers
PayNearMe
Prepaid cards
All transaction specifics are listed in the app's cashier section or on the online sportsbook's dedicated banking section. Withdrawals should not take longer than five business days for wire transfers and banking, but e-wallets are instant.
Is There Retail Sports Betting in Tennessee?
No, Tennessee's sports betting industry is unique in that it's the first in the United States to rely completely on mobile and online betting. Not even New Jersey and Pennsylvania, which are leaders in generating mobile betting revenue, have come close to matching these numbers.
Retail sportsbooks do not exist, replaced by their digital and mobile counterparts. This is good news for anyone trying to play in a flexible, no-strings-attached environment, granting you maximum comfort as you do.
A more significant reason that the land-based industry in the state never took off, though, is the fact that Gov. Bill Lee didn't want to see a "bigger expansion" of gambling. Sports betting effectively became law without his signature.
This is not entirely bad, but even though mobile is a preferred platform for the majority of bettors, having a dedicated retail spot to share in the joy with others is fun. Sports bars will have to do for now.
How to Know Which Sportsbooks Are Safe?
This is a rather simple process. You can bet on sports legally in TN so long as you stick to one of the approved Tennessee sportsbooks, including DraftKings, FanDuel, BetMGM, and Action 24/7.
Licensed sportsbooks have inherent advantages over any offshore ones, including better consumer protection and data privacy commitment. Therefore, looking in the sportsbooks that hold an official license means that you will have safer and more reliable options.
That similarly comes with a better overall commitment to the consumers in terms of fairly-priced odds. Even better, states such as Tennessee have access to mobile solutions, whereas illegitimate websites struggle to keep up with tech advances.
In other words, legal sports betting in Tennessee is always safer than any of its counterparts in non-regulated jurisdictions.
Tennessee Sports Betting Industry Legalized
Sports betting is legal in Tennessee, yes. The industry's origins don't go back decades, as they do with some other states. When PASPA was defeated in 2018, the Volunteer State made a determined push to be one of the early adopters.
Gov. Bill Lee decided to give his qualified approval for the adoption of sports betting in the state – a deal he negotiated more or less with the legislature. However, Gov. Lee didn't want to allow sports betting to spread too widely, though.
The House and Senate got behind a sports betting bill in 2019, passing it with a fair bit of support and fast-lining it to the government's desk. Gov Lee initially objected to the legalization of sports but said that a cordial understanding had been reached between the legislature and him.
However, he sent an unequivocal message that should anyone try to introduce retail sports betting, and he would be faced with his firm denial.
TN Sports Betting Overview
Tennessee has done well in its sports betting industry. Born out of historical consensus and enjoying strong bilateral support from the legislature, the wagering industry got off to a great start, posting some solid revenue results and a good variety of online sportsbooks to pick from.
The betting ecosystem is constantly evolving too, but you can expect to find versatile markets right in your home state in TN. If you are just visiting from a neighboring jurisdiction, this is just as well – you can place a flutter all the same!
FAQ
Are sports betting legal in Tennessee?
Yes, Tennessee bettors can enjoy a fully legalized sports betting market. The State of Tennessee passed the first law in the United States to allow mobile-only betting.
What's the legal betting age in Tennessee?
21. All sports bettors in the state must be at least 21 or older.
Where can I bet on sports in Tennessee?
Presently, there are four sportsbooks in the state. They all run odds on a variety of markets and big events:
BetMGM Sportsbook, FanDuel Sportsbook, DraftKings Sportsbook, Action 24/7 Sportsbook
Can I bet via Tennessee sports betting apps?
Yes. Tennessee mobile apps are available in the state. You can bet remotely using a mobile app or via an online sportsbook.
Are there retail sportsbooks in Tennessee?
No. There are no retail betting venues in Tennessee. You may online pick an online sportsbook or a sportsbook app.
Can I bet on college football in TN?
Yes. You can bet on men's basketball and football as well as women's basketball. Other college sports are also available. You can bet on both in-state and out-of-state college events.
Can you bet live in Tennessee?
Yes, there is an in-play betting market in Tennessee. Each sportsbook in the state supports live betting options.
Are there retail sportsbooks in TN?
No, there are no brick-and-mortar sportsbooks in the state. You can bet via mobile and online-only, which is the preferred way for millions of sports bettors.