The world of Japanese manga is one that fascinates many. Before anime took over the world, manga was the main inspiration for odd characters and compelling stories. Today, we take a look at some of the best gambling manga with millions of copies sold. 
Manga is so popular in Japan that these "comic books" constitute 40% of all books and magazine sales in the country. Their narratives have managed to win the hearts of not just the locals but millions of fans worldwide. Here they are, some of the top manga series about gambling.
#1 Gamble Fish
Type: Manga
Original name: 斗鱼 ; 鬥魚
Author(s): Yamane, Kazutoshi (Art), Aoyama, Hiromi (Story)
Status: Completed
Published: Feb 1, 2007 – Jul 15, 2010
Genres: Gambling, Mystery, Ecchi, Game, School, Shounen, Harem, Psychological
Volumes: 19
Chapters: 168
Welcome to Shishidou, a school dedicated to the select few where the elite and rich people send their children to study, which sets the scene for "Gamble Fish." Life of privilege is humming along until Tomu Shirasagi, a gambler and a mysterious student transfer, arrives at the school. Unimpressed by the building's opulence or his peers' social status Shirasagi vows to bring the school to ruin through a series of gambling games.
His motives become clearer as we get sucked into Tomu's sleight of hand and versatile arsenal of psychological and physiological tricks he puts forward to make sure he wins every game and challenge he takes on. Tomu may pose as a conceited villain at first, but the reader is compelled to side with him against the beautiful Mika Shishidou, the granddaughter of the schoolmaster, and the ruthless Abidani who wants Tomu expelled or dead – the real villain of the story.
A real page-turner, this gambling manga's 168 characters and 19 volumes will bring the story to a satisfying end, and you will find a permanent place for Gamble Fish on your shelf of Japanese manga.
#2 Tomodachi Game AKA Friendship Game
Type: Manga
Original name: トモダチゲーム
Author(s): Yamaguchi, Mikoto (Story), Satou, Yuuki (Art)
Status: Ongoing
Published: Dec 9, 2013
Genres: Gambling, Game, Shounen, Psychological
Volumes: n/a
Chapters: n/a
Every chapter of "Tomodachi Game," AKA "Friendship Game," is filled with thrilling plot twists. What begins as schoolboy frolics quickly puts Katagiri Yuuichi, the main character, and his four best friends from schools, in trouble. The backstory quickly sets the scene: Yuuichi's class is saving up money for a field trip, but the money is suddenly stolen overnight. Suspicion quickly falls on Sawaragi Shiho and Shibe Makoto, two of Yuuichi's friends.
Doubt in one another quickly seizes the friends, but things are only going to get testier from here on in, as the boys are kidnapped and wake up in an unfamiliar room. One of them has secretly entered the rest in a "friendship game" that will put their faith in each other to a test and reveal new and not often pleasant insights into their personalities.
The game should be easy enough for a group of friends who stick to their guns and trust each other, but with a nefarious party in the group trying to break up their friendship, Yuuichi soon realizes it's up to him to carry the friends through the mounting challenges of the game.
#3 Kakegurui
Type: Manga
Original name: 賭ケグルイ
Author(s): Naomura, Tooru (Art), Kawamoto, Homura (Story)
Status: Ongoing
Published: Mar 22, 2014
Genres: Mystery, Drama, School, Shounen, Psychological
Volumes: n/a
Chapters: 83 (ongoing)
"Kakegurui" AKA "Compulsive Gambler," is one of the most popular gambling manga out there, written by Homura Kawamoto and illustrated by Tooru Naomura. The entire premise of the manga is placed on the Hyakkaou Private Academy. A school for the elite where the children of the higher casts are taught how to advance in life through deception and lying, pupils in Hyakkaou do their best to come up with the most impressive trick and defeat fellow students in gambling clashes.
The school has created a dystopian social system where the worst gamblers are frowned upon by their cleverer betters who become their masters and exploit them however they see fit. Yet, a transfer student by the name of Yumeko Jabami arrives at the school and soon starts defeating some of the most adept tricksters at the institution, raising red flags with the school administration.
The story similarly focuses on Ryouta Suzui, a bad gambler who has no particular liking for the game but has to play to survive and bring honor to his family. He takes to Yumeko and tries to steer her away from the treacherous system of checks and balances that reigns at Hyakkaou, only to find out that Yumeko is a compulsive gambler who will soon climb to the very top of the pecking order.
#4 Liar Game
Type: Manga
Original name: ライアー ゲーム
Author(s): Kaitani, Shinobu (Story & Art)
Status: Completed
Published: Feb 17, 2005 – Jan 22, 2015
Genres: Gambling, Drama, Mystery, Psychological, Seinen
Volumes: 19
Chapters: 203
"Liar Game" follows the story of Nao Kanzaki, a painfully honest girl who is through no fault of hers sucked into the infamous "Liar Game" where opponents battle wits through deception and lies. The idea of the game is simple, defeat your opponents and take their money, leaving them with massive debt.
The manga starts with Nao depicted as a kind and honest girl who one day finds a package at her doorstep inviting her to participate in the underground game, along with a hundred million yen in cash. Drawn to the game and taking it as a pride of point, Nao naturally participates.
She is quickly cheated out of her money when she decides that she should plot and take her revenge on the people who dragged her into the game. But how can a person who has never told a lie in their life become a proficient gambler and con-woman?
Nao decides to recruit Shinichi Akiyama, a swindler who has just been released out of jail and is looking for a new opportunity to earn money. Winning at Liar Game through Nao as a proxy seems like a good idea at first, with Shinichi planning a quick in and out at the expense of his naïve ward.
Things don't quite go his way, though, and he soon realizes that he has gotten himself into something bigger than any con he has run ever before.
#5 Usogui AKA The Lie Eater
Type: Manga
Original name: 嘘喰い
Author(s): Sako, Toshio (Story & Art)
Status: Completed
Published: May 11, 2006 – Dec 21, 2017
Genres: Gambling, Game, Psychological, Seinen
Volumes: 49
Chapters: 541
In "Usogui" written and illustrated by Toshio Sako, gambling is more than a lifestyle. It's the only meaningful profession a person may have. Gamblers have grown restless over the years, and they have pushed the limits of good decorum to the point where a criminal syndicate has stepped in to mediate gambling disputes as bloodshed grows.
Gamblers left with not a penny to their name surrender their lives for a chance to gamble one more time. Kagerou, as the organization is known, is there to make sure that things don't get out of control.
The story centers on Bak Madarame, known as Usogui, or The Lie Eater, who takes on some violent and lopsided opponents. Yet, Bak Madarame isn't entirely forthcoming with everyone why he gets involved. His ambition is not to just beat anyone in his way but to climb to the very top of Kagerou and rule over the whole gambling domain.
#6 Akagi
Type: Manga
Original name: アカギ ~闇に降り立った天才~
Author(s): Fukumoto, Nobuyuki (Story & Art)
Status: Completed
Published: Jun 1991 – Feb 1, 2018
Genres: Gambling, Action, Drama, Game, Psychological
Volumes: 36
Chapters: 306
"Akagi" is one of Nobuyuki Fukumoto's longest-standing projects, illustrated and written by one of the most successful authors of manga in Japan. With its 306 chapters and 36 volumes, Akagi AKA "Mahjong Legend Akagi" is one of the biggest reads as well. Shigeru Akagi is a good-meaning individual with a highly-coveted talent, the ability to play mahjong poker better than any of his peers.
Sucked into mahjong not just for his own benefit, Akagi comes to the aid of an ill-fortunate player, one Nangou who is a compulsive gambler and has just gotten deep with the Yakuza who always collect their debts, one way or another. Akagi decides to sit in Nangou's stead and try to turn the game around.
The Mafiosi are instantly amused by the cockiness of Akagi, who is only 13 when he takes on his first game, but their sniggers soon die down as realization dawns – Akagi is a gambler that is born once every few generations. Will Yakuza take kindly to talent and their own defeat, or should the find some other solution for Akagi?
#7 One Outs
Type: Manga
Original name: ワンナウツ
Author(s): Kaitani, Shinobu (Story & Art)
Status: Completed
Published: Nov 14, 1998 – Aug 15, 2006
Genres: Gambling, Sports, Psychological, Seinen
Volumes: 20
Chapters: 175
Meet Toua Tokuchi, a professional baseball player/gambler who has mastered the game of One Outs. Tokuchi has managed to score an impressive win rate in the game, which is basically a simplified baseball, with the lad throwing his ball so quickly that batters are finding themselves in trouble trying to intercept and bat it away.
In fact, nobody seems to be able to stop Tokuchi's pitch. One day, a down-on-its-luck team by the name Saikyou Saitama Lycaons approaches Tokuchi with the owner, Hiromichi Kojima, offering Tokuchi a spot on the Lycaons.
Prone to boredom spells, Tokuchi accepts, but he quickly realizes that Hiromichi has no intention of rewarding his talent. Tokuchi has a plan of his own, though, and he decides to take the Lycaons to the championships and win.
However, Hiromichi uses his team to fix games, and he is not too happy that the team is progressing, making it harder to fix games. Tokuchi, though, has a solution and offers Hiromichi a gambling game where each successful pitch earns Tokuchi 50 million yet, but each run he gives up will cost him as much.
Tokuchi's only way out of this perilous gamble depends on the team making it to the top, which he now has to ensure through all his talent and sheer gambling recklessness.
#8 Alice in Borderlands
Type: Manga
Original name: 今際の国のアリス
Author(s): Haro Aso
Status: Completed
Published: Nov 25, 2010 – Mar 25, 2015
Genres: Fantasy, Survival, Suspense
Volumes: 18
Chapters: n/a
Alice in Borderland, now available on Netflix as live-action TV series, is originally a Japanese fantasy manga created by Haro Aso. The manga follows the lives of three high school students, Arisu, Karube, and Chota, who are bored out of their skulls and looking for a way to spice things up.
During an official holiday, Arisu makes a wish that he can live in "interesting times," and to his surprise, his wish is granted, and the friends are transported into a post-apocalyptic world similar to the one imagined by the Mad Max franchise.
This new world is a game of chance, and the only way out is to beat the game. Lingering is not an option as Borderland doesn't truly exist, and if they choose to stay without beating the game, they will perish.
Thus what may very well be their first and possibly final adventure begins with the stakes as high as their lives, and the trio is making their way through the seeming inhospitable world they have entered.
#9 Psychic Gambler: Betting Man
Type: Manga
Original name: n/a
Author(s): Doldom / Yang Geng
Status: Ongoing
Published: n/a
Genres: Gambling, Adult, Drama, Sports Webtoons
Volumes: n/a
Chapters: 198
Meet Jin-goo, a bored virile man in his prime who gets the ability to see through objects. At first, Jin-goo is predictably putting his abilities to seduce girls, but as he grows bored of his conquests, he shifts his attention to gambling.
Bringing uncanny talent to the tables, he quickly earns a name for his incredible talent, but is he the only one who can "read" a table? His opponents, too, harbor some secrets that will take Jin-goo by surprise and make him realize that his psychic abilities aren't sufficient to bet his equally-gifted foes.
#10 81 Driver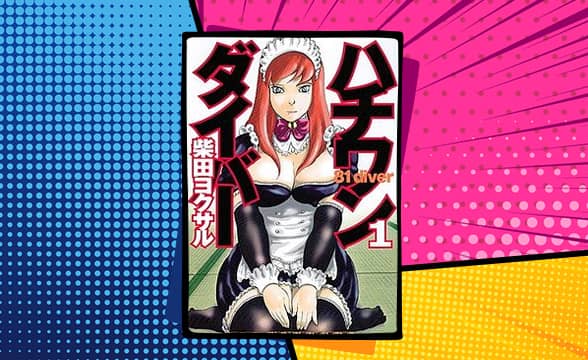 Type: Manga
Original name: ハチワンダイバー
Author(s): Yokusaru Shibata (Story & Art)
Status: Completed
Published: Sep 7, 2006 – Jul 17, 2014
Genres: Gambling, Drama
Volumes: 35
Chapters: n/a
81 Driver is a quirky manga written by Yokusaru Shibata and published by the Weekly Young Jump. The premise of the manga focuses on Kentaro, the protagonist who has a flair for a game known as shogi, and who dabbles in it casually.
After failing to enter the professional shogi league, Kentaro decides to wing it and plays recreationally to sustain himself, as finances are a little tight. Things do not go too badly until he meets Ukeshi, a female shogi player who defeats him easily and further adds to Kentaro's financial woes.
Yet, the defeat is what he needs to take shogi up seriously once again. As he plunges deep into the study, he grows more fascinated with Ukeshi, who, surprisingly, works as a part-time maid cosplay.
#11 Tobaku Haouden Zero AKA Gambling Emperor Legend Zero
Type: Manga
Original name: 賭博覇王伝 零
Author(s): Nobuyuki Fukumoto (Story & Art)
Status: Completed
Published: Sep 5, 2007 – Feb 25, 2009
Genres: Gambling, Action
Volumes: 8
Chapters: n/a
Meet Ukai Zero, who decides to team up with three new companions he meets on a suicide helpline. After putting their trouble behind them, the group decides to play Robin Hoods and help poor people in society.
Their joy is short-lived as one of them is caught by a ruthless organization, and now Ukai will have to find his way through a complicated mesh of dishonesty and high-stakes gambling to save their friend. There is another upside, though.
His reputation as a do-gooder has earned him a special place in a competition with a one trillion yen reward, which is a sizable prize pool that tempts Zero into diving into the game.
Gambling Emperor Legend Zero is illustrated and written by Nobuyuki Fukumoto and is the first part of the entire franchise. Fukumoto published the second part between July 2011 and May 2013. Both mangas are worth reading in their entirety.
#12 The Legend of the Gambler: Tetsuya
Type: Manga
Original name: 哲也 ―雀聖と呼ばれた男―
Author(s): Sai, Fuumei (Story), Hoshino, Yasushi (Art)
Status: Completed
Published: Jul 16, 1997 – Dec 8, 2004
Genres: Gambling, Drama, Shounen
Volumes: 41
Chapters: 339
Gambling may be a taboo in Japanese culture, well, up to a point, but the manga is filled with it. "The Legend of the Gambler: Tetsuya" tells the story of a destitute post-World War II society that can barely scrap for necessities. The manga is written by Fuumei Sai and illustrated by Yasushi Hoshino.
The plot is centered on Tetsuya, a skilled gambler who is not afraid to take his mahjong skills to gambling parlors and earn a living this way. Yet, mysterious as he is, Tetsuya is not the only game in town, and his brush with Boushu-san, an experienced mahjong player, reveals that, if anything, Tetsuya has a lot more to learn.
#13 Legend of the End-of-Century Gambling Wolf Saga
Type: Manga
Original name: 世紀末博狼伝サガ
Author(s): Miyashita Akira (Story & Art)
Status: Completed
Published: Apr 26, 1995, to Aug 26, 1998
Genres: Drama, Gambling
Volumes: 9
Chapters: 72
The Gambling Wolf is the nickname of a skilled gambler who enjoys his luxurious if somewhat slovenly lifestyle. His arrogance is matched by his talent for gambling games. As he progresses through the series, the character takes on dubious opponents he describes as "suckers waiting to be parted with their money." Yet, as his self-assuredness pushes him to face new and stronger opponents, the Gambling Wolf eventually runs into skilled foes that have mastered mahjong and will bring him down a peg.
#14 This World Is Money and Power
Type: Manga
Original name: n/a
Author(s): Han Dong-woo, Lee Doo-hee
Status: Ongoing
Published: n/a
Genres: Gambling, Manhwa, School life, Shounen,
Volumes: n/a
Chapters: n/a
This is another school set-up manga where the students learn how to advance in life through means that are not entirely reputable or even academic. A gambling fever has seized the school, and now pupils and teachers are trying to outsmart each other using gambling trickery and chicanery. How far are they going to take it?
#15 Atsui ze Pen-chan
Type: Manga
Original name: 熱いぜ辺ちゃん
Author(s): Fukumoto, Nobuyuki (Story & Art)
Status: Completed
Published: Feb 8, 1986 – Jan 7, 1995
Genres: Gambling, Slice of Life
Volumes: 2
Chapters: 21
Not everyone is born a winner, and there is beauty in this. Watanabe Yuuichi or Pen-chan is fascinated by mahjong, but he has no discernible talent for it whatsoever. The impressionable lad is quickly sucked into a series of gambling games that end up with a few odd wins and mostly losses.
This is not the story of a gambler who spirals out of control, but rather someone who enjoys the institution of gambling and fits it around his daily life, family, and work. However, he eventually gets dragged into a game involving the local chapter of Yakuza, which quickly raises the stakes to the point where he has to flip a loss into a win.