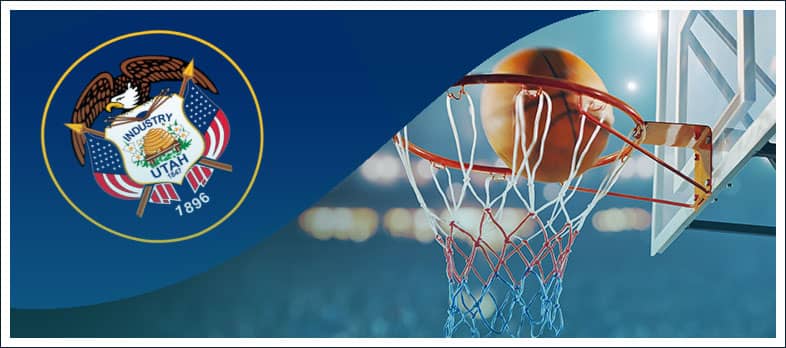 Utah is a fairly well-populated state and definitely a prime candidate for legalizing sports betting. However, the passage towards legal online sports betting or sports gambling of any kind in Utah would be long and hard. For starters, this is a state where no form of gambling is allowed whatsoever, immediately singling it out as a hostile environment for sports betting and prompting residents to seek alternatives.
Many betting sites have been targeting the state's residents, understanding that they lack options at home and trying to stoke interest in unlicensed operations. Such online sportsbooks are illegal, and we strongly recommend that you steer clear of them. In the meantime, we will take a look at what the current gambling climate in Utah is and what it would take to make sports betting legal.
We will also offer a few legal out-of-state alternatives where you can join the sports betting action and feel good about it.
Will Utah Get Sports Betting Options Following PASPA's Defeat?
Several years have gone by since PASPA 2018 was finally ruled out by SCOTUS in May 2018. The ruling produced a frenzy of legislative action that sought to bring legal sports betting to many individual states across the country, subject to local regulations. While sports betting may not be prohibited on a federal level anymore, each state has to forge its own rules as to how sports betting should proceed.
Utah residents are probably split on the issue as decade-long opposition to any form of gambling has been dominant in the state. On the one hand, you have sports fans who are even now using sports betting sites at their own risk, and on the other, you have the conservative religious values that prohibit Utah from passing any law that would legalize sports betting, whether that is online or in-person.
With this in mind, the state's prospects of legalizing sports gambling don't look good, and Utah residents may need to continue traveling to neighboring states to find a legal sports betting option to wager on.
Reactions Immediately After PASPA's Overturning
Utah did not fail to recognize the newly-vested powers into the local government given to it by the defeat of PASPA in SCOTUS. However, the state's zero-tolerance policy on all forms of gambling, whether this is bingo, lottery, horse racing, or daily fantasy sports, and most of all casinos and sports betting, has surfaced time and again.
Former Utah Governor Gary Herbert argued that while the state appreciated SCOTUS' ruling, it remained determined to continue and restrict gambling on its territory, betting on sports included. In fact, Utah Sen. Orrin Hatch is one of the four-bill sponsors that forged PASPA and sent the sports betting industry in retreat in the 1990s.
In fact, Utah anticipated the legalization of online gambling and online sports betting, and in 2012, it passed a preemptive piece of legislation that amended the state's Criminal Code, and specifically Section 76-10-1102:
(4) If any federal law is enacted that authorizes Internet gambling in the states and that federal law provides that individual states may opt-out of Internet gambling, this state shall opt-out of Internet gambling in the manner provided by federal law and within the time frame provided by that law.
(5) Whether or not any federal law is enacted that authorizes Internet gambling in the states, this section acts as this state's prohibition of any gambling, including Internet gambling, in this state.
What Does Failure to Regulate Sports Betting in Utah Mean?
With nobody to keep watch, Utah is leaving its residents vulnerable to offshore online sportsbooks that have been interested in securing a higher player count. While the state may have a zero-tolerance policy on legal sports betting and online gambling, those websites located outside the country but still targeting Utah residents do not.
They are happy to accept and facilitate payments, and most betting sites have clever ways of doing so, leading to a fully accessible sports gambling market that Utah's sports fans can freely tap into. The downsides of allowing this are many, and they arguably outweigh any potential drawback of regulating sports betting.
For starters, Utah residents have no protection offshore, meaning their accounts and bets may be deemed ineligible on a whim. Regulation is crucial in ensuring that consumers are protected, but even this argument has not made Utah budge on sports betting.
Latest Gambling News in Utah
Legal Sports Betting in Utah: Where Is It Taking Place?
As mentioned before, Utah has no legal betting options. However, the state is strategically located next to several places where betting and gambling are not just legal but embraced both online and in-person. Colorado has a well-developed mobile and online sports betting industry, and Nevada is a straightforward drive down South, making it fairly easy for the state's residents to access many forms of gambling, whether in person or online.
If you do want to bet on sports, you can just drive into Colorado and download one of the available apps that are supported and allow you to bet remotely as long as you are within the state's borders. The drive down to Nevada and Las Vegas is another option that replaces the lack of legal sports betting sites in Utah.
Utah sports betting presents sports fans with many challenges. Some have been dissuaded from participating in sports gambling entirely, only doing so on occasion from a neighboring state, while others have embraced the more dangerous offshore gambling options.
Popular Sports Utah Residents Want to Bet On
Out of the medley of sports betting contests, there are many that strike home and resonate with Utah's residents. The state is home to Utah Jazz, an NBA franchise that has been consistently delivering on good news for sports fans from the state. Today, the Jazz is the most cherished professional sports team the state has, and naturally, whenever locals travel to bet, they do consider their home basketball powerhouse.
However, there are more excellent options to be betting on, and this is precisely the case for college sports which are surprisingly well-represented in the state. Utah has the Brigham Young University and its men's basketball program, which have been doing fairly well in the competitions they have taken on.
With this in mind, March Madness and the NBA Playoffs are often a time for residents to participate in sports betting and make the trek to neighboring Colorado or enjoy a week off in Las Vegas. Interestingly, Utah has a Major League Soccer team to rally around as well.
The Real Salt Lake have been consistently posting decent results, and they even snatched the MLS Cup in 2009, a feat they have been looking to repeat ever since. If you want to bet on Utah legalizing its sports gambling industry any time soon, you may miss the mark by a lot.
However, there are plenty of worthwhile sports franchises worth betting on, and even though you have to travel to neighboring states to find betting sites that accept legal wagers, the experience is very much worth it, and many Utah residents don't mind the getaway.
Other sports are just as popular, and you can rest assured that Utah has a soft spot for all major sporting contests that makes the state a prime candidate for legalizing the industry were there not strong opposition against gambling.
What's Next for Sports Gambling in Utah?
Sports gambling in Utah is clearly not moving right now, but this doesn't mean it wouldn't eventually. The final word will be with residents. Broaching the topic about sports gambling publicly has not been popular, and no politician would try to run on a platform that endorses betting on sports.
That makes lawmakers reluctant to even try. However, Utah has a lot to benefit from regulating sports betting sites and collecting additional tax revenue that can allow the state to drive investment in various sectors.
While many states are expecting to legalize their gambling industry by 2022/2023, Utah is one of those places in the USA where sports gambling legalization may drag its feet until the end of the decade. Of course, many holdout states have caved in, including Alabama, Arizona, and now even Texas.
Understandably, none of those states have been as gung-ho on sports betting as is Utah, but things can change, especially if any lawmaker can prove that Utah is already suffering from the lack of a regulated industry.
FAQ
Where can I bet on sports in Utah?
Nowhere. Utah has banned all forms of gambling, including but not limited to online sportsbooks and casinos.
I have found sports betting sites in Utah. Can I trust them?
No. Any sports betting sites you may have found are offshore online sportsbooks. They are usually unlicensed and have no legal right to operate in Utah.
Is mobile sports betting allowed in Utah?
No. Just like regular sports gambling, you may not gamble through your phone in Utah. Betting on sports is restricted in the state.
What alternatives do I have as a Utah sports bettor?
Nevada and Colorado. These two states presently allow you to place wagers on sports legally. You still need to drive out of state to access them, but once you have, you will enjoy myriad legal sports gambling options.