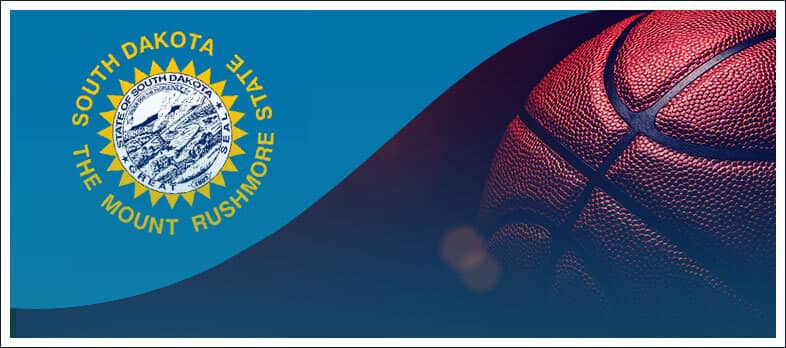 South Dakota sports betting is finally here, and that is good news. Senate Bill 44 was signed into law by Governor Kristi Noem, paving the way for regulated sports betting in the Mount Rushmore State, albeit with a small hiccup. Online sports betting will not be coming to the state after all, and punters will be limited to pre-approved locations only.
Just because you cannot access online sports betting (yet), though, doesn't mean it would not be fun to bet on sports in South Dakota. The law is expected to come into effect on July 1, 2021, and the first legal sports betting wagers should be accepted around the beginning of the next NFL season – or the end of 2021.
Presently limited to retail only, South Dakota's sports betting industry is poised to explode, hosting most of the sports betting action out from the town of Deadwood and across the 11 tribal casinos across the state.
Latest Gambling News in South Dakota
Sportsbooks in South Dakota: What Is Available?
The names of all sportsbooks are not yet known, but as good as ten license holders are already located in Deadwood, and there may be up to 20 retail sportsbooks offering legal sports betting in the town. A little further down we have a table of the ten license holders that are going to roll first on sports betting in the state (or already have).
There have been no major entries from operators just yet, albeit this is likely to start changing very soon, and perhaps by the time you are reading this, there will be some major players already teaming up with Deadwood's authorized properties.
For the time being, each of the retail locations will allow you to enjoy a legal sports wager on-site. Speaking of, let's check the locations where you can make a legal sports bet in South Dakota as per current legislation.
Retail Sportsbooks in Town of Deadwood and South Dakota
Even before South Dakota State began talking about making sports betting legal, Deadwood has played an essential role in the state's gambling industry. From 1989 onward, Deadwood has been styled the "casino capital" of Mount Rushmore State and deservedly so.
Therefore, it's no surprise that the city's 26 casinos will be the first to accept a legal sports wager. Now, there are ten sportsbooks that have confirmed plans to launch a product, but around 20 properties are expected to follow suit and offer sports wagering options. Here are the ones we have been able to confirm.
| | | |
| --- | --- | --- |
| Casino | Address | Operating hours |
| Cadillac Jack's Gaming Resort | 360 Main St, Deadwood, SD 57732, United States | Open 24 hours |
| Deadwood Gulch Gaming Resort | 304 Cliff St, Deadwood, SD 57732, United States | Open 24 hours |
| Deadwood Mountain Grand | 1906 Deadwood Mountain Drive, Deadwood, SD 57732, United States | Open 24 hours |
| First Gold Hotel and Gaming | 270 Main St, Deadwood, SD 57732, United States | Open 24 hours |
| Gold Dust Casino & Hotel | 688 Main StreetDeadwood, SD 57732, United States | Open 24 hours |
| Mineral Palace Hotel & Gaming | 601 Historic Main Street, Deadwood, SD 57732, United States | Open 24 hours |
| Mr. Wu's Casino | 560 Main St, Deadwood, SD 57732, United States | Open 9 AM – 12 AM |
| Silverado-Franklin Hotel & Gaming Complex | 709 Main St, Deadwood, SD 57732, United States | Open 24 hours |
| The Historic Fairmont Hotel Oyster Bay Bar & Casino | 628 Main St, Deadwood, SD 57732, United States | Open 9 AM – 2 AM |
| Tin Lizzie Gaming Resort | 555 Lower Main St, Deadwood, SD 57732, United States | Open 24 hours |
Each of the properties on the list offers legal sports betting in South Dakota, making some of the biggest sports competitions accessible to sports fans and bettors alike. Deadwood casinos are definitely the place to be, and there is no shortage of excellent odds, competitive fixtures, and more brought to you by all licensed properties in the state.
Any sportsbook you pick in Deadwood will be able to cater to your expectations. Naturally, the concentration of all operators in a single location will create fierce competition, which will translate into better sportsbook facilities, odds, and promotions that are yours for the taking.
International sportsbook operators are yet to make their debut in any casino in the city, but the existing offers are compelling enough to cater to the tastes of even the fussiest bettors. One thing to not worry about is whether a casino is licensed to operate. If it's in Deadwood, it most likely is, or else authorities would have shut it down.
Is Mobile Sports Betting Available in South Dakota?
No. Betting in South Dakota is restricted to retail locations only. Online sportsbooks may follow but betting sites will probably have to wait at least a year as retail properties gauge the positive impact the newly-regulated industry has on business.
Casinos and sportsbooks will go hand-in-hand, boosting the economy for Deadwood and bringing some busy months ahead for the retail sites. Admittedly, online sportsbooks are generally considered a much more convenient option when it comes to placing wagers.
The good news is that legislators may yet rethink whether to allow mobile sports betting, and with some luck and backing from consumers who stand to benefit, this is feasible. All that would be needed is a small amendment allowing pre-approved betting brands to launch their sites and offer bettors a spot-on remote betting experience!
That should be good for the states with many online operators entering the betting game, but it does hold unprobed water for the existing retail operations. In honesty, South Dakota has one of the heaviest concentrations of casinos, but there is just that.
Casinos hardly only depend on sports betting and branching off into iGaming as a supplement to sports wagering could bring even stronger revenue for the state and its licensed gambling operators.
Popular Sports Betting Options
Naturally, you can expect South Dakotans to have their preferred selection of sports they wish to bet on. The state's residents seem keen on endeavoring a wager on select contests, such as the National Football League (NFL) and National Basketball Association (NBA).
However, there are many other options to give a proper shot to. The MLB, NHL, MMA, CFL, CFB, golf, tennis, MMA, boxing, and NAS are just some of the other available markets. Surprisingly, esports is also listed as one of the viable markets, with games such as League of Legends already approved.
Mainstream sports are heavy favorites, but there are some niche sports that can yet be explored by sportsbooks in a bid to offer a more fulfilling and worthwhile experience. Regardless of your preference of sport, you can rest assured that it will be available at Deadwood and tribal casinos across South Dakota.
Local Sports Teams to Bet On
Sports betting in South Dakota is kicking off in full gear, and despite the unavailability of online sports betting options, you can rest assured that all the popular sports franchises will be available as a betting option. South Dakotans have some excellent choices when it comes to professional sports teams, and sportsbooks will have made sure to cover all of those and more!
Now, admittedly the state itself isn't big on sports in the sense South Dakota has not produced any major team all by itself. However, neighboring Colorado and Minnesota have, and as you can imagine, many of the locals choose to root for these states' home teams, and they do with some zeal. Here's a breakdown of each state's professional team you can bet on.
Colorado
Colorado Rockies (MLB)
Colorado Avalanche (NHL)
Denver Broncos (NFL)
Denver Nuggets (NBA)
Minnesota
Minnesota Twins (MLB)
Minnesota Wild (NHL)
Minnesota Vikings (NFL)
Minnesota Timberwolves (NBA)
There is absolutely no need to lean too heavily on one franchise or another. The key to sports betting success in South Dakota or anywhere in the USA really is to always follow the sports teams you root for.
Betting because you are a Vikings fan is great when the Vikings have a good run, but you may want to reconsider your wagers if they are in a bit of a rut. With so many betting options, you will never be short of great games and betting markets to wager on, so don't hesitate to try something different as well!
What Are Some Popular Wagering Markets in South Dakota?
Sports betting in South Dakota will naturally come down to the same variety of wagers that are popular elsewhere. The state allows fully-fledged betting on professional and college sports, which opens the sluicegates for countless proposition bets. Apart from these more exotic wagers, though, there are many traditional ones to explore, including:
Moneyline
Totals (Over/Under)
Spreads
Parlays
Teasers
Pucklines
Innings
These are some of the main wagering archetypes, but the majority of US sports fans are interested in live betting, also known as in-play betting. That type of sports betting is more challenging insofar as it requires you to make split-second decisions as to the game changes.
On the flip side, sports bettors do appreciate this type of wagering contest as it allows them to feel more involved and engaged with sports in South Dakota as well as derive greater benefits. All Deadwood casinos should equip their sportsbooks with the necessary facilities to cater to the in-play crowds, which constitutes a significant part of the sports betting family.
Responsible Gambling in South Dakota
When the South Dakotan legislature decided to legalize sports betting, the House and Senate thrashed out the details that ensured that any law passed would protect vulnerable consumers. As a result, every sportsbook in the state will offer materials that can guide sports bettors to relevant resources designed to tackle addiction.
This could be a national or local gambling addiction helpline, self-exclusion options, or just counseling. Either way, responsible gambling is heavily featured in South Dakota and approved by the state legislature. The good news is that sports betting is seldom the activity that is associated with a high incidence of gambling addiction, but lawmakers have made sure to come prepared.
Conclusion: Bright Future for South Dakota Sports Betting
The South Dakota sports betting landscape is shaping up particularly well. You have numerous options to back as a bettor, and legislators have made sure that whatever option you end up picking, you would be rewarded. There are going to be 20 commercial casinos authorized to run a sportsbook in Deadwood, not counting the tribal casinos spread across the state.
The concentration of so many real estate sportsbooks doesn't seem to bode well for online sportsbooks, but this is not necessarily a bad thing. Sports betting is doing well in the state and the USA, and the months to come will reveal the full potential of Deadwood's casinos.
FAQ
Can you bet on sports in South Dakota?
Yes. Sports betting is now legal in South Dakota, thanks to voters' support on the November 2020 ballot. The activity is legalized with the backing of lawmakers and the governor, and you can bet in person.
Are online sports betting in South Dakota permitted?
No. Sports betting is currently only restricted to in-person wagering only. You can bet at commercial properties in Deadwood or visit any of the tribal casinos across the state.
Is there tribal gambling in South Dakota?
Yes. The 11 tribal casinos in South Dakota are now all authorized to offer sports gambling options.
How old do you have to be to bet on sports in South Dakota?
21. The legal sports betting age in South Dakota is 21. Anyone of the legal age may bet at the casinos in Deadwood or authorized tribal operators.
What are the best betting sites in South Dakota?
None. There are no details about sports betting sites in the state. Online sports betting is still restricted to in-person locations only.
Does South Dakota have a responsible gambling policy in place?
Yes. South Dakota lawmakers have made a point in each of the discussed bills that led to legalized sports betting to introduce responsible gambling rules.