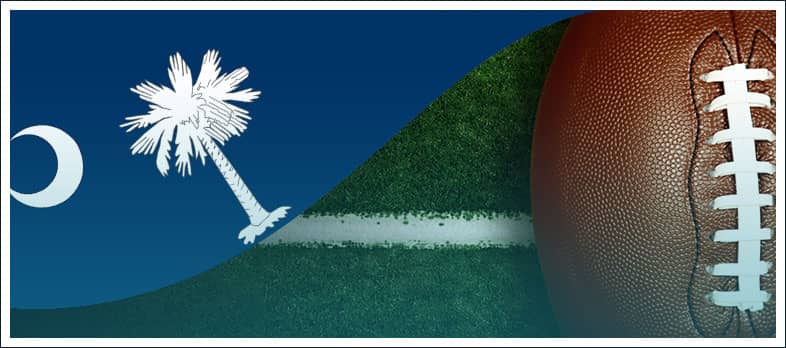 South Carolina has been somewhat stuck so far as the state's sports betting industry goes. Nevertheless, legislators have found reason to pursue the issue since 2018 after PASPA was struck down and bills surfaced during the 2019, 2020, and 2021 legislative sessions. While a more definitive way forward for the South Carolina sports betting industry was not found, the momentum remains and is likely to carry over to 2022.
Legal sports betting will come to South Carolina sooner or later. In the meantime, there are some things we can do to prepare. We will go through the state of affairs in the South Carolina betting and gambling landscapes and see what potential entries you can expect from already established stakeholders who have a clear interest in the Palmetto State.
Legalizing South Carolina Sports Betting: How Long?
We all want to know the same thing, and that is how soon before we can see legal sports betting in South Carolina. With the last three sessions attempting legalization coming to a grinding halt, there is still hope for the state's wagering industry.
In fact, every year since 2018 has seen some form of legal effort made, and that is slowly building into a critical mass that will spearhead the legalization of sports betting in the state. While the pandemic slowed things down in 2020, the state's sports betting proponents have still not had their final word heard.
There was not much movement during the 2021 legislative session either, but 2022 should give us more clarity as to where South Carolina stands. North Carolina was also pushing for the legalization of sports wagering, and whenever some new development crops up in one of the sister states, it usually follows in the other.
Of course, giving a definitive timeline right now would be challenging. Passing a law to make sports betting legal in South Carolina during the 2022 legislative session would definitely be very helpful and allow the state to develop the market in a jurisdiction that has over 5 million residents.
Some hurdles do persist, though, as neither the House nor the Senate seems overly keen on pushing ahead with sports betting legislation as of right now. Things in North Carolina are leaning heavily on mobile sports betting, too, which demonstrates that lawmakers are now finally inclined to make bolder decisions from the start.
Can Online Sportsbooks Be Coming to South Carolina?
Yes. Online sports betting is not the scarecrow that lawmakers misunderstood it to be at first and therefore preferred to prohibit it altogether. Sports betting apps today are very popular, and in fact, anything between 80% and 95% of all sports wagers in the United States is placed through one.
Trying to hamper online sports betting would be counter-intuitive and almost damaging to any newly-regulated sports betting industry in the state. Therefore, when South Carolina's sports betting is finally legalized, it should come with all the bells and whistles online.
Of course, there are examples of states that have sports betting legalized but have not introduced betting apps. Those are the cases of states that have too many retail venues and were fearful that the land-based sector might suffer.
South Carolina, though, has only four casinos right now, and two of them are in Little River. In other words, it would not hurt the industry to legalize sports betting that allows residents to place their wagers remotely.
Latest Gambling News From South Carolina
To keep yourself apprised of developments in the South Carolina sports betting market, we will be posting updates as soon as they become available. Betting in South Carolina may take its time before finally arriving online, but the tailwinds of mass regulation in the United States are surely going to give South Carolina's sports wagering industry a much-needed push. 
Are There Legal Sports Betting Options in South Carolina?
No. The state has no legal sports betting options presently, so if you find online sportsbooks claiming the opposite, they may be offshore operators. South Carolina actually has no daily fantasy sports (DFS) either, which means that residents will not be able to place a wager of any type until sports betting legalization is finalized in the Palmetto State. However, some sportsbooks, such as FanDuel, DraftKings, and Yahoo, seem to be available in the state, benefitting from the grey legal status of the activity.
If you do spot an online sportsbook that offers betting options, this may be an offshore operator, and you want to avoid them in principle. That is not to say that there aren't good offshore sportsbooks, but you always run the risk of financial loss, and with no regulators to step in and protect your interests, betting at unlicensed sportsbooks is not always best.
Speaking of legal sports betting options in South Carolina right now, online sportsbooks are apparently at least two years away. This means that you can drive into one of the neighboring states, but the closest option within driving distance seems to be the Harrah's Cherokee Casino in Cherokee, NC.
The drawback is that the location has not been built just yet. You could alternatively choose to travel to Tennessee and register to use one of the available sports betting apps. However, crossing into Tennessee is usually an even longer drive than reaching the yet unbuilt Harrah's Cherokee Casino, so South Carolina residents have to choose wisely.
What Sports South Carolina Would Want to Bet On?
This is an interesting question. South Carolina is a highly populous state, and as such, you can expect to find many viable sports that command a fair bit of interest. In fact, South Carolina has a lot of riding on college football, and the University of South Carolina Gamecocks are the only major college team. The Fighting Gamecocks, as they are known, command a fair bit of interest, and they are definitely a point of pride for the state.
While the Clemson Tigers have been long in the shadow of the Gamecocks, the NCAAF franchise is definitely worth a mention, and they are indeed one of the viable picks to rally around if you are looking to expand the available options of potential teams to bet on in South Carolina.
In the meantime, South Carolina seems equally interested in every major American professional sports league. Once sports betting in South Carolina has a legal status, we should see a betting flurry focusing on popular options such as NFL, NBA, MLB, NHL, and others. Online sports betting should really boost interest, provided legislators come together to vote on what is possibly the best outcome for the state.
In fact, the state has its own professional sports teams in at least three of the big leagues, including the Carolina Hurricanes (NHL), the Carolina Panthers (NFL), and the Charlotte Hornets (NBA).
Sports Events in South Carolina State
South Carolina is no stranger to major sports events, and sports bettors will be placed that their home state hosts some of the most captivating championships from the world of sport, providing locals with the opportunity to place bets on various contests, whether that is college sports, NASCAR racing, or the PGA Tour event.
In 2021, in particular, the PGA Tour decided to bump one of the PGA Tour events to the Kiawah Island Golf Resort's Ocean Course. Another excellent event that takes place in the state, either habitually or on a rotating basis, is the RBC Heritage. You can find more worthwhile options from the world of motorsports with the Darlington Raceway playing host to the NASCAR series.
Golf is actually well-established in Palmetto State, so you will find numerous events taking place all over the year, keeping professional sports rolling out. That is just another reason why online betting will be a very welcome form of gambling in South Carolina.
Will College Betting Be Allowed?
Evidently, college betting has a huge role to play in South Carolina, so the question of whether sports betting legalization includes collegiate sports is important. There really are two ways this can play out in the end. On the one hand, you may see lawmakers push against the idea, arguing that in-state college betting would undermine the South Carolina Gamecocks and their integrity.
On the other, any future sports betting legalization efforts should acknowledge the fact that there is no evidence to support the claim that college teams are likely to participate in match-fixing or in any way jeopardize the integrity of the game simply because you can bet on it.
Every state can set its own rules, but if college bets are left offshore, there is no way for South Carolina to exercise legal and regulated supervision on college sports betting that defeats the purpose. Essentially, laws should be tailored in a way that safeguards the entire industry and limits the reach of offshore sportsbooks.
South Carolina Sports Betting Legalization Timeline
The biggest event in the state is naturally the decision of the US Supreme Court to repeal PASPA, a milestone event for the entire country. Since then, South Carolina has made efforts to legalize sports betting on several occasions. The first and most expansive was in 2019.
The year saw two joint resolutions appear – one in the House and one in the Senate with HJR 3409 and SJR 57 trying to approach the subject from different angles. Both resolutions were dismissed very early on, and they stood no real chance of succeeding.
The bills wanted to see sports betting introduced to the state, but they similarly invited a dialogue rather than plumping for sportsbooks outright. SJR 57, backed by Sen. Gerald Malloy, for example, was interested in gauging what the potential benefits for the state would be if South Carolina were to legalize sports gambling.
That included a thorough assessment of potential tax revenue gains, opportunities to create land-based sports betting businesses, and the addition of online betting sites to the state. Regardless, none of the resolutions actually made it through.
FAQ
Can you bet legally on sports in South Carolina?
No. South Carolina sports betting is not legal. The state has made some significant efforts to legalize its sports betting industry, but no final decision has been reached. 
When will sports betting be legal in South Carolina?
2022 or 2023 at the earliest. Sports betting still has a long way to go in South Carolina, and this means that legal options aren't likely to arrive before 2022/2023. 
Is mobile sports betting available in South Carolina?
No. Mobile sports betting is not available, and neither is in-person sports betting. South Carolina's last significant efforts to legalize sports betting were in 2019. 2020 and 2021 were both stalled by the pandemic. Meanwhile, the needle to make sports betting legal has been moving steadily over in North Carolina, inspiring the south to act. 
What are the closest sports betting options for me right now?
Tennessee. Tennessee sports mobile betting, and you may be able to cross into the state and register an account. The downside is you must drive into the state every time you want to use one of the sports betting apps. 
Should I consider offshore sportsbooks if I am in South Carolina?
No. While offshore sportsbooks can be the only reasonable alternative, they come with some inherent risks. The United States blocks offshore websites on a federal level, even though those restrictions aren't strictly enforced. Still, playing at an online sportsbook that is not located in South Carolina invites certain risks that have to do with the integrity of your financial data and personal information.