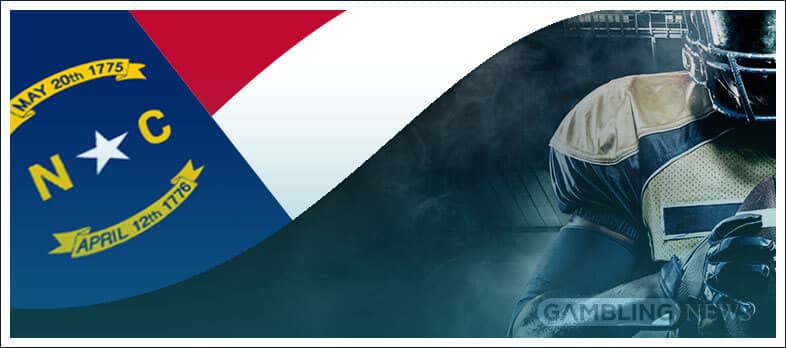 Sports betting in North Carolina is both there, and it isn't. The state has formally legalized the industry but in a severely limited capacity that doesn't really make it much easier to bet on sports in NC. In fact, many residents choose to make the trip to Virginia or Tennessee, where they can download a mobile app and bet remotely.
The state's population has increased drastically over the past years, which should be all the more reason for legislators to do a better job of regulating sports wagering and stop potential tax revenue slip through the state's fingers.
In theory, both the Harrah's Cherokee Casino Resort in Cherokee and Harrah's Cherokee Valley River in Murphy should be offering sports wagers but limited to in-person betting only. In practice, however, no sportsbook has launched in the state, subject to last-minute negotiations that have dragged on to no avail.
At the same time, legislators tried to introduce another sports betting bill during the 2021 legislative session in a bid to expand sports gambling on mobile and online. Senators Jim Perry and Paul Lowe's SB 668 has not elicited much action from fellow lawmakers, though.
Latest Gambling News From North Carolina
Is North Carolina Sports Betting Legal Yet?
Yes, technically, sports betting in North Carolina is legal, and two locations have been approved to start accepting wagers, that is Harrah's Cherokee Casino Resort and Harrah's Cherokee Valley River. Both facilities are owned by the Eastern Band of Cherokee Indians, and they have opted to stick to in-person sports betting only.
However, sports betting hasn't launched in North Carolina as of mid-2021, as Harrah's properties are still figuring out the details. Hopes are that retail sportsbooks can open and start accepting wagers before the NFL season.
Even if they do, though, the issue remains the same. With North Carolina catering to some 10 million people, you are still in a position where you have to travel to two single locations, which is greatly restricting in the long run.
Since HB 154 legalizes sports gambling at tribal casinos, you can see how the current betting landscape is not ideal for consumers, and with so many people itching for the opportunity to place a bet, it's not too great for them to have to spend so much time on placing a wager.
In fact, many are choosing to cross the state line with Virginia or Tennessee and download a mobile app instead, as it proves a much more convenient way than clogging up any of the two casinos.
North Carolina Sports Betting Apps: Are They Coming to NC?
Technically, you can have sports betting apps in North Carolina, and there is nothing to really stop this. Ultimately, it will depend on what Harrah's properties decide. With sports gambling restricted to in-person locations presently, you can see how the introduction of a mobile app is probably not uppermost in the minds of tribal operators.
It all depends on whether they partner with an established company, though, as there are many excellent examples of sports betting apps done right.
WynnBet, BetMGM, DraftKings, and FanDuel can all extend top-notch Android and iOS software that will allow you to collect information about your bets, check in on updated odds, and generally place a selection quickly and without the need to talk to a soul at the casino if you choose not to.
Another option is Barstool Sportsbook which has been mostly operating online, and it may seek to bring its expertise along with it, North Carolina regulation permitting. Apps are not a buzzword in the state, as the in-person betting restriction is unfortunately greatly limiting.
Even in the cases where you are allowed to use an app, you would still have to be physically at the designated location, which partly defeats the purpose why people ask for sports betting apps in the first place.
Daily Fantasy Sports and Mobile Betting in NC
While tribes and state regulators have given traditional sports betting apps a bit of a cold shoulder there, it's surprising to know that daily fantasy sports (DFS) are completely legal in North Carolina. With this in mind, you can access any of the fantasy operators that are licensed in the United States.
DraftKings and FanDuel are naturally the top choices to choose from as they allow you to quickly and reliably pick a betting market and do so legally. Therefore, any winnings you generate through your sports betting acumen will be cashable in the state of North Carolina, giving you a satisfactory betting experience if fantasy sports are truly something you enjoy.
When Will Online Sports Betting Be Legal in North Carolina?
The big question for many people today remains whether North Carolina will hurry up and regulate online sports betting. Making remote wagering legal should be a priority for the state. Once again, with 10 million residents and the state's population growing rapidly, you can imagine that NC has a lot of pent-up demand for actual online betting.
Risking to restrict sports betting to two sole locations to please tribal operators is ultimately hurtful to the state as it would fail to collect a lot of the revenue. If there were more properties out there pulling in more foot traffic and covering the entire state, it might have been better.
As things stand, though, locals need to drive in and for hours on end to place a single wager, which is counter-intuitive. The good news is that efforts to legalize online sports betting are underway.
Making North Carolina Online Wagering Legal in 2021
Not many people have been pleased with HB 154. The bill focused exclusively on land-based gambling and sports betting in a bid, it seems, to gain favor with the tribes, which are understandably protecting their interest.
However, the long-term sustainability of sports betting in the state is contingent on the industry being freed up from the shackles of one-sided measures.
Regulating betting through HB 154 may seem like a smart move now, but it will breed discontent and ultimately not serve the higher purpose of collecting tax revenue, negating the impact of offshore sports betting in the state, and protecting consumers.
As a counter-measure, Senators Jim Perry and Paul Lowe proposed SB 668 during the 2021 legislative session in a bid to free up the industry and introduce remote gambling. Their plan was very ambitious, and they wanted to allow more online betting in the state.
Essentially, SB 668 was looking to introduce a minimum of 10 sports betting licenses issued with the blessing of the NC Education Lottery Commission. The number was capped at 12. The bill also looked to expand the current scope of betting by quite a bit, featuring college sports, as well as professional events, and not least, competitive video gaming.
The licensing rates proposed by the bill were a fair game a well, with an 8% charged to the sports betting revenue and $500,000 paid for a five-year license with $100,000 renewal fees.
What Sports Can You Bet on in North Carolina?
As the ninth most populous state in the USA, North Carolina is surely going to have plenty of excellent offers when it comes to actual sports franchises. You will be able to pick from the Carolina Hurricanes if you are an NHL fan or the Carolina Panthers for the NFL. There is also the Charlotte FC in the MLS and the Charlotte Hornets in the NBA.
Sports franchises in North Carolina are big, and the four outlined here will elicit a very strong interest. You can expect dedicated markets for each of the sports teams that are native of North Carolina and be able to pick from a wide variety of bets. Speaking of markets and wagers, sportsbooks in NC should go the full distance.
While final details are still negotiated, and the tribal casinos are expected to set up sports betting shops, there are many things to look forward to. For starters, the state should allow you to pick from over 30-odd sports betting markets. While a big emphasis is being placed on local sports franchises, there will be others to benefit from.
Sports fans should have access to a complete variety of markets, including Moneylines, Point Spreads, Teasers and Pleasers, Totals, and Parlays. In-play sports betting is also authorized in North Carolina under current laws, but the thing is that without mobile apps to benefit from, you may feel a little restricted when placing a live wager.
Live betting markets, though, are becoming the definitive experience any sportsbook may offer, and with this in mind, it's important to see more efforts made into their successful incorporation as part of the North Carolina sports betting climate.
A Final Word: The Future of Sports Betting in NC
North Carolina is clearly one of the best states to launch sports betting. The state's own tradition in sports and high population means that any business that opens doors can expect a steady and constant influx of sports wagers heading their way.
The state enjoys a strong interest in sports betting, and that is only going to get better if legislators take the necessary steps to establish an industry that is accessible. Right now, visiting Harrah's Properties isn't bad per se.
After all, the Eastern Band of Cherokee Indians are not amateurs when it comes to setting up worthwhile sports betting shops, and that is precisely what is happening here. However, the Cherokee's only have two properties to cater to a 10 million state, which can be an issue.
Therein lies the problem that North Carolina faces in regulating sports gambling today. Things are likely to improve a lot, and mobile wagering is something we are looking forward to eagerly.
FAQ
Is sports betting legal in North Carolina?
Yes. Sports betting is legal in North Carolina, with tribal casinos holding exclusivity over the activity. Sportsbooks are still a work in progress, with the businesses negotiating last-minute details and hoping to launch for the 2021/2022 NFL Season and Super Bowl. 
Can I bet with mobile apps in North Carolina?
No. Mobile apps are currently not an option, but they may be once tribes launch their sportsbooks. However, you will still have to bet in person at a casino website instead of doing so remotely, which defeats the purpose of betting from a mobile app, more or less. Apps should be a part of the betting landscape, but it may take a long while to implement successfully. 
Where can I wager on North Carolina sports betting?
There are presently two authorized locations in North Carolina that allow sports betting – subject to final approval and negotiations by the business. Harrah's Cherokee Casino Resort in Cherokee and Harrah's Cherokee Valley River in Murphy. Both locations need you to place a bet in person, and you cannot use remote gambling solutions instead.
Can I bet on college sports games in North Carolina?
Yes. College sports betting is allowed in North Carolina, and you can bet on your favorite college games. Once the retail sportsbooks open doors, you will be able to support in-state and out-of-state teams and place wagers on both NCAAB and NCAAF. 
Is daily fantasy sports betting legal in North Carolina?
Yes. Daily fantasy sports is completely legalized, and you will be able to pick any platform that is available and place a bet on sports betting contests. That includes DFS websites such as DraftKings and FanDuel.

Having access to DFS options in North Carolina is great because it allows locals to familiarize themselves with mobile betting. DFS platforms actually allow you to download the app and bet on fantasy sports anywhere in the state. 
What is the legal North Carolina gambling age for sports betting? 
21. While you may be able to register at some websites – that is, daily fantasy sports sites – at the age of 18, you won't be able to place a bet legally until you are 21 years old. Keep this in mind if you are still a young sports fan and looking to bet.