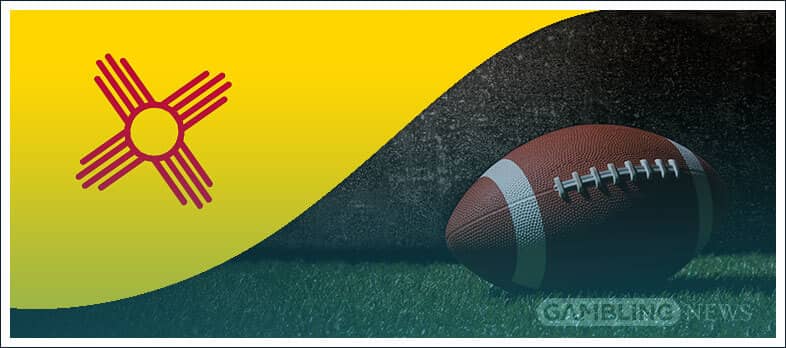 If you live in New Mexico, you will be happy to know that you can place wagers on popular sports within the state's borders and in person. While a formal piece of legislation has not been passed to allow sports betting to launch in full, there is actually no state law that prohibits tribal casinos from accepting sports wagers.
That is precisely what is happening in New Mexico, with at least five tribal casinos today accepting sports wagers. You can bet at any of the five locations, but their numbers may be increasing as the state has no fewer than 28 tribal casinos that may be itching to enter the sports betting market themselves.
The first bet in NW was accepted at the Santa Ana Casino owned by the Pueblo of Santa Ana back in October 2018. Effectively, New Mexico became the sixth state anywhere in the country at the time to accept sports wagers, even though the industry exists in pretty much the same way daily fantasy sports have operated, that is, grey areas.
Latest Gambling News in New Mexico
Will New Mexico Launch Online Sports Betting?
It's hard to say. Sports betting in New Mexico is not regulated, and with five tribal casinos already running sports betting facilities in-person, you can expect some pushback should the legislature tries to change the rules.
Tribes, though, do not benefit from any type of specific arrangement with the state and aren't backed by existing laws. The only chink in the legislative armor is the fact that sports betting in NM are not explicitly prohibited by existing statures.
That allows tribal casinos to try and run their operations, and they prefer to keep things close to the chest. The involvement of tribes anywhere in the United States usually means that online betting is off the table or has to be negotiated with great concessions on both sides and usually favoring the tribes.
That is understandable, as tribes operate mostly physical businesses, and they want to remain competitive. In some states, tribes may choose to opt-out of mobile betting by asking regulators to do something known as "geofencing." In other words, online betting is blocked when on the territory of reservations.
Presently, though, the only place where you can bet online in New Mexico are offshore sportsbooks, and we strongly recommend that you avoid those. In the meantime, you can bet on various events if you choose to visit one of the tribal casinos, but you cannot bet on in-state teams.
By extension, that excludes any college teams from the sports betting race, which can dampen the enthusiasm of local sports fans.
Where Can You bet on Sports in New Mexico?
There are presently five casinos out of 28 tribal casinos state-wide that allow you to go and place a bet in person.
Each location is decked out with a dedicated sportsbook, and you will be able to turn up and place a wager on an event that you enjoy, so long as it meets the condition for non-in-state betting. Presently, the following locations run sportsbooks:
| | |
| --- | --- |
| Casino x Sportsbook | Address |
| Hilton Buffalo Thunder Casino | 20 Buffalo Thunder Trail, Santa Fe, NM 87506, United States |
| Inn of the Mountain Gods | 287 Carrizo Canyon Rd, Mescalero, NM 88340, United States |
| Isleta Resort & Casino | 11000 Broadway Blvd SE, Albuquerque, NM 87105, United States |
| Route 66 Casino | 14500 Central Ave SW, Rio Puerco, Albuquerque, NM 87121, United States |
| Santa Ana Star Casino | 54 Jemez Canyon Dam Rd, Bernalillo, NM 87004, United States |

Having access to sportsbooks in-state is very convenient as residents would not need to travel to neighboring jurisdictions or, worse, turn to offshore betting venues. The Navajo Nation is also scouting for opportunities to launch sportsbooks on their own casinos, meaning that the total number of sportsbook casinos in the state could go up to five.
What Sports Bets Are There in NM?
Sports betting in New Mexico is actually doing pretty well! Even though the legislature has not agreed on any specific laws, the sportsbooks run by native operators have been doing swimmingly. One of the reasons why is the fact that they run a fully-fledged betting product. You may bet on all popular selections, including:
Moneylines
Totals
Point spreads
Parlays
Propositions
It's not just that, though, as there is a great selection of Major Leagues to back. From the NBA to the NFL, NHL, and MLB, you have your hands full with viable bets to make. The only drawback is that in-state teams are off-limits.
At the same time, you are able to wager on numerous other events, including NASCAR and golf, tennis and boxing, UFC, and even college sports. All you need to swing by one of the locations that are currently running a sportsbook in New Mexico and bet.
If you are not entirely sure where to start, you are always welcome to ask one of the writers at the sportsbooks, who will walk you through the sports betting process and what you need to know about it.
The NFL is likely to have the biggest pull with the locals as New Mexico is surrounded by many great sports franchises, including but not limited to Houston Texans and the Denver Broncos. Other viable teams to bet on include the Arizona Cardinals and the Dallas Cowboys, all because of NM's proximity to the teams' home states.
Can You Bet on College Sports in NM?
Yes. You can bet on all college contests, whether those are NCAAB or NCAAF games. You will be able to do so by visiting a physical sportsbook and picking a team you want to support. All sportsbooks in New Mexico make sure to run an extensive selection of sports betting events, and the College Bowls and March Madness events are a particularly auspicious moment for both sports fans and businesses.
Daily Fantasy Sports and New Mexico
Just like regular sportsbooks, New Mexico has no laws against DFS sports betting sites. As a result, platforms can offer their fantasy products legally in the state and accept registrations from residents. DraftKings and FanDuel are already available in the state, and that gives them a fair bit of advantage in terms of covering the market ground. Should New Mexico go on to the legalization of online and mobile sports betting, you can expect these two operators to seek a license.
Can You Bet on Horse Races in New Mexico?
Yes. Horse racing is one of the viable markets in the state, and you can bet freely and in person by visiting one of five locations in the state presently. They include:
Ruidoso Downs Racetrack and Casino in Ruidoso Downs
Sunland Park Racetrack and Casino in Sunland Park
Sunray Park and Casino in Farmington
The Downs Racetrack and Casino in Albuquerque
Zia Park Racetrack and Casino, owned by Penn National, in Hobbs
This gives residents a fairly versatile overall sports betting industry where fantasy sports, mainstream sports, and now horse racing are available wagering markets to explore on your own and without ever having to leave the state or trust unlicensed or offshore operators instead.
What's New Mexico's Sports Betting Revenue?
Since New Mexico has no centralized and regulated sports betting industry, estimating the revenue that is generated through this operation is not easy. In fact, the numbers are not available anywhere, and this means that legislators would have no way of knowing exactly what is currently happening.
The good news is that tribal casinos would be willing to share any relevant information that leads to a well-regulated sports betting industry that ultimately benefits all parties involved, and not least, the state's sports fans.
New Mexico Sports Betting at a Glance
Legislative efforts to introduce sports betting have not really been present. The sports betting industry in New Mexico has existed in a bit of limbo, and after Santa Ana Star Casino became the first one to open a sportsbook in 2018, no actual effort to legalize the industry has been carried out.
If anything, lawmakers have done just the opposite. In 2019, the New Mexico Lottery tried to launch a sports betting game, but legislators put together a bill prohibiting it from doing so. In 2020, Navajo Gaming Enterprise revealed that it's looking to launch sportsbooks in the state, joining other tribal operators.
All in all, the case of New Mexico is very strange. Sports betting had not existed as a grey market anywhere in the country after 2018 and even after 2006 when UIGEA was passed, and operators were buffeted by the strictest regulations they had faced up until then.
FAQ
Is it legal to bet on sports in New Mexico?
Technically no. New Mexico has no laws passed that legalize sports gambling in the state. However, tribal casinos presently authorize sports bets on their premises and have faced no legal opposition to do so.
What facilities allow sports betting in NM?
Tribal casinos. New Mexico's 28 tribal casinos are the only ones that may try and offer sports betting in the state. Five have already done so, and the Navajo Nation is now considering launching sports betting at its own three properties. 
Can I bet from a smartphone or a mobile app in New Mexico?
No. All tribal casinos only accept sports bets in person. You may not use your smartphone or a mobile app to place a wager on traditional sports in New Mexico. However, daily fantasy sports are available in the state, and you can download an app and bet on fantasy sports instead if you prefer.
Should I bet at offshore sportsbook when in New Mexico?
No. We advise against using offshore betting sites for a number of reasons. They are unreliable and have no obligation to honor bets and protect your consumer data. 
Can I support local sports franchises through betting? 
If you are in New Mexico, then the answer is no. Presently, tribal casinos do not allow betting on any in-state teams. This is a measure that they are probably enacting in order to avoid future traction and accusations that someone with inside knowledge may have used the sportsbooks to place an unfair wager.