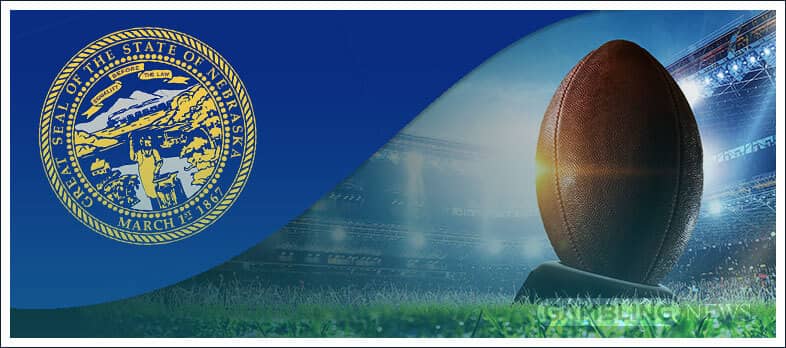 Nebraska sports betting is officially legal. Gov. Pete Ricketts signed LB 561 into law late in May, establishing the basis for in-person sports betting all across the state. Moving forward, casinos will be able to allow sports betting in the state as long as bettors show up to place a wager by visiting a location.
Gov. Ricketts endorsement was expected and it extended the will of Nebraska voters who agreed to legalize "all games of chance" during the November 2020 ballot. The state chose to see and qualify sports betting as a game of skill, which exempts it from many of the legal challenges that other jurisdictions face.
Well, that was before. Following the repeal of PASPA in May 2018, much has changed and with Gov. Ricketts now choosing to endorse the sports betting bill into law, Nebraska is not too far from launching regulated gambling on sports contests.
LB 561 doesn't come without a few strings attached of its own and overall, Nebraska could have benefited from slightly more liberal laws, that is true.
Latest Gambling News in Nebraska
The situation in Nebraska will most likely be changing for a while. Keeping track of it all can be a bit of a do, so we have decided to provide you with an updated list of all developments that transpire in Nebraska. Our editorial and news team will focus on bringing you the latest updates from the state of Nebraska and what happens to the sports betting and gambling industry in the state.
Is Sports Betting Legal in Nebraska?
Yes. Sports betting is now officially legal in the state of Nebraska. LB 561 was signed in May by Gov. Pete Ricketts making it possible to place a regulated sports wager at physical locations across the state.
What's next for the state is the launch of retail sportsbooks that are expected to appear across Nebraska before 2021 is out. There will be several properties that are eligible for a license, including racinos, horse racetracks, and tribal casinos.
The regulatory mandate has been given to the State Racing Commission which will now be tasked with creating a framework for license applicants to follow when looking to set up their first betting shops in the state.
LB 561 sponsor Sen. Tom Briese welcomed the legalization move and said that the mandate demanded sports betting options across the state of Nebraska. With the approval of constituents, this is now possible, although there are a few slight drawbacks.
What Sportsbooks Are Coming to Nebraska?
Nebraska is ready to welcome many sportsbooks and that is a fact. Yet, any entrant will have to comply with the regulation laid out in LB 561 and any interpretation introduced by the State Racing Commission.
Regardless of the regulatory prerequisites, there are many brands in the United States that would be interested in access to the state. DraftKings and FanDuel already have a consumer database precisely because they have been operating as fantasy sportsbooks for a while now.
There are others that may look for an entry sooner rather than later, too. BetMGM, PointsBet, and William Hill are just a few of the prominent names in the country that are constantly looking to secure new markets. BetMGM's stated goal is to be one of the first two-largest betting firms in the US in the next few years.
In the meantime, PointsBet experience in horse racing and sports betting makes it an ideal candidate in terms of the pure variety and know-how it brings to the state. Sportsbook operators, though, will have to negotiate with licensed properties to get a foothold.
Nebraskan tribal casinos are many and with this, the opportunity to set up a betting shop abound. We will have to wait and see what sportsbook options are available ahead of the NFL season and the Super Bowl next year, but you can count on Nebraskan operators choosing some of the best brands.
Mobile Betting in Nebraska: Yes or No?
Sports betting in Nebraska is now legal and that is good news for anyone looking to place a sports wager without having to double-check everything about the sportsbook they have picked.
State regulators ensure that the authorized facilities in Nebraska will meet a standard of safety and consumer trust that protects participants. However, mobile sports betting is not available in the state.
The legislature has opted out of any language that so much as suggested that online sports betting may take place in Nebraska, and replaced it with a land-based alternative.
Effectively, lawmakers hope that in doing so, they are able to protect the state's 2 million residents from falling victim to unauthorized betting websites. Mobile betting, though, is a compelling part of the offer.
It allows for a swift and easy way to navigate through the sports betting markets and enables sports fans to place a wager remotely, and could actually drive significant revenue for the state. While mobile apps are still not allowed in Nebraska, there is a chance that they may be in the future.
Conversely, Nebraska's residents may bet remotely on horse racing using desktop and mobile devices, which begs the question of why can't the same courtesy be extended to sports fans who will be betting in much greater volumes to begin with.
Sports Betting Apps in Nebraska: A Workaround
One possible way to improve the quality of life when placing a bet in Nebraska is to allow sports betting apps on site. Other states already do it and while you still need to be physically present in the licensed venue, there is no need to hit the self-serving kiosks or talk to a cashier, for example.
You could place a wager directly from a mobile app, and even better – that opens up new avenues of opportunities, including the ability to participate in in-play contests and bet in real-time. Mobile apps may take a while to be introduced, as the Nebraska Racing Commission will be first focusing on issuing licenses and collecting tax.
However, if the experience from other states is any indication, it shouldn't be long before calls for mobile apps intensify.
Can You Bet Online on Sports in Nebraska?
No. Just like mobile betting, online sports betting in Nebraska is not yet legal. The state restricts access to remote sportsbooks and this is done, legislators argue, for the sake and good of residents. With no remote betting options available, Nebraska is not very likely to reach its full potential.
LB 561 is designed to collect proceedings from sports betting to use for property tax relief. One sure-fire way to boost the rate of collected tax, and the amount of tax generated, is through the addition of online sports betting options.
Now, this clearly will not happen as Nebraska is hurrying up right now to legalize and introduce sports betting options that allow residents to participate in sports betting contests ahead of the NBA and NFL Seasons this fall.
Nebraska online sports betting may be on hold right now, but we are confident that it will be coming along sooner or later, and that is good news as the state promises to provide sports fans with everything, they need to have a great time placing their next wager.
Is College Sports Betting Allowed in Nebraska?
Yes. However, there are a few caveats to take into consideration. For starters, you may not place a wager on a local college team if the game is taking place at home. In other words, Nebraska is simply following the example of Illinois which has also prohibited any wagers on in-state Big Ten teams.
The argument here is that allowing people from the state to wager on collegiate sports that hail from Nebraska may somehow undermine the integrity of the games. Lawmakers did not clarify how this would happen, but they seemed to agree with each other that it's the best way forward.
College betting is definitely an important part of the sports gambling industry in the United States, and fully regulating it is the best way to protect the integrity of all games. So, if you want to bet on the Cornhuskers, for example, you would need to cross the border with Colorado or Iowa, which both allow remote gambling through dedicated apps.
Betting on Daily Sports in Nebraska
Now that sports gambling is legal in Nebraska, daily fantasy sports aren't your only option. If you are a fantasy fan, though, you will be happy to know that the state does not prohibit access to the country's main DFS platforms.
In fact, long before sports wagering became legal, FanDuel and DraftKings, along with others, were already filling a market niche and providing residents with plenty of opportunities. The upsides of going with fantasy sports include the fact that they are available remotely.
You can just download a mobile app and place your wagers remotely. There is no obligation to be physically present anywhere, so long as you are within the state's borders.
Horse Race Betting in Nebraska: A Go
Another part of the state's makeup is the horse racing industry. Nebraska has a well-developed horse racing, and wagering on the ponies is actually completely legal. In fact, parimutuel betting has been fully regulated for a while and you can go and place a wager at any of the six racetracks in the state presently, including:
Atokad Park in South Sioux City
Columbus Exposition & Racing in Columbus
Fairplay Park in Hastings
Fonner Park in Grand Island
Horsemen's Park in Omaha
Lincoln Race Course in Lincoln
In fact, you can also take advantage of remote gambling on horse races, which is a great way for Nebraska's residents to get familiar with how remote betting options actually work.
Popular Sports to Wager on in Nebraska
With Nebraska losing at least $350 million in total sports gambling handle a year, things are about to change in the state. Moving forward, locals no longer have to cross the Missouri River in search of viable betting markets.
Instead, the action is taking place much closer to home. The state has many teams you might want to support, and more importantly all Major Leagues are definitely popular with residents. You will be able to explore betting options on all major events, including:
These events are naturally just the tip of the iceberg, and the entire selection of markets runs much deeper. With college sports a go, you have plenty of options around March Madness, College Bowls, and regular-season games.
Fans can rally and place a bet on boxing and martial arts, golf, and tennis events. Motorsports are going to be covered in detail and so will be soccer from around the world. There are around 30 available sports to bet on as main categories, but each archetype offers a much more detailed breakdown of everything that is listed.
Digging into individual markets, you can explore all familiar wagers, including Moneyline, Totals, Point Spreads, but also enjoy Parlays, Teasers, and Pleasers to name just a few. Overall, Nebraska has many wagering options, and not least, some inspired by professional sports franchises such as the Omaha StormChasers, Union Omaha, and Omaha Beef.
Nebraska Cornhuskers are another popular franchise with the locals and they represent the college sports domain well, eliciting a strong response from fans. While the home games are off-limits insofar as gambling is concerned, you can still bet on the Cornhuskers when they are traveling out of state.
Casino Gambling Coming to Nebraska
Casino gambling is expanded big time through LB 561. As a result, casinos can now host slots and table games, which will definitely boost on-site revenues for gambling operators. Once again, though, any type of gambling activity should take place in person and a proposal to legalize online keno was shot down quickly.
FAQ
Is sports betting legal in Nebraska?
Yes. Sports betting was legalized in Nebraska in May 2021. A bill – LB 561 – was signed into law by Gov. Pete Ricketts.
Can I bet on traditional sports with mobile apps in Nebraska?
No. All sports gambling in the state is restricted to in-person betting only. If you choose to wager on traditional sports, you have to do it at one of the authorized locations.
How old do I have to be to gamble in Nebraska?
19. Nebraska allows residents who are at least 19 years old to participate in sports and casino gambling contests now that the activities are regulated.
Can I bet online on any sports in Nebraska?
Yes. Daily fantasy and horse racing are accessible online and via mobile apps. Nebraska has no laws that prohibit residents from placing a wager remotely on any DFS or horse racing contest.