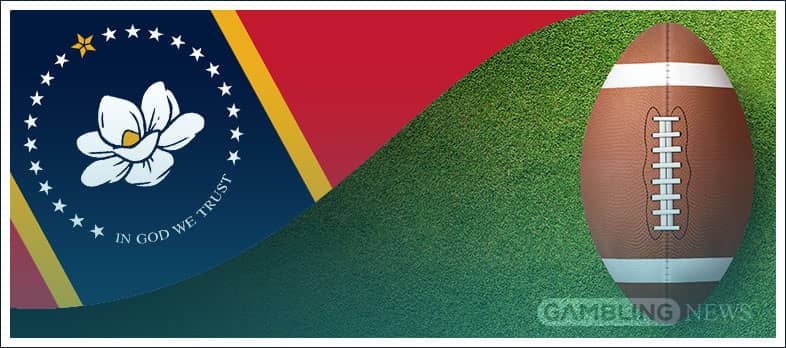 Mississippi sports betting is a fact and the Magnolia State was one of the early adopters legalizing and launching its first sportsbooks as early as August 1, 2018, only months after the repeal of PASPA in May 2018. The upshot is that the Mississippi Gaming Commission has issued licenses to 23 sportsbooks in the state which bring you legal sports betting around the clock.
The only real drawback we can talk about when discussing sports betting in Mississippi today is the lack of online sports gambling. Mobile sports betting bills did appear in the Senate with SB 2732 and SB 2396 eventually floundering during the 2021 legislative session and leaving the state with no true mobile sports wagering option.
Regardless, Mississippi did break the $1 billion threshold in terms of sports gambling revenue back in February 2021, indicating strong interest in the activity statewide. Betting sites are still limited to physical locations but this may change either in 2022 or 2023.
Latest Gambling News in Mississippi
Best Mississippi Sports Betting Sites
The only two authorized online sportsbooks at the time of writing are Monkey Knife Fight and PrizePicks, both of which have to do with fantasy sports. They offer legal sports betting contests remotely so long as you are happy to bet on a fantasy sport and not a traditional game.
Both websites are authorized to offer their product legally in the Magnolia State and for those who love fantasy online sports wagering, they prove a great choice. In the meantime, you are probably wondering where the rest of the sportsbook elite is. As it turns out, they are limited to physical locations for the time being.
Some of them do offer mobile apps on-site at the authorized properties, but most just stick to retail. If fantasy sports are not your cup of tea, we will take a look at the official retail sportsbooks accessible in the state for you.
List of Retail Sportsbooks in Mississippi
Since sports betting is legal in Mississippi, the bulk of the sports wagering action has been primarily focused at retail sportsbooks. To be able to legally place a wager, you will need to visit one of those properties.
Even the online sportsbooks are still only limited within the retail venues and you can connect and place a wager without visiting a cashier or a kiosk, but you have to be on casino grounds. With some 23-odd locations in the state, though, this is not such a difficult undertaking after all as you are bound to have a viable sportsbook near to you.
| | | |
| --- | --- | --- |
| Casino | Sportsbook | Address |
| 1st Jackpot Casino | William Hill | 450 Jackpot Blvd, Tunica Resorts, MS 38664, United States |
| Ameristar Casino | William Hill | 4116 Washington St, Vicksburg, MS 39180, United States |
| Beau Rivage Resort & Casino | MGM | 875 Beach Blvd, Biloxi, MS 39530, United States |
| Bok Homa Casino | IGT | 1 Choctaw Rd, Heidelberg, MS 39439, United States |
| Boomtown Casino | William Hill | 676 Bayview Ave, Biloxi, MS 39530, United States |
| Fitz Casino Hotel | Foundation Gaming Group | 711 Lucky Ln, Tunica Resorts, MS 38664, United States |
| Gold Strike Casino Resort | MGM | Gold Strike Resort & Casino, 1010 Casino Center Dr, Tunica Resorts, MS 38664, United States |
| Golden Moon Hotel & Casino | IGT | 13541 MS-16, Philadelphia, MS 39350, United States |
| Golden Nugget | Golden Nugget | 151 Beach Blvd, Biloxi, MS 39530, United States |
| Hard Rock Hotel & Casino | Hard Rock | 777 Beach Blvd, Biloxi, MS 39530, United States |
| Harlow's Casino Resort | BetAmerica | 4280 Harlows Blvd, Greenville, MS 38701, United States |
| Harrah's Gulf Coast | Caesars | 280 Beach Blvd, Biloxi, MS 39530, United States |
| Hollywood Casino Gulf Coast | William Hill | 711 Hollywood Blvd, Bay St Louis, MS 39520, United States |
| Hollywood Casino Tunica | William Hill | 1150 Casino Strip Resort Blvd, Tunica Resorts, MS 38664, United States |
| Horseshoe Casino & Hotel | Caesars | 1021 Casino Center Dr, Tunica Resorts, MS 38664, United States |
| IP Casino Resort Spa | FanDuel | 850 Bayview Ave, Biloxi, MS 39530, United States |
| Island View Casino Resort | William Hill | 3300 W Beach Blvd, Gulfport, MS 39501, United States |
| Isle of Capri Casino & Resort | William Hill | 777 Isle of Capri Pkwy, Lula, MS 38644, United States |
| Casino Vicksburg | William Hill | 1380 Warrenton Rd, Vicksburg, MS 39180, United States |
| Magnolia Bluffs Casino | MBC Sportsbook | 7 Roth Hill Rd, Natchez, MS 39120, United States |
| Palace Casino Resort | William Hill | 158 Howard Ave, Biloxi, MS 39530, United States |
| Riverwalk Casino and Hotel | BetAmerica | 1046 Warrenton Rd, Vicksburg, MS 39180, United States |
| Sam's Town Casino | FanDuel | 1477 Casino Strip Resort Blvd, Tunica Resorts, MS 38664, United States |
William Hill and Caesars clearly hold the most properties in the state, covering the sports betting market with their distinct offerings. William Hill brings a lot of its experience in retail and capitalizes on it by providing Mississippi residents with state-of-the-art betting lounges and all the amenities they expect to discover.
You will be able to visit the DraftKings Sportsbook at Scarlett Pearl Casino and Hotel or the FanDuel properties at IP Casino Resort Spa or Sam's Town Casino. Interestingly, the only retail sportsbooks that presently allow mobile sports betting are the ones operated by IGT at Silver Star Casino, Bok Homa Casino and Golden Moon Hotel & Casino.
All three properties are tribal as well. The drawback is just like elsewhere in the state, mobile betting is restricted to the premises. BetMGM is also represented in the state as a natural competitor to FanDuel, William Hill and DraftKings.
Overall, sports betting in Mississippi is looking fine, even though the action is focused on the retail sector. Nevertheless, legislators may yet gather the political will to push for online betting, which should help with revenue as well!
When Are Mississippi Sports Betting Apps Coming?
Clearly, Mississippi has achieved several important milestones already. It has been able to cross the $1 billion threshold in terms of total sports betting handle and the state has a well-developed network of over 20 dedicated sportsbooks today. All of that together makes Mississippi a perfect breeding ground for the next step – mobile betting.
Mobile betting apps already exist in the state and you can download the dedicated solutions at all IGT properties. The drawback is that you may only use them on the retail premises which defeats the purpose of it. Online betting has some excellent benefits attached to them.
Sports fans are increasingly going digital and while they appreciate and maintain a strong bond with sportsbooks in person, they prefer to place their wagers via an online sports betting platform whenever possible. That is why Mississippi is bound to sooner or later digitalize as well.
Mobile wagering bills have already been pitched including but not limited to HB 172, SB 2613, SB 2614, HB 959, and HB 941. None of this bill has succeeded, however, and mobile wagering is still taking the backseat, letting retail locations scoop up all the action.
Once legal, though, the Mississippi mobile betting industry would be able to drive a much stronger interest from bettors who would appreciate the opportunity to place bets without necessarily visiting the state's casinos in person. The introduction of an online sportsbook at each property is a good start, but for Mississippi to truly reach its full revenue potential, retail would have to transition to mobile.
How to Choose a Sports Betting Site in Mississippi
When looking to pick a sportsbook in Mississippi you would want to make sure that the online sportsbooks you consider are licensed and have a legal right to operate in the state. You will be able to single out the ones you trust the most by looking closer at their offer, including competitive odds, available bets, promotions and overall reputation.
In general, all sportsbooks presently part of Mississippi's legal betting industry are trusted operators nationally. Currently, there are 23 retail locations, which is almost the highest count of sportsbooks in the country. When choosing a sportsbook, though, you want to make sure that you have thought of everything.
#1 Reputation and Licensing
The first thing to take a look at is whether a sportsbook is licensed and approved by the Mississippi Gaming Commission. That is what ultimately determines whether an operator is legal and can run a sports wagering product in the Magnolia State.
As to reputation, fellow sports bettors and residents will have formed opinions about each individual sportsbook, based on the bets and odds available. We have rated all sportsbooks in the state for your convenience based on a detailed review, but also consulting the opinion of sports bettors.
#2 Competitive Odds and Market Variety
The next thing to take a closer look at is what bets and odds are available. You want a sportsbook that is capable of delivering you diverse betting options across the entirety of sports competitions available out there, including but not limited to NFL, MLB, NBA, NHL, MLS, and others.
On top of market variety through Moneylines, Point Spreads, Totals, Props and Parlays, you also want to make sure that the odds are priced fairly and give you the opportunity to place the best and most worthwhile wager.
#3 Great In-play Betting and Data Feeds
Sports fans are becoming more interested in in-play options and live feeds that transact data in real-time without any significant delays. As a result, the best sportsbooks presently out there all focus on honing their offer in a way that delivers on this and more.
The only way sports fans can tailor their wagers is by having actionable information and that is only possible if the live data transmitted back to them is moved rapidly. Mississippi hosts some of the most advanced sportsbooks in terms of live betting experience and you will want to stick with these operators.
#4 Customer Support and Help Lines
Customer support is another important aspect of the experience. Sportsbooks such as FanDuel, BetMGM and DraftKings make sure that their support is on point and available during working hours. As a result, you have a constant line of contact with teams of customer care agents who are ready to solve any trouble you may have. Customer support should be quick and helpful and available via live chat, email and phone.
#5 Bonuses and Other Offers
Sports fans do care about great sports promos and that should be a priority for you as well. Therefore operators should be prepared to bring viable bonus offers so that they can meet consumer expectations. These bonuses need not be big or overly complicated.
Rather, sports fans today would appreciate anything that focuses on the sports betting experience in Mississippi and creates some honest value for the bettors. Free bets, Refer a Friend offers and more similar perks, including big event specials are all part of the desired bonuses that Mississippi bettors would enjoy.
Sports Betting in Mississippi: Conclusion
The sports betting industry in Mississippi is going strong. The industry has been able to achieve some interesting milestones establishing a well-developed network of retail locations. Moving forward, the sports betting handle in the Magnolia State is likely to continue growing and driving good tax windfall for the state.
The biggest change that lies ahead, though, is the adoption of a mobile sports betting platform. This may take a while to fully implement but once it is introduced, Mississippi will most likely see a constant stream of new sign-ups, an increase in revenue, and various features of the betting experience that were previously unavailable.
FAQ
Is Mississippi sports betting legal today?
Yes. Sports betting has been legal since August 1, 2018, in Mississippi. As a result, you can enjoy placing a wager on retail sportsbooks all over the state.
Can you bet on mobile in Mississippi?
Yes, you can. However, mobile sports betting options in the Magnolia State are still limited to retail locations only.
How many sportsbooks are there in Mississippi?
23. There are a total of 23 sportsbooks in Mississippi today. You can place bets at each and every one of them and even use a mobile app if you visit IGT books.
Is horse racing betting allowed in Mississippi?
Yes, horse racing is allowed in Mississippi and has been so for several years. You can wager on-site at select properties in Magnolia State.
What's the tax rate on sports betting in Mississippi?
12%. The present tax rate on Mississippi sports betting is 12%. This is a little lower than the national average and usually lower than casino gaming products, which start at 20% or more.