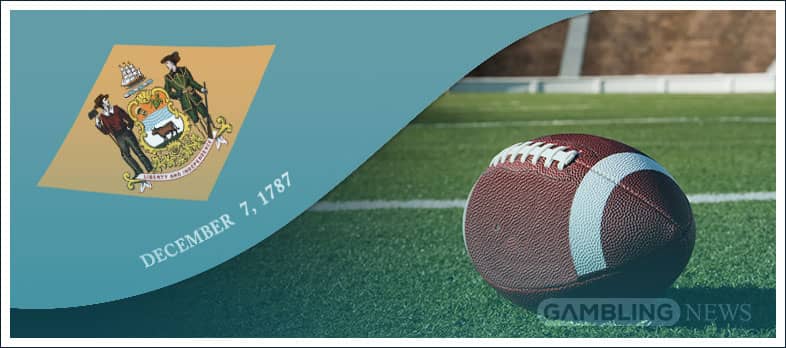 Delaware is the first state to legalize sports betting immediately in the wake of the Professional and Amateur Sports Protection Act (PASPA)'s repeal in 2018, giving the jurisdiction a head start in the ensuing sports betting legalization frenzy.
Gov. John Carney signed Delaware sports betting without hesitance as a framework had been prepared even prior to the SCOTUS ruling, allowing the state to launch legal sports betting without a moment's delay.
Since June 5, 2018, Delaware has operated sports betting ever since, and the early entry has paid off with solid tax dollars for the state's coffers.
Sports Betting in Delaware: Where to Place a Bet?
Delaware was admittedly the first state to introduce sports betting and allow residents and tourists to bet on sports as they pleased. However, it was also the least experienced one, and as such online sports betting is not allowed in the state off the premises of the authorized gaming locations. Presently, Delaware sports betting is focused on three distinct venues to name:
Delaware Park Casino
Dover Downs
Harrington Raceway and Casino
In addition, there are 100 smaller venues all across Delaware that are able to accept your wagers but won't offer you the same level of experience. The entire regulation in the state is under regulation by the Delaware Lottery, and entrants in the state need a license from the watchdog before they offer any type of sports betting product.
Scientific Games and William Hill partner in supplying Delaware's casinos with wagering options that they can then extend to customers on-site. While Delaware didn't consider online sports betting before, regulators are talking about re-examining the issue.
Latest Gambling News in Delaware
Mobile Sports Betting in Delaware: On Its Way
Presently, mobile and online sports betting is restricted in the state, and you will have to visit one of the authorized locations in person. That is not surprising that Delaware legalized sports betting immediately after PASPA was repealed and at a time when lawmakers feared that remote gambling options could undermine sports' integrity.
None of this has transpired, though, and fears have been to rest with many good states, including New Jersey and Pennsylvania, serving as great examples of how mobile sports betting defines the industry and helps it reach its full potential.
Delaware Lottery director Vernon Kirk has been openly discussing the possibility of introducing online sports betting in a bid to allow the industry to stay competitive and drive additional revenue at a time when the pandemic has forced many casinos to shut down.
Our prediction for remote sports wagering is that it's coming to Delaware, even if it's for the state to stay competitive. Naturally, the Delaware State Lottery will want reassurances that the retail venues will remain competitive and maintain to attract a flock of bettors and gamers regardless.
What Can You Bet on Legally in Delaware?
There are many excellent sports in Delaware you can bet on. But, more importantly, your sports wagering is hardly limited to in-state teams or events – just the opposite. Since sports betting is legal in Delaware, this means that you can wager on pretty much any event that is taking place nationally or internationally.
Delaware itself may not be a home of sports franchises, but it's located close enough to other states to support local franchises from the area. Residents usually root for Baltimore, Philadelphia, and Washington DC, giving them a long list of potential sports teams, they can back up!
That includes franchises such as the Philadelphia Eagles, Baltimore Ravens, and, naturally, the Washington Football Team. You will find numerous opportunities to place a bet in Delaware. Everything from MLS to NHL, motorsports, MMA, and boxing, as well as golf majors, is covered at the sportsbooks located at Delaware Park, Dover Downs, and Harrington Raceway Casino.
Delaware is one of the few states to regulate sports wagering on daily fantasy sports, which makes it an outlier among many. DFS is still enjoying a somewhat ambiguous state in the country, with some states banning it outright, some allowing it in regulated capacity, and others allowing it to exist in a sort of a grey market.
Not Delaware, though, which passed legislation signed into law by Gov. John Carney, who has rallied behind the contest.
College Sports Wagering in Delaware
Delaware is very liberal when it comes to its sports betting industry, well, if you don't count the restrictions that apply to online betting. However, the state is happy to welcome bets on college sports so long as these markets do not apply to in-state colleges and teams, to name:
Delaware Blue Hens
State University Hornets
Any other college sports are very much covered, which means that March Madness and College Bowls events are licensed by the State Lottery, and you can place a viable wager on any of those events and participants thereof!
Types of Wager You Can Place in DE
Delaware brings along with it a vibrant market filled with opportunities. Since the state was the first to legalize single-game sports betting outside of Nevada, things have been looking up. Delaware supports a diverse selection of possible wagers today, and you are very welcome to bet on any outcome that you think is most likely in one situation or another. The lines and odds you can pick from include:
Moneyline
Futures
Point spreads
Live bets
Totals
Teasers
Pleasers
Parlays
Delaware's sports betting market is developed to the point where there is a bulky variety of lines to choose from, giving you a competitive edge. Now, while shopping around for odds is a little hindered because of the lack of mobile betting options.
Still, you can count on Delaware's sportsbooks to bring you fitting selections and sports bets that will be worth your while and money. The parlay betting system is also quite interesting as it allows you to make use of long odds or combine multiple selections into one for a potentially greater payout.
Are There Sports Betting Sites in Delaware?
Interest in sports betting in Delaware has been mounting over the years, and many such residents have begun to wonder if betting sites are coming to the state or are even available. The reason behind that doubt is the proliferation of unlicensed sportsbooks that are targeting Delaware.
Presently, there are no licensed sports betting operators that offer betting on sports outside of the designated physical locations. If you see a site that claims the opposite, this is most likely an offshore operator.
While many sports bettors are often tempted to place a bet with an unregulated operator, this carries inherent risks that you need to be aware of. For one, you may not receive a payment if you win.
FAQ
Is sports betting legal in Delaware?
Yes, Delaware introduced legal sports betting in 2018 and became the first state to has done so anywhere in the United States, outside of Nevada.
Can you bet on mobile in Delaware?
No. Delaware presently limits sports betting in the state to in-person bets only placed at either the three casinos or another authorized location.
Who can bet on sports in Delaware?
Anyone who is 21 or older may participate in legal sports betting contests. 
What are the available casino locations where sports betting is allowed in DE?
The three sports betting casino locations in Delaware include Delaware Park Casino, Dover Downs Hotel & Casino, and Harrington Raceway & Casino. In addition, there are around 100-odd locations that allow you to place a quick bet if in transit or not willing to go to a casino.