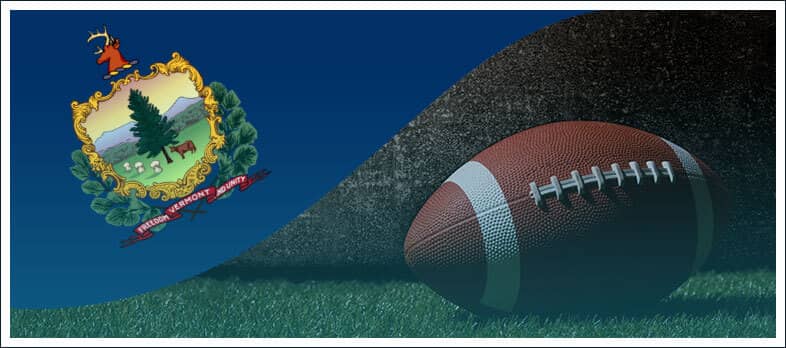 Vermont sports betting was a hotly debated topic in 2020, with several bills making it through Senate but eventually failing to make the final cut through the House of Representatives. Nevertheless, the bills and their sponsors signaled clearly that there is a will to legalize sports betting in Vermont, precisely what could happen in 2021/2022 at the latest.
Sen. Christopher Pearson, Sen. Dick Sears, Sen. Michael Sirotkin, and Sen. Richard Westman filed Senate Bill 77 in February 2021, looking to make sports betting legal in Vermont. Their efforts may yet succeed or flounder, but what's more interesting is the bill's language.
Like in 2020, the 2021 sports betting bill focuses on creating mobile sportsbooks that will operate across the state. Checking in with the bill, S77 is still awaiting a hearing at the Economic, Development, Housing, and General Affairs Committee in Senate. The bill's sponsors are pretty much pushing for mobile sports betting in the state, which makes their efforts interesting to follow.
Is Online Sports Betting in Vermont Happening Soon?
Yes. Even though Vermont may fail to pass online sports betting legalization in 2021, for example, the legalization push in a neighboring state would give lawmakers an incentive to act sooner rather than later. Betting sites may be a new concept to Vermont, but they have already been tested successfully in many other states.
With all bill sponsors rallying around the idea of introducing mobile sports gambling, Vermont's legislature is very likely to discuss a proposal containing mobile gambling text each step of the way, making it a part of the bigger picture legislation push.
Admittedly, the enthusiasm for legal sports betting on mobile was nipped in the bud in 2020 as all senators failed to rally enough support, but 2021 or even 2022 may prove a far better year for the state. Mobile betting is coming to Vermont, and residents definitely have a lot to be looking for.
Thrashing out the details may take a while, but already, states such as Rhode Island and New Hampshire are serving as great examples of the benefits of legalizing sports betting as well as what a successful gambling model looks like.
Latest Gambling News in Vermont
What Could Vermont Sports Betting Look Like?
In the latest available piece of legislation, S77, the details of the actual sports betting industry are scarce. The bill wants to proceed with legalization and then leave it to the Department of Liquor and Lotteries to sort out the rest. That passes the onus onto a potential regulatory authority, making it a double-edged sword.
On the one hand, the bill doesn't introduce any contentious language, but on the other, it may be perceived as a little vague by lawmakers. S77 wants to allow legal sports betting through the Vermont Lottery and set the legal gambling age at 18.
The bill argues that up to six mobile sports betting licenses will be allowed, allowing online sportsbooks to apply and launch operations. However, the bill omits an important piece of information that should be there to make legal sports betting more feasible – tax and licensing information.
No details have been provided to Vermont residents and legislature about the costs of licenses nor the tax rate. Still, Sen. Sears briefly mentioned $3 million in annual revenue from sports betting in the state, notwithstanding associated economic activity with operating legal sportsbooks.
What Sports Are Popular to Bet on in Vermont?
Sports betting in Vermont is bound to be popular, and that is mostly because of the many great options you have. Vermont residents bet on sports that have to do with the teams they support. While the state itself hasn't cultivated a homespun talent, there are some franchises that Vermont residents feel passionate about and that betting sites that would be coming to the state would seek to offer odds and fixtures on.
The New England Patriots (NFL) are usually a preferred pick for many sports fans from Vermont, and that is understandable. Even after Tom Brady left for the Tampa Bay Buccaneers, state residents have kept rallying under the Patriots' banners and expressed their support.
The NFL is hardly the only main sporting body that enjoys support in Vermont, however. Once legalized sports betting hits, residents will bet on anything from the NBA to NHL, MLB, MLS, and more. Golf, boxing, and MMA are other popular contests that bettors would be willing to put real money on.
Professional sports are a popular pastime in the state, even if the population looks a little small. Local support for motorsports such as NASCAR and professional sports is just as high as in other states, making Vermont a perfect market for legal sports betting.
Vermont Daily Fantasy Sports Betting
While the entire country was busy legalizing sports betting, which finally happened in May 2018, Vermont already had gathered momentum, and in 2017, the state passed a bill that allowed DraftKings and FanDuel to bring legal daily fantasy sports betting to the state.
The move was made possible after Attorney General William Sorrell argued that DFS infringe on existing state laws regarding gambling. In the absence of a law to regulate DFS gambling, the state simply voted for a new one, with overwhelming support from House and Senate, and not least, the crowds of bettors who love fantasy sports.
Legal Horse Racing Betting in Vermont
Surprisingly, horse racing in Vermont is precisely where it's supposed to be, and it's legal to place a wager on the ponies. You can find a legal gambling website online and wager on any horse you wish, so long as the website is licensed to offer horse racing bets legally.
Two popular options here include TVG and TwinSpires, which are fully licensed and allowed to accept wagers through their sites from Vermont. Unfortunately, there are no race tracks you can visit on-site in the state.
However, let this not dissuade you from betting on horses if you want to, as the horse racing market is quite rich, and the racebooks mentioned above provide you with odds from all over the country, including the Triple Crown events and especially the Kentucky Derby.
Sports Betting in Vermont: A Conclusion
Vermont already has a lot to offer when it comes to sports betting, and that is a fact. While news about developments in legal sports betting is forthcoming, it's safe to say that the state would seek to monetize on the pent-up demand for professional sports wagering, something that is pretty much only happening offshore or in other states right now.
Locals would be interested in sports betting as it would allow them to engage with sports teams a little closer, and online sports betting would guarantee that revenue isn't leaving the state. New Hampshire and Rhode Island have already been particularly successful in setting up a model that lawmakers and the State Lottery can replicate.
Of course, gathering momentum in the state legislature would take some time but sooner or later, Vermont is going to see the state's sports betting legalized.
FAQ
Is online sports betting legal in Vermont?
No. However, legislators are trying to push for an online sports betting industry. That could allow Vermont to reach its full potential in legal sports betting.
Where can I bet on sports in Vermont?
Nowhere. Sports betting in Vermont is still not legal. Laws are being prepared to pass legal sports betting, but it may still take 2022/23 to legalize the industry.
Is college sports betting allowed in Vermont?
No. College sports betting as well as professional sports betting are still off-limits for residents of Vermont. You may travel upstate and cross state borders to access legalized markets.
Can I bet on DFS in Vermont?
Yes. Betting on DFS is completely legal in Vermont and has been so since 2017 when a special law passed to legalize FanDuel and DraftKings' offers.
How many sportsbooks are there in Vermont?
Up to 6. There are expected to be up to six sportsbooks in the state of Vermont.