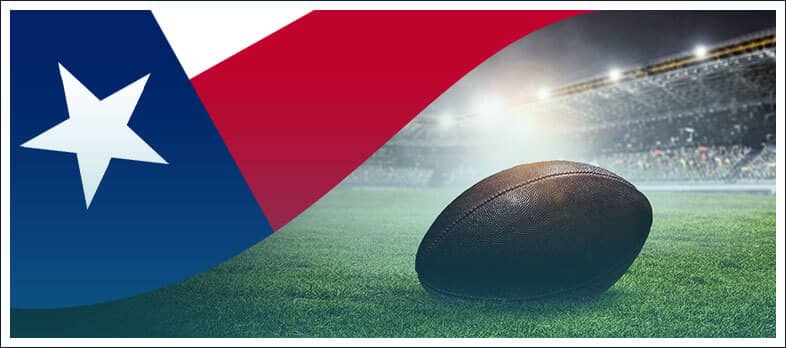 Texas has set out on a road to legalizing its gambling industry and specifically sports betting. Yet, as of 2021 sports betting in the Lone Star State is not yet legal and it will perhaps take until 2022/3 to see the state push through with a successful sports betting legislation.
That is just as well, as momentum for the legalization of sports gambling in the state has not slowed down. The only real hurdle in 2021 seemed to be a lack of technical time and not so much shortage of support on the matter. Many hoped that they would see sports betting fully legalized by the end of 2021 and on time for the NFL season, but this is now likely to happen.
The sports betting bill put forward by legislators, though, would serve the legalization effort in 2022. Professional sports and college teams are likely to be viable betting markets under the upcoming state legislature.
Latest Gambling News From Texas
Texas Sports Betting Legalization History
The Lone Star State seldom made a reference to sports gambling and if anything, Texas has been one of the holdout states in the USA where gambling has not enjoyed a cozy status, with horse racing and poker more or less restricted and the state lottery operating under close scrutiny.
The COVID-19 pandemic, though, precipitated the state's budget deficit, making legislators more susceptible to seeking alternative sources of revenue beyond federal aid. Aware that (online) sports betting proceeds are already leaking offshore, lawmakers seized the opportunity to introduce a sports betting bill.
Two distinct proposals were put forward during the 2020 legislative session, to name SJR49 and HJR133, supported by politicians from both ends of the spectrum. Even though none cleared even the first hurdle of the legislative process, the bills' supporters, to name Rep. John Kuempel and Sen. Carol Alvarado said that they were optimistic about the bill's passage during the next legislative session.
They have a point. If anything, momentum for sports betting in Texas is going up, and the idea is now more palatable to the vast majority of voters. Of course, some pushback is expected and without any of the bills making it through the first hearing just yet, it's not too easy to gauge whether the legislature would throw its support for the gambling bills.
However, the two TX sports betting bills coach their language cleverly and ask to assess the potential benefits of legalizing sports gambling and not outright proceed with the move.
Sports Franchises Support Legal Sports Betting in Texas
Texas is home to some outstanding professional sports teams and this makes the state a prime candidate for hosting a fully-fledged sports gambling industry. Not only that, but there have already been strong calls from professional teams to go ahead and legalize sports gambling as a way to capitalize on additional proceeds, boost fan engagement and strengthen results after what is now a second difficult year for professional sports.
In fact, the Dallas Mavericks, Cowboys and Rangers are all pushing for the introduction of (online) sports betting in the state, seeing the benefits of a regulated industry clearly. The Sports Betting Alliance, a trade body created to represent the interests of professional sports teams in Texas, has stated that many, including the Dallas Cowboys, are seeking to introduce mobile sports betting.
Having sports teams' endorsement has huge implications for the state, too, as the teams hold clout with voters and this makes it easier to push through and gather the necessary legal momentum to see the issue through.
Speaking of support, it all started with an announcement by Las Vegas Sands Corp. that the company would seek to bring casinos to the Lone Star State around the same time the company's founder and CEO Sheldon Adelson passed away. LVS is estimated to have spent $3 million on lobbying efforts during the legislative session in 20221, employing as many as 74 lobbyists.
In a statement to The News, a local media outlet, LVS senior vice president of government affairs Andy Abboud struck a positive tone and argued that the legislative session has been a success and even though legal sports betting is not happening probably until 2023 in the very least, things are already looking up for the industry.
Regulate Offshore Sports Betting in the Absence of Legal Options
With everything happening so far, the wait for legalizing online sports betting or even in-person sports betting will take at least a few more years. But just because the sports betting market hasn't got access to legal options hasn't stopped it from happening.
In fact, offshore and unregulated websites are targeting state residents even now something that the Sports Betting Alliance wants to stem right now. The Dallas Mavericks and Dallas Cowboys have been some of the most vociferous supporters of a quick legal fix that prohibits offshore gambling websites from accessing the state.
The Alliance's motivation is to see a committee vote on these same unregulated and offshore betting apps that provide consumers with no measurable level of protection.
Professional Sports Teams to Bet on in the State of Texas
Texas is home to many teams that compete on the highest level in their respective sports, and this makes the state one of the busiest when it comes to sports betting. Even though this activity has been directed at other states or offshore, there is now a viable alternative close to home that allows bettors to take advantage of a fully-regulated sports betting market right in the Lone Star State.
The state has eight professional teams that are spread across the Big 4 leagues and you will be thrilled to have the opportunity to explore what each market has to bring you. Texans definitely won't be bored during any of the major sports seasons!
NFL Betting in Texas
When it comes to the National Football League (NFL) there is one name that stands out above all else and that is the Dallas Cowboys. The team has had a great run in the NFL so far and sportsbooks have been busy assigning odds and creating fixtures for this outstanding team. The Cowboys compete in the NFC Championship and are owned by Jerry Jones.
Their last Super Bowl win was in 1995 and their last season was a bit subdued. Better times may be coming ahead for the team in the 2021/2022 season, though. In the meantime, the state has welcomed a second NFL franchise in the face of the Houston Texans.
The Houston Texans are the latest expansion team in the NFL. They are having a bit of a tough spell right now and the internal lineup seems to be not very well set for the upcoming season, but there are still many months to go and fans will surely be looking forward to seeing how Huston performs.
NBA Betting in Texas
On the NBA end, Texas really has everything covered. The state has cultivated some of the most impressive teams in professional basketball and, as you can imagine, sports betting associated with their names is always peaking when they play.
The first team to consider is the Dallas Mavericks. They are one of the youngest teams to have joined the NBA, rolling out in the 1980s, but making a mark on the competition immediately. At one point the Mavericks won so many games across four consecutive seasons that they ended up in the playoffs for each.
As of the 2019/2020 season, the Mavericks didn't do too well, but they have a lot of fight in them and you can expect the sportsbooks to embrace them as do Texans. Another top franchise to mention here is the Houston Rockets.
The Rockets are undergoing some deeper changes as a team and since trading James Harden, the team has been struggling to find a foothold in competitive basketball. Nevertheless, sports fans are still rooting for the Rockets and expect to see them perform well sooner or later.
Last but not least there is the San Antonio Spurs, the five-time NBA champions who are very capable of delivering top performance. The Spurs have helped shape some of the NBA's best players, including Kawhi Leonard.
MLB Betting in Texas
If you are a baseball fan, you will be happy to know that once Texas sports betting is live, every sportsbook in the state will make sure to feature some juicy lines and odds on Major League Baseball (MLB).
Sports bettors will be thrilled for the opportunity to explore all possible market opportunities, and not least the Houston Astros and Texas Rangers which are the state's two premier baseball powerhouses. Fans have everything to look forward to as the Astros most recently won the World Series in 2017 and have been doing well.
Betting on either the Rangers or Astros is definitely a clever wager in many instances, but it's always a good idea to double-check what their current stats and performance are before you commit.
NHL Betting in Texas
As you can imagine, Texas is not exactly the place where the National Hockey League succeeds in attracting a huge crowd. Nevertheless, hockey has its loyal fan base in the Lone Star State and associated sports betting.
With this in mind, the Dallas Stars are a good bet. Even though the team remained dormant since winning the 1999 Stanley Cup, the Stars made an appearance during the 2020 Playoffs, which put them right back on track.
For a state that doesn't invest too heavily in hockey, Texas is doing very well on the hockey front and this opens up various opportunities for sports betting on the sport in the state.
College Sports and Betting in Texas
With Texas sports betting still widely debated, one question that will eventually crop up is whether the state intends to allow sports betting on college contests. There is every reason why Texas may be reluctant at first, but become more open to the idea later. For starters, the state is home to many excellent college sports franchises across both football and basketball.
Not regulating and monitoring sports betting would mean that once again, offshore sports betting operators will step in and start claiming interest from Texans, but worse, they would be far less reliable betting markets compared to the fully-regulated in-state operators.
To avoid this, Texas would benefit from taking a good, hard look at how to regulated online sports betting, including any betting activity that concerns colleges. With this in mind, let's take a closer look at all the available college sports franchises in the state you would not want to miss out on!
College Basketball Betting in Texas
The first team that comes to mind is the Texas Longhorns Men's Basketball which was founded in 1906 and has been one of the most successful teams on the collegiate level. The team is part of the Big 12 and competes side by side with other excellent franchises from all over the country.
Next you have the Baylor Bears, a team that may not have grabbed as many headlines right up until 2021 when they defeated Gonzaga and demonstrated their ability to build up. Today, the Bears are a serious NCAAB contender and one that you cannot dismiss on a whim.
The Houston Cougars are on a roll with the team winning three straight conference championships between 2019 and 2021 and that is something you may want to be mindful of if you want to place a wager on them. Now, sports betting is not very likely to arrive before 2023, so use the 2021/2022 season to study the team once again.
Naturally, there are other excellent franchises out there, including the Rice Owls, SMU Mustangs, and UT Arlington Mavericks. All in all, it's safe to say that Texas has a fantastic rapport with college sports and that is evident from the level of attention and successes some of the major collegiate teams have been able to secure.
Is Online Sports Betting Available in Texas?
No. With legalizing sports betting still a few years off, and the question of what form it would take is important for everyone involved. Texans would probably prefer to have remote access to the sportsbooks and not have to visit in person to register or bet on sports. Then again, Las Vegas Sands is known for its proclivity to bring the action on-site in its properties.
However, the company's decision to divest in Las Vegas and pursue new opportunities in Texas, including casino resort projects, might be a signal that Sheldon Adelson's empire is more open to entertaining alternative options. In fact, Las Vegas Sands is now making a move on online gambling, which should give Texas' sports betting legalization efforts some momentum.
The case for a mobile sports betting industry is compelling. We are past the early days immediately after the defeat of PASPA in SCOTUS and as a result, there is a lot of guidance on how Texas can implement online sports betting safely and reliably, to the ultimate benefit of bettors, businesses, and not least the Texas State budget.
For all intents and purposes, we should be looking forward a mobile sports betting in the Lone Star State as it would make the most sense. The state is enormous and creating sufficient sportsbooks all across it to cater to all the main hubs would be a Herculean task of questionable ROI.
Naturally, casinos are bound to arrive in Texas as Las Vegas Sands continues to push for that, but online sportsbooks will very well be a part of the landscape as well.
Important Events You Can Bet at in Texas State
Texas is a state with a rich sports history and as such, you can expect the Lone Star State to play host to many high-profile events. Texans have a lot to look forward to when it comes to the sports calendar, and that includes events such as the Big 12 Football Championship, The Cotton Bowl, The Sun Bowl, The Alamo Bowl, The Texas Bowl, and other worthwhile events.
The college bowls and their popularity is another reason why Texas should definitely pay a closer look at its college sports betting industry and legalize it in a way that allows the state to reap the benefits of the huge interest going to collegiate sports rather than let offshore operators step in.
Be Mindful of Offshore Sports Betting Sites
While the big wait continues, Texans have few legal options to place bets around them. Most are associated with long travel times or visiting places such as Las Vegas and Atlantic City. The easiest places to access are offshore sports betting sites, which we do not recommend.
While offshore sportsbooks often look very professional, they are not subject to American law and regulation. With this said, regulators cannot ensure that your bets would be honored or that your information would be kept safe.
It's not illegal per se for sports bettors to set up an account offshore, but it's generally not as easy, reliable, and smooth as it would be to just wait a year longer for the regulated sportsbooks to start kicking in.
Texas Sports Betting: Conclusion
All in all, Texas is poised to legalize its sports betting industry. While we have not seen debates taking place in earnest, there is little skepticism about the industry's success and this is all good news. Sports fans and bettors should be able to get a regulated sports betting industry that allows them to bet on sports remotely and pick their favorite franchises, whether those are the Rangers, Cowboys, Astros, Longhorns, or something else. In fact, there is no obligation to bet on the state sports teams if you don't want to, so long as you choose a regulated sportsbook to place your next wager!
FAQ
Is sports betting regulated in Texas?
No. Sports betting is still not legal in Texas. However, lawmakers are expected to successfully legalize the sports betting industry by 2023.
Can you bet from mobile in Texas?
No. Mobile sports betting has still not been voted in. However, there is growing support among professional Texas sports teams for the inclusion of a mobile betting option.
How old do you have to be to gamble in Texas?
21. You must be at least 21 years of age to attend casinos and sportsbooks in Texas or bet using an online sportsbook instead.
When is sports betting expected in Texas?
2023. Everything points to 2023 as the year when Texas will launch a regulated sports betting industry in the state.
Is Bovada legal in Texas?
No. Bovada is illegal in Texas. The state has still not elaborated rules on offshore operators and whether they would be able to apply for a license once the industry is completely legal.