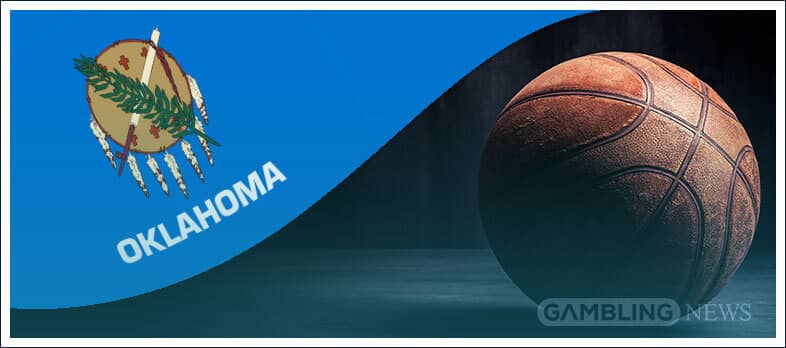 Oklahoma is one of the states that is still struggling to find a way towards legalization. A glimmer of hope flashed before sports fans' eyes back in 2020 when Governor Kevin Stitt went on and tried to negotiate a compact with the Comanche Nation and Otoe-Missouria, allowing the tribes to offer sports betting on their territory.
The compact negotiated between the tribes and the governor's office effectively failed to consider other tribes' interests, most of which were strongly opposed to the new compact. The Comanche Nation and Otoe-Missouria acted out against the rest of the tribes trying to secure better deals for themselves and introduce sports betting in Oklahoma.
In the ensuing confusion, though, the State Supreme Court stepped in and ruled against the compact. Gov. Stitt gave up on the idea of appealing the ruling and decided to go with the flow. Unfortunately, this has not got the state's sports betting industry anywhere in 2021, and there is a good chance the stalemate will continue.
Oklahoma Online Sports Betting in Future
So, naturally, the question that comes up is what is next for Oklahoma's sports betting. The truth is that the relationship between the state and tribes is a little fraught right now, and the priority should be mending fences. It's unlikely that a sports betting legislation will pass without the say-so of the tribes, and that is precisely what lawmakers ought to focus on.
Bringing sports betting online in Oklahoma is also the best option for a potential legalization move as it would come with the highest possible revenue attached to it. An estimated 90% of people who have access to mobile sports betting and regular sports betting choose the former as a far more convenient tool.
That reflects positively on revenue. However, there have been no significant inroads driven in the first half of 2021 so far, and this means that wherever sports betting in Oklahoma is heading, sports fans may need to arm themselves with a lot of patience before they can see some results.
Sportsbooks going online would require an arrangement with the tribes that guarantee their sustainability – that is, of the gambling operations run by tribes – and makes sure that the state still benefits from the generated revenue. It's a tough sell at the best of times, but with the relationship between the governor's office and tribes mired in conflict, it is doubly so right now.
When Will Online Sports Betting Launch in Oklahoma?
2022 seems too soon for any actual movement on the legal front in Oklahoma. Sports betting may take until 2023 or even 2024 to be realistically introduced to the state, and that is on the condition that there are no more failed attempts in negotiating an actionable and supported sports gambling framework.
Gov. Stitt's move may have looked prescient at the time, but it effectively ignored the will of some of the biggest stakeholders in the state, and it overlooked the need for a constitutional reform that allows sports betting in the first place. Even if the issue is expedited, 2024 may look a little optimistic.
Online sports betting is another thing altogether as the state and tribes may budge on land-based sports gambling, but they would probably keep their eyes peeled in matters that allow too much betting that doesn't directly benefit their communities, and that is fair.
Latest Gambling News in Oklahoma
Oftentimes, staying up to date with all the states and even just your own one can prove a little difficult – especially when it comes to how sports are regulated! That, in turn, creates some challenges in making sure you are always informed and know what to do.
However, with our help, you can count on getting all the updates as they happen. We will keep our ear to the ground and catch you up on all the latest Oklahoma sports betting developments in our news section.
Daily Fantasy Sports in Oklahoma
A small respite for people looking to bet in Oklahoma is the fact that daily fantasy sports are available in the state. Available doesn't mean legal per se, but so far as legislation goes, there has been no attempt to outlaw daily fantasy contests in any capacity.
In fact, these betting options are considered a "game of skill" and not of chance on the premise that you have to cultivate knowledge and understanding of an entire sport on an individual season to be able to build a winning team.
That is pretty much what sports betting is, too, but not according to law. In 2016, the state tried to push through a bill that would have cemented the status of daily fantasy sports as a completely legal option for Oklahoma sports bettors, but this, unfortunately, failed to pass as tribes opposed the bill. The tribes' opposition stemmed from a fear that the legalization could soon have led to another, and another, culminating perhaps with a sports betting bill.
The good news is that despite opposition, there seem to have been no attempts to suspend DFS in the state. As a result, anyone who is 18 years of age or older can freely use the services of select platforms, such as DraftKings and FanDuel, two of the most significant operators in the United States and the betting space as a whole.
It makes things even better for Oklahoma because with these two platforms already through the front door, the switch from DFS to sports betting isn't going to be too challenging. That is particularly true when you take into consideration the fact that both FanDuel and DraftKings run comprehensive betting options throughout the United States.
What Sportsbooks Are Coming to Oklahoma?
Whether Oklahoma chooses to go down an online or retail regulated road is entirely up to lawmakers, but what we can be fairly certain of is that the state's 4 million residents will have access to some top-notch sportsbook options, and not least DraftKings and FanDuel.
There are many potential brands that may want to grab a share of the Oklahoma sports betting market, including but not limited to:
FanDuel
DraftKings
Barstool
BetMGM
WynnBet
PointsBet
Each brand on the list brings significant expertise along with itself, making it easy for customers to pick from a top-notch operator that has a proven track record and, more importantly, brings you a fantastic variety of options when it comes to available sports gambling platforms.
Oklahoma Sports Betting Markets to Consider
Regulation is still in the works, and it will take a few years at the very least unless we see some push from all parts of governments with the backing of stakeholders. However, as this becomes a very unlikely scenario in the current context, it's still worth mentioning what some of the future betting markets in the state would be.
There are many potentially impactful events you may want to bet on, including the NFL, Super Bowl, and NBA. Locals have an interest in numerous sports which justifies the launch of the full-fledged sports betting market unhindered by restrictive measures.
Other events include PGA Golf Tour, any major tennis tournament, NCAAF and NCAAB games, soccer and MLB, hockey and other popular contests such as MMA, UFC, and boxing fights, NASCAR, and even table tennis.
The Kentucky Derby is another landmark event on the calendar, and with horse racing available in Oklahoma, it's easy to see why it will continue to draw significant interest. The one thing that is unknown here is whether NCAAF and NCAAB will be events you can bet on.
Each state takes a rather individualistic approach. Some choose to legalize everything, making it easier to keep track of. Others prohibit bets on in-state teams and games, and thirds choose to ban college betting altogether, fearing that it would breed too much temptation and lead to fraud and match-fixing.
There is little to support this last claim. If anything, leaving some games unregulated means that offshore sportsbooks still remain powerful in college sports. Events such as March Madness and the College Bowls pull in billions worth of revenue, too.
Will We See Mobile Betting Apps in Oklahoma?
The big question is whether Oklahoma will eventually authorize mobile sports betting apps that can be used to place bets remotely, giving you an edge as a sports fan. The matter will be taken up by tribes, with some 38 ones currently in the state, and legislators.
As mentioned before, mobile apps and sports betting is the best way to leverage an industry such as sports betting. However, with so many land-based stakeholders, there is always the matter of if mobile sports betting makes sense.
From a consumer standpoint, it most certainly does. However, business owners who run casinos and other gambling facilities that are controlled by tribes will most likely want some assurances that they can stay competitive.
Mobile betting may bite into the revenue that they generate, and with so many tribes in the state, it may be more likely to see a land-based-focused betting industry. There are dozens of casinos in the state, and nearly all of them will make a perfect spot for a dedicated sportsbook.
Apps could play a role still in allowing you to avoid interaction with cashiers and writers, for example, and jump directly on the sports betting action. Mobile betting will be particularly useful to those residents who have come to place in-play bets.
Thanks to mobile platforms, sports bettors can place wagers quickly and intuitively, even if they need to be on-site to do that. Nothing is final, and Oklahoma's sports betting landscape is ever-changing and evolving, however slowly.
A Look at Oklahoma Sports Betting: Conclusion
Sports betting in Oklahoma has hit an unfortunate snag. With the tribal compacts failing – and expectedly so – Gov. Stitt created a stalemate that may prove difficult to break just yet. This, in turn, means that 4 million people will not have a legal sports betting option to bet on any time soon.
Of course, DFS is a fair game and alternative, but there are few other ways to enjoy traditional wagering contests unless you are willing to travel out of state. Some residents turn to offshore sportsbooks, which may be alright for some, but you must understand that these operators bring no guarantees or the same level of customer protection as regulated ones.
We strongly recommend that you sit out the lack of sports betting in OK for a few years more and juggle between fantasy sports and horse racing in the meantime.
FAQ
Below is a quick list of key points that you need to know about the current state of sports betting in Oklahoma. Check them out if you are uncertain about something pertaining to the state's betting industry.
Can I bet on sports anywhere in Oklahoma today?
No. There are no locations where you can bet on sports in Oklahoma as of 2021. This may change in the future as the state is looking to set up betting operations.
Is sports betting legal in Oklahoma?
No. Sports betting is not legal in the state of Oklahoma. There was an attempt to legalize the industry in 2020 that came short of success as tribes, the government's office, and the state's supreme court tussled over the issue and couldn't see a way to work out their differences. 
Are daily fantasy sports legal in Oklahoma?
Technically no. There is no law that explicitly allows you to bet on fantasy sports in the state. However, none of the main stakeholders has voiced any opposition against the issue. In 2016, there was an attempt to formalize the status of DFS in the state, but it came short of success as tribes objected to it in principle, fearing perhaps that legalizing fantasy sports could lead to the legalization of sports betting. 
Can I bet from a mobile app on any sports events in Oklahoma?
No. You cannot bet on any "mainstream sports events" in Oklahoma, but you may still download the DraftKings and FanDuel apps to place a bet on fantasy sports all the same.
Is horse racing betting allowed in the state?
Yes. You can bet on the ponies in Oklahoma in person by visiting one of the authorized locations, including Fair Meadows Tulsa, Remington Park, Will Rogers Downs.