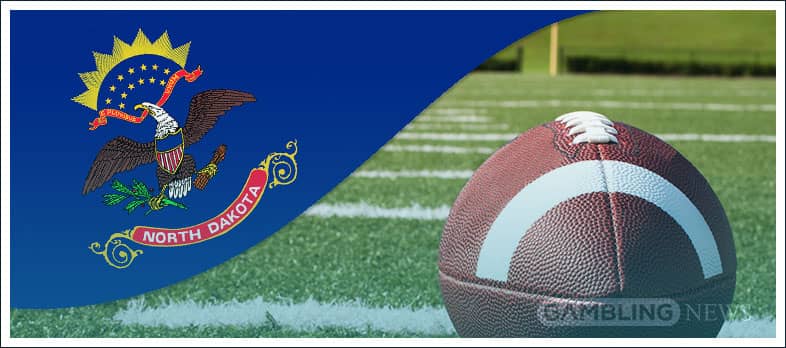 North Dakota did try to jumpstart sports betting, but efforts so far have failed inevitably. After an intense 2021 legislative session seeking to legalize online sports betting in the state, we are back at the drawing board with no solution at hand.
The state is hardly the most populous, with some 720,000 residents, and as is often the case in smaller places, sports betting doesn't seem to command the same pull. That doesn't mean lawmakers should completely overlook the issue.
Rhode Island was one of the first sports betting states in the United States following PASPA, even though the state has a small population. Without any form of commercial gambling, though, pushing for a regulated industry seems tough in North Dakota.
Presently, ND runs several gambling operations, including charitable gaming, tribal casinos, and lottery. The most recent attempt to legalize sports betting turned out unsuccessful, and this essentially means that we will see no 2022 ballot referendum on whether sports betting should be allowed in the state or not.
North Dakota Sports Betting: What Happened in 2021?
Essentially, the legislative session in 2021 proved the metaphorical nail in the state's sports betting coffin. North Dakota is falling behind significantly compared to other states in the US, bar a few holdouts that are all gung-ho on gambling.
Regardless, some state lawmakers and sports fans hoped that they would be able to push the matter through the state legislature, enabling residents to be the ones that ultimately decide in a 2022 referendum whether sports betting should be allowed in the state.
The ballot measure was struck down in a very narrow vote that came down to 24-22, followed by another nerve-racking 24-23 vote during the reconsideration. Opponents against the bill simply did not budge on the matter and ruled it against the public's best interest.
All of this took place in the Senate. The House was actually far more opened to a sports betting legislative bill, having passed the bill with a 70-24 majority beforehand. 2021 also saw lawmakers strike down a historical racing bill proposal that didn't seem to sit well with senators.
The result is that North Dakota will be missing out on sports betting legalization in the foreseeable future, and some say probably until 2025 in the very least. One way to try and circumnavigate current events is to start a referendum with the backing of citizens, which would require at least 26,000 people of the legal age.
If this measure succeeds, assuming there is someone to back it in the first place, the question of sports betting may be put on the 2022 ballot.
Latest Gambling News in North Dakota
With clearly quite a few challenges to address, North Dakota will take a while before it can fully legalize sports betting. Horse racing and fantasy sports will prove palliatives in the meantime, but for the state to completely tackle issues such as untaxed betting dollars and offshore sportsbooks, legislators will have to realize that keeping things as is leads to more harm than good.
Inertia will have to be overcome, and while ND is a small state with merely 720,000 residents, there is no reason why they shouldn't get what they deserve when it comes to reliable and trustworthy sports betting markets.
Daily Fantasy Sports in North Dakota
While lawmakers are still a shade unclear on how to treat sports betting as a whole, daily fantasy sports have enjoyed a state of legal limbo. DFS are not technically legal, but then again – they are not illegal either. What this means is that people in North Dakota have a chance to familiarize themselves with how remote sports betting works.
Apps such as the ones offered by DraftKings and FanDuel, while presently restricted to DFS, make it possible for you to explore viable betting markets. The only drawback is that you cannot bet on an individual event but rather have to outrank others by putting together the best NFL or NBA team or whatever other contest is currently available and supported.
Fantasy sports are a great way to get your teeth cut on various betting markets, and while regular wagers are still some time off, that is a good opportunity for you to find out more about how betting works in the first place.
Can You Expect Mobile Betting Apps in ND?
The question of whether mobile apps will be available in North Dakota is definitely important. After all, DraftKings and FanDuel already do offer apps, so why wouldn't regular sportsbooks? Well, there are some actual hurdles to clear here.
While fantasy platforms are in the blind spot of many stakeholders, who don't see them as a direct challenger, mainstream sports are actually what usually excites businesses and puts them on the defensive.
With this in mind, allowing residents to bet from anywhere in the state through an app could mean that nobody ends up turning up at retail businesses anymore, which would be undesirable and unsustainable.
At least, this is the logic stakeholders subscribe to. It's true that over 90% of all sports bets are placed on mobile in states that allow this to happen, but this doesn't mean that people don't still turn up at sportsbooks. Just think about Washington, DC. Sports are about a shared experience and not just passively watching the game at home.
What a mobile app does is allow consumers to be far more flexible with their wagers, enabling them to check in on odds, place a quick wager, cash out their in-play bets, and so much more.
Often, the retail experience comes just a bit short of those, and that is why any regulated market should seek to give sports fans full control over sports betting markets.
What Sports Can We Expect to Bet on in North Dakota?
There are many viable sports that we will be able to place a wager on once North Dakota finally legalizes the industry, whenever this may be. For starters, all major leagues should be covered, and they will be. This means that you will get plenty of opportunities to bet on the NBA, NHL, NFL, MLB, and even MLS.
Interest in sports in America is incessant, and North Dakota is a state where love for sporting events is prominent. Outside of the big leagues, there are many other awesome events to choose from, including NASCAR, combat sports, golf, tennis, and other competitions.
Soccer is very popular as well, and we are sure North Dakota will feature a proper selection of markets for some of the world's best soccer leagues, including the Premier League, LaLiga, Serie A, Bundesliga, and others.
College Sports Betting in ND
A big IF remains the question of whether ND sports betting will feature wagers on college sports. Opting for a blanket ban is not a good strategy as billions are wagered on this activity throughout the United States. North Dakota may choose to only restrict NCAAB and NCAAF wagers that are taking place in-state, for example.
A far more liberal approach is to allow all sports betting activities to take place in the state, including collegiate-level events, which should give residents plenty of opportunities to explore the industry in full and without any delays.
College betting will surely be an important addition to the future sports betting makeup in North Dakota, but the only ones who can decide on that are lawmakers who are still split right across the middle when it comes to giving sports gambling in the state a green light.
FAQ
Is sports betting legal in North Dakota? 
Sports betting is not legal in North Dakota. The state almost passed a vote to take the issue to the 2022 ballot but failed with a single vote in the deciding session. That happened in 2021. Although, sports fans could still potentially kickstart a ballot vote of their own if they collect the mandatory 2% signatures of all people eligible to vote or around 26,000 people in North Dakota. 
Can you bet via mobile devices in ND?
No. North Dakota has not authorized any form of sports gambling presently. Even when regulated, there are still many uncertainties about whether the state would allow a mobile sports betting market.

The focus may shift to land-based operations with mobile apps usable only on-site, which would defeat the purpose of downloading a mobile app in the first place. A more liberal approach would be to allow sports fans to bet from anywhere in the state. 
When will there be sports betting in North Dakota?
As things stand, no date has been established yet. There are hopes that sports betting may arrive before 2025, but chances are the issue will drag on for years, to say the least.

A breakthrough could come if legislators and stakeholders come together and decide to push through with a regulated industry. However, such breakthroughs are usually tied to concessions that make the consumer experience a little less optimal.