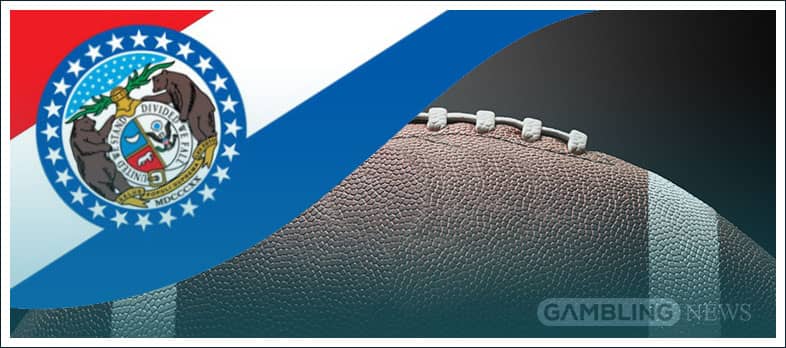 The Show-Me State has had a rough time trying to legalize sports betting. Yet, efforts are ongoing, and with this in mind, sports betting is really coming to the state, even though 2021 is probably not going to be the year when Missouri introduces legal sports betting.
A sports betting bill already failed in the 2021 legislative session following equally action-packed 2020 when two separate bills were introduced in a bid to bring sports wagering online in the state. While things aren't looking too good for Missouri sports betting's immediate future, the fact of the matter is that the state will find a successful formula all by itself.
Home of the Kansas City Chiefs, Missouri has every reason to want and introduce legal sports wagering, including mobile sports betting. Sports in the state are well developed, and the COVID-19 pandemic did give a bit of an extra incentive to legislators who scurried and looked for new opportunities to introduce and pass sports betting bills.
When Will Online Sports Betting Come to Missouri?
Missouri sports betting has been in the air for at least two years and definitely following the defeat of PASPA in May 2018. Yet, legislators have been a little slow to introduce sports betting bills and garner sufficient support to see them signed into law or even passed through both chambers of the legislature.
Presently, the issues that block online sports betting in Missouri from happening have to do with some key differences between the nature of the proposed regulation. On the one hand, you have those who support the riverboat casinos and claim that they should hold exclusivity over any sports betting legalization.
However, examples from elsewhere indicate that involving the state lottery, or in this case, the Missouri Lottery Commission, usually brings to a more diverse and competitive sports wagering industry that drives additional tax dollars to the state.
The bills in 2020 were bungled because sports betting was tried to pass as part of a joint bill that would have made it legal to install video lottery terminals at various locations around the state, including bars, truck stops, and others.
Sen. Denny Hoskins has resuscitated the proposal during the 2021 legislative session, insisting on installing VLTs as well as regulating retail and online sports betting in a bid to counter the offshore sports betting market, which is already siphoning funds off the Show-Me State. 
His enthusiasm, though, has not been met in kind by fellow legislators who have effectively mothballed the issue and killed its chances to succeed during the 2021 legislative session. 
What Are Some Sportsbook Options for Missouri?
Once sports betting is legal in Missouri, there will be an influx of sportsbooks looking to bite a share out of the market. With the state offering a variety of professional and college sports teams, interest in sports betting is bound to stay at an all-time high. What sports fans need right now, though, is for the state to make sports betting legal.
There are already many viable brands that would be interested in joining the state, either at retail locations or as part of a broader mobile betting legalization move. They include brands such as BetMGM, DraftKings, FanDuel, William Hill, and PointsBet Sportsbook.
Actually, FanDuel and DraftKings are already available as DFS operators. Different stakeholders will have different reasons for entering the business of legal sports betting in Missouri, but ultimately the biggest name would never miss out on the Kansas City Chiefs state. WynnBet is another sportsbook that is gathering a lot of momentum, and we may actually expect to see it in the state.
Details will be thrashed out once there are legal grounds to do as presently Missouri is far from even naming how many operators would be allowed to run in the state. You can rest assured, though, that once sports betting legislation comes through, we will be able to see which sportsbook operators are taking their bidding a little more seriously.
Latest Gambling News in Missouri
Are There Legal Betting Options in Missouri Already?
Yes. Luckily, Missouri has had legal horse racing betting since 1984, and as is the case with most states, horse racing is actually an approved betting experience. However, not everyone feels as enthusiastic about the ponies as sports fans do for some of the state's best franchises, including the Chiefs, St Louis Blues, and even the St Louis Cardinals.
Other than horse races, there is nothing more you can bet on presently, which means that if you see a sportsbook offering sports wagers, they are almost certainly an offshore operator, and we recommend you avoid them.
In the meantime, Missouri sports betting is already on its way, and you will have a chance to place a fully legitimate wager before long and on all available sports and college teams currently based in Missouri.
You also have casino games, courtesy of the retail casinos that currently operate in the state. In fact, there are 13 retail casinos you can visit right now, and many of these are expected to host betting on sports in Missouri once it becomes completely legal.
Daily Fantasy Sports Betting in Missouri
Next, we have daily fantasy sports, which have been passed into law all the way back in 2016. While you can bet on professional sports, college teams are still off-limits under DFS laws. DFS in the state is regulated by the Missouri Gaming Commission, which gives Missouri some groundwork in regulating sports betting contests, even though it pertains to fantasy sports only.
College sports are excluded from DFS regulation, so all the action that goes down on fantasy betting is focused entirely on professional teams within the state, in the country, and internationally. Legalized sports betting would naturally expand that to feature traditional athletic contests, but for now, all your bets will be going down on DFS.
You can bet on DFS right now if you visit one of the available DFS operators in the state, including FanDuel, DraftKings, Fantasy Draft, and Yahoo! Daily Fantasy. All four operators are accessible on a mobile device, giving Missouri residents a taste of what legalized sports betting could look like.
What Sports Are Popular to Bet on in Missouri?
Some states have already passed a sports betting bill, bringing their wagering industry online. Yet, they have very few, if any, local sports franchises to show for. Well, Missouri is not going to be one of those states, and the Kansas City Chiefs' home dominion has a lot to bring to the table. Missouri sports are well-developed, and this naturally means sufficient interest in various mainstream athletic contests.
NFL Betting in Missouri
Missouri is all fired up about the Super Bowl and the NFL as Missouri's Kansas City Chiefs win the LIV edition of the Big Game but lose LV to the Tampa Bay Buccaneers with 31-9. 
Regardless, the Chiefs are indeed one of the best sports franchises not just in Missouri but anywhere in the United States, and local sports fans are aching for a chance to place a legal bet on their next game in the National Football League.
NBA Betting in Missouri
Unfortunately, Missouri quit professional basketball in the 20th century, with the Kansas City Kings migrating to Sacramento back in 1985. The Kings were the last remaining NBA franchise, and with this, the state closed a chapter on its professional basketball competitions.
Never mind this temporary hiccup, Missourians are still very much excited at the opportunity to be bet on the NBA, and DFS basketball contests are going at full speed even today. Interestingly, Missourians root for the Oklahoma City Thunder, and the potential of basketball as a sport fit for all types of betting is going to be realized sooner or later.
NCAA Betting in Missouri
Missouri is a college sports state, and that is good news for anyone who appreciates athletic contests on that level. Even better, the Show-me State has a solid collegiate program of its own, and the Missouri Tigers are representing the state in NCAAB Men's Basketball.
Whether you would be able to place a legal bet on college sports is another thing altogether, of course. Missouri prohibits DFS bets on college sports, and it may extrapolate to restrict in-state college betting once sports betting is legalized in Missouri, too.
NHL Betting in Missouri
The National Hockey League is another popular option Missourians like to bet on. Even better, the NHL is baked into the very fabric of the state, with the St. Louis Blues proudly representing the state and everything it stands for. Once sports betting legislation arrives, Missourians will be able to embrace their passion for sports betting and hockey.
The Blues have actually been doing quite well recently. They were at the helm of the Stanley Cup and successfully brought in the 2018/2019 title home. Not only that, but St Louis Blues performed superbly during the 2020/2021 season before the pandemic forced all professional and collegiate sports on shutdown and with it suspended on all betting options.
MLB Betting in Missouri
Missouri and Major League Baseball (MLB) is a match made in heaven. The state's St. Louis Cardinals represent Missouri proudly and excite some of the biggest sports betting interests in Missouri. Why? The Cardinals have won 11 World Series, and that tells you how Missouri feels about baseball in general.
Yet, the St. Louis Cardinals are not the only team out there, and the Kansas City Royals are another prominent MLB franchise to take into consideration. The Royals only brought their first title in the past 30 years in 2015, but they have been doing well. Once sports betting is legal in Missouri, you can expect a lot of the action to head over that way.
If you are looking to bet on sports in Missouri, we recommend placing your next bet on the Kansas City Royals.
Mobile Sports Betting in Missouri?
While state lawmakers are still trying to figure out which way to go with sports betting, the question that often comes up is whether mobile apps and mobile sports betting will be allowed in Missouri. The case for such apps is very strong not least because of daily fantasy sports. Betting events just elicit stronger interest if there are only sites that can accept wagers.
If mobile betting is permitted in Missouri, you will have a plethora of sportsbook options to choose from, which will ultimately lead to a more competitive market. The number of licensees will also matter, naturally, but overall, legalizing mobile sports betting is the right way to pass the sports betting law, as numerous examples from the country have shown.
Besides, we can already see why mobile betting is a good example judging from the success of DFS contests in the state, which are accessible as remote betting options. Online sports betting is definitely the way to move the needle in Missouri's favor.
What's Next for Missouri Sports Betting?
Missouri will clearly have to calm down insofar as its sports wagering industry is involved. The good news is that 2022 and 2023 look very promising for the state. All over the United States, states have been pushing and introducing sports betting legislation that will ultimately lead to higher tax rate collection for each jurisdiction and allow states to capitalize on the pent-up demand for sports wagering. Sports betting Missouri is well under its way.
FAQ
Does Missouri offer legal sports betting options?
No. Missouri sports betting is still not fully legalized, and only DFS contests and horse racing is allowed. Sports betting may be coming in a few years.
When will I be able to bet on sports in Missouri?
Missouri sports betting may take until 2022 or 2023 to fully pass and legalize. The situation is evolving, and we will keep you informed as new information becomes available.
Can I bet on college sports teams in Missouri?
No. Daily fantasy sports college betting in Missouri is off-limits, and this is likely to be the case once sports betting is legalized in the state. 
Is Daily Fantasy Sports permitted in Missouri?
Yes. Even before PASPA was defeated, Missouri passed a DFS betting law in 2016. As a result, you can bet on professional fantasy sports in Missouri, but not college sports.
Is Bovada legal in Missouri?
No. Bovada operates as an offshore sportsbook. As such, it's not considered legal even if it is accessible to you in Missouri.
How old do I have to be to bet on sports in Missouri?
21. Currently, you need to be 21 years old to participate in DFS, horse racing, and casino gaming. If and when sports betting is legalized in Missouri, you would most likely need to meet the same requirement to place a legal bet.