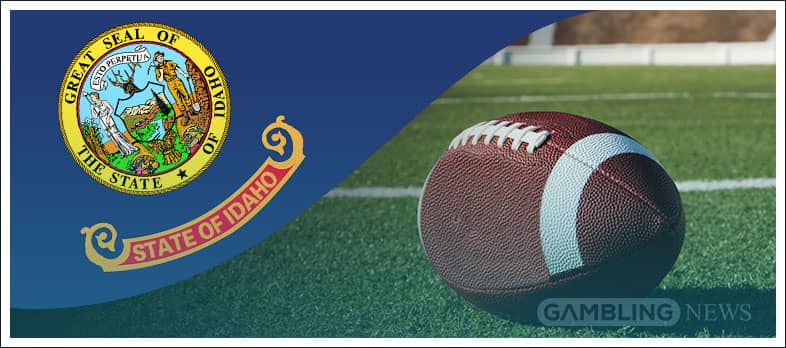 Just because Idaho is a small state doesn't mean the jurisdiction is going to pass up on the sports betting frenzy that has washed over the United States since 2018. Justified, the sports betting industry is helping build up revenue for states offsetting budget deficits and limiting the clout of offshore operators. Idaho is still slow to act.
In fact, there are no sports betting in Idaho as of right now, and with no legal momentum gathering, it may be a little hard to pinpoint the exact date when Idaho would seek to launch its own sports wagering industry.
Things are happening around Idaho, and several other states, including Montana, Oregon, and Nevada, now offer – or are about to offer – legal sports betting options, and so is Washington, D.C., with expansion plans already on the cards.
Latest Gambling News in Idaho
When Will Legal Sports Betting Arrive in Idaho?
Idaho has not yet mustered the courage to tread the legislative needle that would result in the possible legalization of sports betting in the state. Even Hawaii has been talking things up, and Washington, D.C. is now planning to expand sports betting statewide. Yet, Idaho remains an islet of solitude when it comes to legalizing sports wagering.
There has been no effort whatsoever to introduce a bill in the state that could be taken up for debate by the House, Senate, and the governor's office. With this in mind, giving a concrete estimate of when sports betting is coming to the state would be difficult.
All states around are moving quickly, and Idaho will be left behind. According to assistant chief deputy Attorney General Brian Kane, the topic is so sensitive that there have not been talks even in private to see the legalization of sports gambling in the state.
Put this way, SCOTUS' ruling in May 2018 may have expanded individual states' powers in regulating sports betting, but Idaho has used that new-found prerogative to maintain the status quo, the desired outcome judging by the lack of political movement on the issue.
Is Online Sports Betting an Option in Idaho?
Yes. In theory, there is no reason why Idaho should restrict sports fans from accessing the best sports betting markets remotely. The state does have several prominent casino properties, not least the Coeur d'Alene Casino, Shoshone-Bannock Casino Hotel, Clearwater River Casino & Lodge, and others that are interesting options when it comes to potentially hosting sportsbooks.
However, to stay competitive against mounting competition from other states, Idaho would have to consider mobile sports betting at the very least. That is if the state even opens a dialogue about sports betting legalization first.
Then again, the case for potential retail sportsbooks is not one to dismiss too readily. The casino properties available in the state are some of the best options, not just locally but nationwide, and have been operational for years to come.
There are ten tribal casinos located all over the state, which means that Idaho has the network to support in-person sports wagering. However, a state of this size would do best to take Rhode Island's example or even Tennessee's and launch an industry that capitalizes on the quickness of remote betting options.
Legislators may still demand from license holders to partner up with the local property and pay an upfront fee, something that the biggest names will certainly do, regardless of the size of the market. The number of tribal operators may allow for an Idaho Lottery Commission to issue up to ten licenses that can have a significant economic impact right from the start.
Giving a fair assessment of the potential windfall for the state should be part of a broader political talk that will require politicians to drop the act and address the issue head-on.
Sportsbooks in Idaho: Who Could Be Coming?
Idaho has great infrastructure when it comes to casinos, and at least seven properties in the state are able to accept pari-mutuel bets on horse races, giving them some familiarity in the matter. Naturally, any of the existing casinos would be keen on introducing its own sportsbook, whether through an established partner or individually.
The most likely outcome for Idaho's established casinos is to tap into the vast expertise of respected brands such as DraftKings, 888Sport, BetMGM, FanDuel, William Hill, Sugarhouse, WynnBet, and many other sportsbooks that could be looking to gain more ground in the regulated sports betting industry.
They are defining stakeholders in the industry that are likely to bring a lot of value to what is still the hypothetical sports betting landscape in Idaho. DraftKings, FanDuel, and BetMGM are usually first on the move when it comes to exploring new markets, so these three brands will surely start laying the groundwork of a future betting operation if Idaho betrays the slightest sign of legalization.
What Sports Could Be Popular to Bet on in Idaho?
Idaho is actually a state with a long and proud sports tradition. That means that locals would not have to look far or hard to find a suitable sports franchise to back up. In fact, sports fans can pick from numerous mainstream competitions, and any of the Big Four Leagues, including:
Naturally, college football is another popular sport in the state, with Idaho rallying behind the Boise State Broncos.
Neighboring states have a lot of excellent franchises, too, and Idaho's residents are naturally drawn to them. Popular options from mainstream professional sports include the Seattle Mariners for baseball and the Portland Trail Blazers and Utah Jazz, both great basketball teams representing neighboring states and pulling in a lot of weight.
There are also the Las Vegas Raiders in the NFL and the Vegas Golden Knights in the NHL. The Seattle Seahawks is another viable NFL team to support. Commenting on popular sports, the ones that have to do with actual sports leagues will naturally excite a fair bit of interest.
Other Viable Sports Betting Options for Idaho
Idaho is a state that loves sports, and even though there aren't many local franchises to speak of, viewership is strong across the board when it comes to all major sporting events. Apart from the major American leagues, Idaho shows no small amount of appreciation for motorsports, boxing, MMA, golf, tennis, and various more exotic competitions.
There are usually around 30-odd betting markets available with every state legalization, and while Idaho may take some time to catch up, interest in a variety of sports could definitely see the state cast a wide net for sporting events.
Betting on Daily Fantasy Sports in Idaho
While most states have been able to circumnavigate restrictions on DFS, Idaho is making sure that it takes a more comprehensive approach towards its entire sports betting industry, fantasy contests included.
Fantasy sports are not allowed in the state, and operators that may offer such betting options may face legal consequences. Idaho outlawed DFS in May 2016 and has stuck to its guns ever since. Even if sports betting becomes legal in the state, it's not very likely that DFS will return.
FanDuel and DraftKings were asked to stop running as grey operators in the state by Attorney General Lawrence Wasden, and the betting firms have complied with the request.
Can You Still Bet on Horse Races within Idaho?
Yes. Idaho has legalized horse racing, and the state even made an attempt to introduce enhanced odds and liberalize the market a bit more, moving away from a pari-mutuel betting format. Even as it stands, though, horse racing betting is pretty accessible, and the state has four locations where you can and attend in person and enjoy the ponies. Those include:
Cassia County Fair
Eastern Idaho State Fair
Oneida Downs
Pocatello Downs
Alternatively, you can pursue online betting opportunities, including but not limited to BetAmerica, TVG, and TwinSpires, all of which are fully licensed and allowed to operate in the state and provide residents with legitimate horse racing betting options online.
BetAmerica also offers viable sports betting options, but they are unfortunately restricted to Idaho residents when accessing the website from the state's borders.
What Markets Will Idaho Bettors Go After?
Assuming Idaho sports betting comes online, the state is a prime candidate to explore the full variety of wagering options available to U.S. residents. That includes but isn't limited to Moneylines, Point Spreads, Parlays, Teasers, Props, and many sport-specific bets, such as Puck Lines and Innings for hockey and baseball, respectively.
In-play is another aspect of the betting experience that Idaho would most likely not hesitate to pounce on. With technology creating the ecosystem necessary for a frictionless experience, live sports betting is now mounting and making a good match with mobile solutions that empower consumers and sports fans.
The available markets are likely to be many and varied, subject to regulatory approval. Wager types will come and go as events change throughout the year, but overall, Idaho has the infrastructure that would allow it to set proper sportsbooks and benefit from the full range of betting options.
Will College Sports Betting Be Legal in Idaho?
With Idaho represented in college sports, it's naturally interesting to try and guess whether any legislation would actually seek to add college sports betting as a viable market. There are generally two ways how this goes with most states out there.
Some states argue that opening betting markets on college sports would undermine their integrity, tempting athletes into sacrificing performance to win a bet on the side. However, the argument against that is athletes may still do that via offshore sportsbooks.
What changes when you have a regulated college betting market is that regulators can step in and monitor what happens and track potential fraud. On the plus side, college sports in the United States have been clean of scandals, and the integrity of the NCAA and the big sports league remains adamant.
Strong Support for Sports Betting by Sports Fans
One of the ways to push the issue forward and help it gather political momentum is to convey that there is sufficient support for endorsing a regulated betting market. The strongest argument for right now is that state residents travel to border states or downright engage with unlicensed operators located outside of the country to place a bet.
That deprives the state of potential tax revenue that can be used to support the state's general fund, education, infrastructure, pensions, or anything else that Idaho is coming short of. Sports fans could be a propellant in any upcoming debates about whether sports betting should be legalized in the state, and that is precisely what many sports betting enthusiasts hope for.
However, to succeed, they would need to be heard on a political level which will, in turn, take a legislator who is preparing to argue the case for the issue in the House or Senate, and let's face it – ultimately both.
FAQ
Is sports betting legal in Idaho?
No. Idaho has made no progress in legalizing sports gambling. The state's legislative session in 2021 concluded without any outlook of this changing any time soon. 
Can you bet on sports via mobile devices in Idaho?
No. Remote, as well as in-person gambling, is prohibited in Idaho as of 2021. The state is yet to introduce potential legalization bills. 
Is horse racing betting available in Idaho?
Yes. You can bet legally on horse races in Idaho. The state allows residents to access remote betting websites that are licensed in the United States and place a bet.
Can you wager on Daily Fantasy Sports in Idaho? 
No. DFS betting is forbidden as per state law with a direct order of Attorney General Lawrence Wasden.