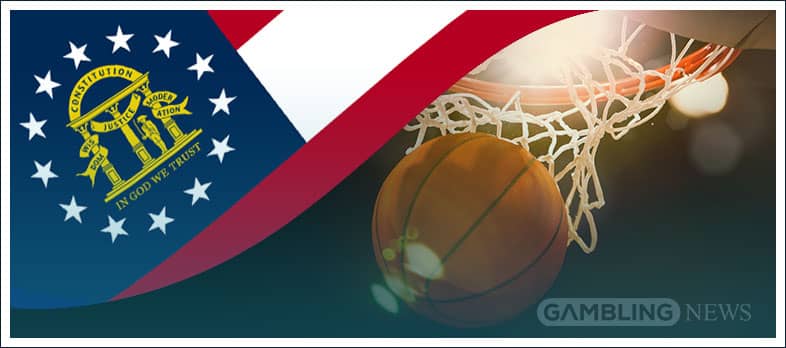 Georgia has been trying to push a sports betting bill through for a while now, and perhaps since PASPA was struck down in 2018 by SCOTUS. Unsuccessful so far, Georgia sports betting is coming even though it may take at least another full year to realize. Bettors in the Peach State still have a few potholes on the road to progress they have to navigate, and the lack of a clear legalized sports betting framework is one of them.
The good news is that the state does not object to gambling in principle and the Georgia State Lottery has been running successfully without any hiccups so far. What lawmakers need to figure out, though, is how to legalize sports betting in Georgia and make it so that sports fans can finally place a legal wager on a professional and college sports contest at their own discretion.
We will take a look at what a legitimate sports betting market in Georgia may look like once more definitive action is introduced so that online sportsbooks may start gearing up for a launch in the state.
Latest Gambling News From Georgia
Online Sportsbooks in Georgia – A List of Trusted Operators
Sports betting legislation in Georgia has dragged its feet, but even then, it's reasonable to assume that there are many stakeholders who are even now looking for opportunities to explore the Peach State's untapped potential and establish a deeper connection with potential partners in the state.
Georgia hosts professional sports teams, such as the Atlanta Hawks and Atlanta Falcons and there are several online sportsbooks out there that already have existing partnerships with Big League franchises around the United States.
Therefore, you would not be entirely surprised to hear that brands such as BetMGM, DraftKings, BetRivers, FanDuel, WynnBet, and PointsBet are possible license holders in Georgia. Many of these operators are already live in neighboring Tennessee which has a sports betting makeup that is very similar to Georgia's.
Of course, until a final sports betting bill or betting bills are passed, we can't exactly pinpoint what the legal sports betting landscape in Georgia is going to be like. Nevertheless, we feel very confident that the Peach State will be bringing professional and collegiate sports betting and enable mobile betting, as one of the greatest footholds for the success of any sports betting legalization move.
How Do We Pick Online Sportsbooks in Georgia?
Even now, there are already online sports betting options in Georgia, but they are put forward by offshore operators which have no official license to operate in the state, whether by the State Lottery or another entity that has been authorized to run legal sports markets. We recommend sticking with the online sports betting options that are recognized by the state.
In the absence of such, it's good to remember that you will soon be able to place legal sports wagers in Georgia, and the odds support the outlook that online sports betting will be the way Georgia chooses to legalize its sports gambling industry.
Here are several things we factor in when reviewing a sportsbook ourselves and why we believe that a legal online sportsbook has much more to offer than its offshore counterparts.
Legal Sportsbooks Are Safe
Even though regulators have slowed the effort to legalize sports betting in Georgia by a fair bit, these regulations are only there to protect consumers. We always insist on choosing the best options for consumers and sports fans who wish to bet in Georgia will do well to pick a licensed operator.
These sportsbooks are fully legalized, meaning they must meet specific industry standards that are built to preserve the consumer's well-being, financial information and shield vulnerable consumers from sliding too badly into reckless betting practices.
Endless Betting Markets
Enjoying a legal sports betting status allows sportsbooks in Georgia to be prolific in the way they put together betting odds, fixtures, and lines. You can find all major professional sports and college sports covered duly as part of a licensed sportsbook's offer.
Sports in Georgia are popular, but any licensed operator will make sure to offer sports wagering opportunities on every possible major contest the local sports fans may be interested in.
Quick Mobile and Remote Betting
You want to ensure that the service you get is up to snuff. The best way to do this is to go with a licensed betting operator which will make sure that it remains competitive and the best way to do that is to introduce a lightning-fast mobile betting platform, regulation permitting.
The majority of sports bets these days are placed remotely or/and through a mobile app, so the best way for an operator to stay competitive is to make sure that it meets the standards set by fellow sportsbooks.
Allowing online sports betting in Georgia is really bound to promote the market to where it deserves to be, both as a tool of collecting the highest possible revenue for the state and ensuring that residents have access to a well-honed sports betting platform.
Excellent Promotions and Bonuses
One thing that you will want to try legal sportsbooks for is their promotions. They may not often have the eye-watering numbers offered offshore, but the truth is that a legal sports betting operator will always provide you with slightly better betting odds, making it a much more enjoyable and reliable experience.
Licensed operators have to offer some excellent bonus offers that are fit to new and existing players and often cover specific events. Some are designed to be available for individual markets only, but overall, you can expect legalized operators to bring you the best bonuses.
Not only that, but the wagering requirements at a legal sports betting site are usually much better. You get a good bit of free bets and have plenty of opportunities to playthrough any requirement.
A Trustworthy Customer Service
If there is one way to ensure that you are having the best possible sports betting session, that is to stick with a legal sportsbook. One of the things we look into is customer support, and a legal sportsbook will usually feature all possible ways of communication, including live chat, email, and phone you can call for free.
We make a point of each sportsbook having customer support that you can depend on in case you need something elaborated very quickly. Do remember that customer support often sticks to business hours in Georgia.
What Betting Markets Are There in Georgia?
With the legalization of sports betting in Georgia nearing, you are probably wondering what betting markets there would be. Well, Georgia sports betting will surely be aiming at an all-encompassing experience that includes traditional selections. These markets may change a little depending on what professional sports you are betting on, but in essence, they remain some of the most viable markets to choose from, including:
Moneylines
Point Spreads
Totals
Parlays
Propositions
Teasers
Futures
In-Play
In-play betting is actually becoming quite important to the bulk of sports bettors out there. One of the reasons why this is has to do with the fact that the 5G network and new compression technology have made data feeds much nimbler and more dependable.
The upshot is that live betting is taking the world of sports betting by storm and Georgia sports betting is likely to follow in this trend and lean heavily to provide sports fans with sufficient in-play options to pick for themselves from.
How to Deposit and Withdraw Money from a Sportsbook in Georgia?
Once sports betting legislation is passed, you can rest assured that you will have access to quick and reliable banking options. You will be able to move your bets legally and at lightning-fast speeds, notwithstanding any processing times specified by the payment service provider.
A few years back, payment processors used to block an occasional transaction for fear of a new Wire Act Opinion that threatened to disrupt online sports betting, but this is in the past now. Presently, you can use a number of reliable payment options, such as:
Bank cards
E-wallets
Bank Wires
Cash at Cage
PayPal is now a widely recognized and popular way to make sports betting deposits or request withdrawals and you can expect no traction whatsoever. Bank Wires usually come with a small fee but that is a small price to pay for the added level of security you get.
Georgia will most likely legalize sports betting in conjunction with retail casinos or sportsbooks and this means that you would also be able to place a bet at the cage on-site if that is something you want to do. Betting in the state is likely to be versatile and cater to any taste.
Mobile Sports Betting in Georgia
Mobile is where the nation's action is. Wagers from around the United States are now predominantly placed on online platforms and via apps where this is possible. Revenue has been climbing up steadily as a result and that is precisely what Georgia sports betting should be seeking to implement during its next legislative session.
Just passing sports betting bills that allow in-person betting isn't enough. The legislature would have to come together and make it possible for residents to place wagers via apps as often as they like and without any physical restrictions.
There are several good examples in the country that a mobile betting market is not only more efficient, but it's also more successful in the long term. Currently, there is no opposition against remote betting in Georgia and that is good news.
What Teams to Bet on in Georgia?
While lawmakers are still trying to figure out a bill that would eventually lead to a law and legalize Georgia sports betting, the state has many sports franchises to speak of that have stoked sports passions for decades. It's a safe bet to say that these same college and professional sports teams will drive the action at the state's sportsbooks moving forward.
NFL Betting x Atlanta Falcons
The Atlanta Falcons are the state's proud representative in the National Football League. They are beloved state-wide and regardless of their performance, residents do rally behind their NFL team and support them in good times and bad. The Falcons respond in kind and they do their best every year to make sure that they deliver on sterling performance, albeit recovering from a rather tough 2020/2021 season.
NBA Betting x Atlanta Hawks
The Atlanta Hawks are another franchise that locals take seriously even though the Hawks have not had any major breakthrough since winning the 1958 championship. Well, regardless, the Atlanta Hawks excite quite a bit of interest and that is a fact. You will still see residents rally and bet on the Hawks and attend their games gladly whenever possible.
MLB Betting x Atlanta Braves
Not least, you have the Atlanta Braves. The franchise is doing well in Major League Baseball and that is precisely what is keeping them in the game today. They won their last World Series in 1995 and have had a bit of a tough spell. Nevertheless, the team does well overall and they topped NL East during the 2020 regular season, placing first with 35-25.
Georgia Sports Betting on NCAAF
Georgia has surprisingly well-developed college sports teams. The NCAAF has strong representation in the state through the Georgia Bulldogs who are considered the best team in the FBS and they are followed by none other than the Georgia Tech Yellow Jackets, another fantastic collegiate football franchise in Georgia.
Now, the status of college Georgia sports betting isn't entirely clear. With this said, things can go pretty much either way, as Georgia may allow college betting but then ahead prohibit betting in-state, so the Georgia Tech Yellow Jackets and Bulldogs would be off-limits.
However, enough legal momentum has been gathered nationally to prove that legalizing betting on college sports does not interfere with the integrity of competitions nor does it tempt individual athletes to be complicit with match fixes.
Daily Fantasy Sports in Georgia: Can You Bet DFS?
Yes. Daily fantasy sports are a go in the state of Georgia and they will naturally serve as a precursor to the full legalization of Georgia sports betting. Daily fantasy contests are accessible through the likes of established betting platforms, such as DraftKings, FanDuel, and Yahoo Sports.
The activity has been ingrained in the very fabric of gambling contests in the state, meaning that your DFS bets are safe now and in the future. What the state needs to do is build up on this trend and expand wagering options to regular sports markets
FAQ
Are DraftKings and FanDuel available in Georgia?
Yes. Both operators are currently available in Georgia. They run only as providers of daily fantasy sports betting markets, however, as regular sports betting is still illegal in the state.
When is sports betting launching in Georgia?
No date has been announced so far. Hopes are that Georgia may see legalized sports betting either in late 2021 or 2022.
Will there be mobile sports betting in Georgia?
Probably. There has been no vocal opposition against mobile sports betting in the state and lawmakers may look to include mobile betting text in any bill looking to legalize traditional sports betting contests.
Will players be able to bet online and remotely?
Hopefully. Online and remote betting are the biggest drivers of revenue and Georgia would do well to explore these options.
Is college sports betting going to be available in Georgia?
Probably. Georgia is big on college sports and the state is represented in NCAAF. Allowing in-state wagers on college betting may drive significant interest and handle. Georgia stands to benefit big time from legalizing in-state college betting.