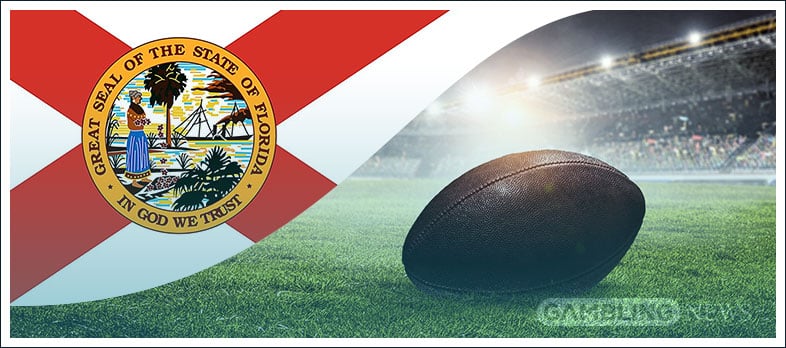 Sports betting in Florida remains as difficult to pinpoint as ever.
Sen. Jeff Brandes has spearheaded the latest legislative push for the state, introducing SB 392, 394, and 396 ahead of the 2021 session. So far, the Sunshine State remains on the fringes of America's push towards full sports betting legalization.
If anything, Florida sports betting is facing strong opposition from local bid players, and not least the Seminole Tribe who are ready to stand for their own interest. Therefore, any successful legislation regarding FL sports betting needs the blessing of the Native American stakeholders.
With 2021's legislative session just getting started, it's not unlikely to see renewed negotiations that could lead to legalized sports betting in Florida before long, and even in 2022. Yet, lawmakers, including Sen. Brandes will need to act quickly and navigate political subtleties.
When Is Online Sports Betting in Florida Going to Launch?
Predicting the exact date of a legal sports betting launch in Florida is a bit of a tall order. The state is home to 21 million people and as such, the industry is likely to enjoy very strong support from some and strong opposition from others. Most lawmakers hope that we would see sports betting legalized in 2021 or 2022 and launched by 2024.
Yet, to get there, lawmakers will have to work out a legal sports betting framework that is agreeable to the tribes. Here is what has happened so far and what challenges the state has experienced in legalizing in-person and online betting in Florida.
2018
Legalization pushes have been ongoing since 2018, but it's also the year when the Seminole Tribe assumed control over any changes to the existing gambling framework. Thanks to Amendment 3, the Native American tribe now holds the fate of sports betting in the state.
2019
In 2019, the Seminoles came head to head with Gov. Ron DeSantis. The tribe refused to pay an annual $350 million contribution to the state until a problem with player-banked card rooms in the state was resolved.
2020
Not caving into tribal demands, legislators said that they are prepared to break away completely with the tribes and seek closer ties with private companies. Sen. Brandes was there, pitching a bill that would have made Florida Lottery the official regulator for the state.
The bill failed to strike home and the Florida sports betting suffered a double whammy when the House Gaming Control Subcommittee passed a law prohibiting the state lottery from offering any betting contests based on sports betting.
Negotiations stalled and FL sports betting was once again an undefined, elusive dream. It later transpired that a new proposal authorizing the Seminoles to launch mobile sports betting in Florida was discussed, but nothing has happened since.
What to Expect for Florida Sports Betting in 2021?
Just like any new year, 2021 is filled with expectations. The breakup between the state and the Seminoles has had some time to settle down, and Florida's sports betting has a new shot at becoming a successful reality and not the elusive dream of the past few years.
The legislative session will last 60 days from March 2 through April 30 and decide on a range of issues, among which FL sports betting. Brandes bills so far seem to be the main and only legislation available to state legislators to discuss.
Private operators are again in focus as Sen. Brandes wants to see them take charge of the sports betting industry in Florida, at the expense of tribes. While this seems like a good arrangement for stakeholders, tribes aren't likely to relent in their opposition.
An estimated 90% of the Seminoles annual budget is generated through gaming and any expansion that endangers their livelihood will be fought fiercely. Yet, because of their refusal to work out a compact agreement with the state, the numbers of the Seminoles' political friends are thinning.
Another thing to consider is that because of 2018's referendum, Florida may find itself in a more difficult situation then states that have authorized sports betting unilaterally.
In other words, counties may choose whether to host gambling or outlaw it completely, making for a patchy industry, and far from the unanimous front Florida needs to successfully generate the most revenue out of the sports betting industry.
As we draw closer to the legislative session, answers may be soon presented, but the outlook for 2021 is still mixed.
Can I Legally Participate in Florida Sports Betting?
No, you can't. To legally participate in Florida sports betting is still not an option when it comes to traditional sports betting markets. This means that bets on contests such as March Madness, Stanley's Cup, the Super Bowl, PGA Tour events, and many other pivotal competitions are off-limits for Florida residents.
Wagering is authorized on other activities, however, such as horse and greyhound racing. Residents may participate in pari-mutuel wagering and they can visit cardrooms available across the state, or head over to a Native American casino.
However, traditional sports betting in FL is still restricted as negotiations continue and no legislative session has produced a definitive outlook for the future of the industry. In the meantime, you can visit any of the state's thoroughbred racetracks. Here are the state's premier venues:
Gulfstream Park
Gulfstream Park West
Tampa Bay Downs
Hialeah Park
Holy Bull Stakes
Fountain of Youth Stakes
All venues are equipped with all the necessary amenities to make your betting experience on horse racing fun. If you are dead set on betting legally, though, you may want to travel up to Mississippi, assuming you live close to the state border.
Latest Gambling News in Florida
What Sports Betting Venues Are Available in Florida
Presently, outside of the horse racing tracks, there aren't any casinos that allow any form of wagering. However, this may change. Below we have listed three likely candidates that may host sports betting in Florida sooner rather than later should a bill finally clear.
Seminole Classic Casino Hollywood
Address: 4150 FL-7, Hollywood, FL 33021
Phone: (954) 961-3220
Seminole Hard Rock Hotel & Casino Tampa
Address: 5223 Orient Rd, Tampa, FL 33610
Phone: (866) 388-4263
Seminole Brighton Casino
Address: 17735 Reservation Rd, Okeechobee, FL 34974
Phone: (800) 360-9875
Big Sports Venues in Florida
Sunny Florida is not just home to some of the best franchises in sports. It also hosts a big event or two that you would probably want to visit if you are in the state. Yet, you ought to check the schedule beforehand so you know when to take the trip over.
NASCAR Daytona 500
Daytona Beach hosts one of the biggest circuits on the NASCAR Cup Series with the Daytona 500 taking place annually at the eponymous Daytona International Speedway.
The Orange Bowl
The end of the college football season is crowned by several Mini Bowl competitions. Florida played host to The Orange Bowl held on January 2, 2021.
Want to Bet Out of Florida? Mississippi Is Your Next Stop
Since Florida sports betting is off the table, for now, some residents prefer to travel up north to Mississippi and bet on-site in Biloxi. However, getting there can be a bit of a drag, as the shortest journey between an urban center in Florida and Biloxi is still a few hours' drive.
The shortest drive you can make to bet on sports legally is 304.3 miles via I-10 from Tallahassee to Biloxi, and the journey takes 4.25 hours. Getting to Biloxi from Orland, for example, is almost 8 hours and covers a journey of 557.6 miles via I-10.
Evidently, making the long track up north is far from worthwhile if you are visiting to make a regular-season game wager. It may be worthwhile, though, if you decide to visit for the NFL or March Madness playoffs or place an interesting future on the PGA Tour, NASCAR, MLB, NBA, or any other major competition you would be interested in.
Florida Sports Teams Whom to Bet On?
While Florida sports betting is not online yet and it may be years before a legalized industry start up its engine, the Sunshine State is home to numerous sports betting franchises. They include the Florida Panthers, Jacksonville Jaguars, Miami Marlins, Miami Dolphins, and more. Other popular franchises are:
Miami Fusion
Miami Heat
Orlando City SC
Orlando Magic
Tampa Bay Buccaneers
Tampa Bay Lightning
Tampa Bay Rays
Tampa Bay Mutiny
Florida is represented in nearly all major competitions around the country, from the NFL to the NBA, MLB and college sports. Not giving sports fans the option to place a wager on their favorite sports franchise has long been criticized, but until the Seminoles and legislators find a way, betting on sports in Florida may have to wait a little while longer.
The good news is that thanks to the numerous highly-decorated sports organization, interest in sport, and by extension betting, is going to remain high while the big wait continues.
What Sports Are Popular to Bet on in Florida?
As established, Florida has a sizable portfolio of licensed sports organizations. Therefore, you will find the locals keenly interested in the NFL, NBA, MLB, NHL, and NCAA contests. Here are several sports Florida nurtures and enjoys.
NFL Betting in FL
The NFL is clearly one of the favorites here. With the Tampa Bay Buccaneers winning the 2020 Super Bowl with the oldest quarterback in history playing, the team has excited interest in the Sunshine State.
Other promising franchises include the Miami Dolphins and Jacksonville Jaguars even if they have struggled a little to catch up to the Buccaneers' recent successes. Once sports betting in Florida goes live, these three franchises should generate a solid betting handle!
NBA Sports Betting in Florida
When it comes to the NBA, Florida sports betting has a lot to offer or will do once the activity is legal. The state is home to the Orlando Magic and Miami Heat, both of which draw strong crowds.
Wagering on MLB in Florida
Florida is also home to Major League Baseball franchises and, while they aren't the league's most successful teams, they still command the respect of local fans. The Miami Marlins and Tampa Bay Rays are beloved local teams and they have their loyal following.
NHL Betting and Florida
You would think that sunny Florida would be the last place where you would look to bet on the National Hockey League (NHL). Well, think again because the Florida Panthers and Tampa Bay Lightning are the state's hockey teams, and they enjoy fair prominence in the league's structure.
Florida's College Sports Betting
College sports in Florida are well-established with the Florida Seminoles, Miami Hurricanes, and Florida Gators shaping up as strong powerhouses in football. Yet, college sports are some of the more contentious events, as some states ban them outright or exclude bets made on teams that are located in the state.
Mobile Florida Sports Betting: Would It Ever Be Possible?
With the Seminole Tribe shortly tapped to offer mobile wagering across Florida, rumors about the legalization of mobile sports betting have swirled. The benefits of allowing interactive mobile wagers are easy to spot.
Instead of driving to physical locations, Florida sports bettors can just place a wager on the go or from home. The experience from other states has indicated that sticking with mobile betting enables states to achieve much better results and avoid the impact of the pandemic.
Sports betting across the United States surged in the fourth quarter of 2020 despite disruptions caused by the COVID-19 outbreak. Mobile betting is the bastion of many sports betting industries around the United States already, and so legislators would need to pay special attention when they consider legalizing the industry in the first place.
Florida Sports Betting at a Glance
Sports betting in Florida is entering a fourth year where proponents of the activity have been raising their voices to see it legalized. Yet, more work needs to be done. The good news is that the Seminole Tribes may have withdrawn a previous objection to legalizing sports betting, and even mobile sports betting.
While who would end up owning the bulk of the operation is likely to be the subject of heated debates, Florida is looking up to sports betting. The state has the potential to be one of the top three places in terms of total sports betting handle, and this is likely to be the case indeed.
FAQ
Is Florida sports betting legal just yet?
No. Florida is entering 2021 with a busy 60-day legislative session. Yet, whether sports betting becomes legal in FL will depend on the outcome of this session.

The most likely legalization of the state's sports betting industry is scheduled for 2022-2024, assuming legislators and the Seminole Tribe come to terms.
Will I be allowed to participate in mobile sports betting in Florida?
Yes. Should mobile sports betting clear in Florida, everyone will be allowed to participate in it, so long as they meet the legal age to do so.
Are there legal alternatives to sports betting?
Yes. Florida allows to legally bet on horse and greyhound races. You may not yet bet on sports in the Sunshine State.
Should I consider an offshore sports betting site in FL?
No. All offshore sports betting sites are not recommended. While not technically illegal, they do not have the same level of consumer protection as do state-regulated sites.