BetRivers Sportsbook is a recognized provider of sportsbook options across the United States with deepening ties in the North American betting ecosystem. The company is present in nearly all regulated states and has signed numerous activation partnerships in other jurisdictions in the US that are on their way to legalizing sports betting.
With a localized online casino and sportsbook skin for each state it runs in, the BetRivers Sportsbook brings a dedicated sports betting experience through its mobile app, offering a neat gateway to the world of professional and collegiate sports.
BetRivers began its march towards prominence in the United States in 2018 when the first retail and mobile sportsbooks began launching in the re-regulated market. BetRivers became the first sportsbook to open in Illinois through its partnership with the Rivers Casino Des Plaines.
The company is running operations across numerous other sports betting states including Indiana, Pennsylvania, Colorado, Iowa, Michigan, and others, bringing a turnkey sports wagering experience to die-hard and leisurely sports fans.
All of this is complemented by the dedicated iRush Rewards program that adds a whole new level of immersion to your sports betting experience from the moment you join BetRivers Sportsbook. Find out more in our dedicated BetRivers Sportsbook below.
BetRivers Welcome Bonus
Amount: 100% match up to $250
Bonus code: 250MATCH
Playthrough: 1x rollover
Availability: 30 days after crediting
BetRivers runs a highly-customizable offer that varies from one skin to the next, and yet the sportsbook delivers impeccable quality across its large number of online portfolios. Players in all states that the website is up and running in can benefit from a welcome bonus. As of 2021, the bonus is worth 100% match up to 250% upon sign up and comes with easy-to-complete wagering requirements.
Sports fans must be of the legal age before they can register and bet, which is 21. The offer comes with a bonus code you must enter to activate the bonus as well. In this case, the bonus code 250MATCH. BetRivers has made the bonus offer very flexible, allowing you to bet on marquee players, head-to-head matchups, the margin of victory, multi-team parlays on outright winners, and more.
All wagering requirements that accompany the welcome bonus are usually listed in the bonus Terms and Conditions, making for an easy read and playthrough. The offer allows sports fans to get a flying start when they visit BetRivers Sportsbook and have sufficient additional funds to take a few more ambitious wagers.
There is no obligation to pick the full sum of the bonus, though. BetRivers is happy to match up any amount. If you deposit $50, you will end up with another $50, for a total of $100, which is already a great bankroll. If you do wish to pursue the maximum bonus amount, then deposit $250 straight up.
It's important to note that the bonus funds may take a day or two to be credited to your account. Once they are, you will have around 30 days to play through your bonus money. If you ask us, the welcome bonus is a great way to start your BetRivers online sportsbook journey. The bonus has a 1x rollover requirement.
BetRivers Promotions and Bonus Codes
BetRivers online sportsbook is a fantastic place to familiarize yourself with the way sports betting bonuses work. Most bonus funds and promos are easy to us bar a few minor caveats. BetRivers lists all of its active promotions in a dedicated part of the website, available both on desktop as well as on the mobile app.
You will have a quick way to navigate through all available options and choose those that are the best fit for your preferences. Owing to the dynamic nature of most sports contests, it's possible for the available bonuses to change rather quickly. Nevertheless, you will always be able to see what's up for grabs at any one moment.
First Deposit Offer: HAWK500
Apart from the traditional BetRivers bonus, the sportsbook often runs some ancillary promotions. In this case, sports fans may enjoy the $500 Free Bets BetRivers bonus that comes as part of their first deposit. To redeem this promotion, you need to use the HAWK500 promo code and deposit at least $50 or more.
The way the bonus works is it offers you twenty $25 Free Bets you can wager on single bets of odds of at least -200 or longer. Now, this is a specific promotion available in some states, and not necessarily available for the rest. Our BetRivers review focuses on analyzing the majority of promotions, but keep in mind that in some cases, you will have access to promos that are not described in this review.
In those cases, make sure to read through the playthrough requirements for the full rundown of bonus conditions and guidance. If in doubt, don't hesitate to reach to customer service for clarification.
Seasonal BetRivers Offers
BetRivers Sportsbook packs numerous promotions that are on around the time a major sporting league is about to kick off its new season. The bonuses you can get on early are actually quite worthwhile and offer you to take advantage of great coefficients that may boost your betting game in the long-term.
BetRivers has a unique BBALL promotion that gives you a 20% basketball Profit Boost on Mondays for the 2020/21 NBA season, and a 25% Profit Boost for NHL Opening Day and beyond. Odds boosts are a popular choice with BetRivers and the type of bonus that resonates well with the sports fandom.
BetRivers iRush Rewards & VIP
The iRush Rewards program is a serious way to enhance your experience when playing at BetRivers online sportsbook. A multi-tier offer with ten distinct levels and numerous advantages, this rewards program is designed to add value to your sports betting and casino experience.
Scaling through the levels comes with a bouquet of additional features designed to optimize your desktop and mobile betting experience as well as give you an extra incentive to visit the retail properties. So, what does it mean for you to tap into the iRush Rewards program?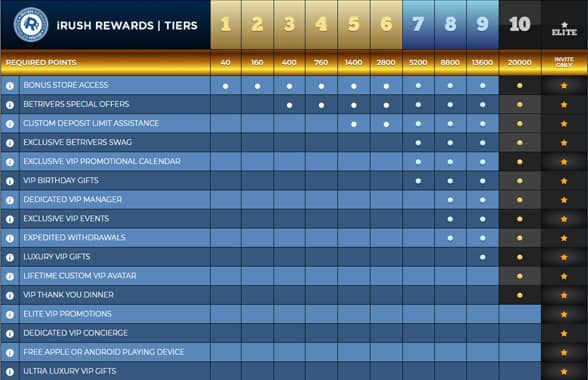 Fort the first six levels of the experience you will be eligible for Bonus Store Access, BetRivers Special Offers, and Custom Deposit Limits. Once you make it all the way to level 7, though, you will benefit from some serious upgrades.
The moment you turn level 7, you will be eligible for some significant experience boosters that will put many other online sportsbooks to shame. BetRivers will provide you with a dedicated VIP manager, Birthday Gifts, Exclusive VIP Events, Luxury VIP Gifts, and more.
All of the rewards on the list are designed to complement your sports betting experience and add to it in a way that makes BetRivers a well-rounded and entertaining brand. The VIP program is easy to use, and you will scale the tiers automatically.
You will benefit from the program for both your participation in the online casino and sports betting with the desktop and mobile app.
What States Is BetRivers Sportsbook Available In?
BetRivers has not been twiddling its fingers, expanding its online sportsbook footprint significantly under the guidance of Rush Street Interactive and well across the United States. Presently, the sportsbook is running shop in Iowa, Illinois, Colorado, Michigan, Indiana, Pennsylvania, and New Jersey among others.
The online sportsbook is tied to a brick-and-mortar partner in all states, but the skins are localized. So, you would play with BetRivers PA in Pennsylvania but BetRivers MI in Michigan. Finding the correct skin is not a concern of yours as the brand uses GeoComply, a solution that automatically finds the right sportsbook for you, saving you some of the hassles.
BetRivers Pennsylvania
Retail launch: December 2018
Mobile launch: June 2020
BetRivers made its debut in Pennsylvania in 2019, aided by Rush Street Interactive, the company's technological platform provider. The launch has been a success with a mobile app launched first for Android and then later for iOS, offering full market access to betting markets, bonuses, and VIP rewards. The sportsbook operates under BetRivers PA in the Keystone State.
The company's local partner, the Rivers Casino, has been able to complement the mobile betting experience with rewarding retail offers. The sports betting service at the Rivers Casino in Philadelphia is top-notch, and it immerses sports fans in a highly-rewarding and engaging betting environment. You'll find all the amenities you can expect from a proper retail venue if you choose to visit Rivers Casino in person.
BetRivers Indiana
Retail launch: September 2019
Mobile launch: October 2019
Rush Street hasn't lost any of that momentum, and it made sure that BetRivers is present in the majority of major sports betting states as they become available. In Indiana, the company teamed up with French Lick Casino to set up both retail shops as well as introduce the dedicated BetRivers app for additional options.
College basketball is a huge part of the Indiana sports betting landscape, leading to numerous opportunities for BetRivers customers. Possible teams to back during March Madness include Notre Dame Fighting Irish and Hoosiers, along with other talented, athletic outfits.
Apart from betting on NCAAB and NCAAF teams, though, sports fans have the opportunity to benefit from odds boosts in the state and pick any major betting market they might be interested in.
BetRivers Illinois
Retail launch: March 2020
Mobile launch: June 2020
Illinois is another big state in which BetRivers online sportsbook made a mark fairly recently. With the legalization of the industry in 2020, BetRivers didn't wait for log to gain an entry, once again backed by Rush Street. It was, in fact, the first sportsbook and mobile app to launch in the Prairie State, securing a decent market share ever since.
The company teamed up locally with Rivers Casino Des Plaines and ran under the dedicated BetRivers IL skin in the state. Originally, Illinois had a rule, similar to Iowa, that obliged all sports bettors to register in person before proceeding to mobile betting. Thankfully, the contentious rule has been scrapped, and participation and engagement have picked up.
Once again, BetRivers runs a generous $250 sign up offer accessible with the bonus code: 250MATCH. If you are looking for a great sportsbook in Illinois, BetRivers is it.
BetRivers Colorado
Retail launch: TBA
Mobile launch: May 2020
BetRivers didn't waste time or effort in 2020, bringing its offer up to speed in yet another crucial sports betting market. Colorado was a natural pick for the online sportsbook. BetRivers launched in May with the help of Rush Street, running a dedicated mobile offer without a land-based partner as of today. This has not stopped the sportsbook from offering cutting-edge sports betting opportunities.
In BetRivers CO, you can expect to find the same great $250 welcome bonus that will start your experience with a hefty bankroll and numerous opportunities to explore some of the finest sporting events.
BetRivers Iowa
Retail launch: TBA
Mobile launch: January 2021
BetRivers has no brick-and-mortar partner currently in Iowa, but this has not stopped Rush Street Interactive from launching a dedicated mobile sports betting experience and adding to the diversity of the state's wagering market.
The dedicated app brings numerous opportunities for wagering on sports to customers in the Hawkeye State, and it comes on the back of a decision to scrap the in-person registration rule, which reigned until January 2021. Once again, you can use the bonus code: 250MATCH to redeem a great welcome bonus as soon as you enter.
BetRivers Michigan
Retail launch: TBA
Mobile launch: TBA
Some exciting news is coming from Michigan, as BetRivers is readying to fire up its offer in the Great Lakes State. Bringing an A-grade mobile app and a flair for running sports betting markets, BetRivers is a highly-anticipated player in the state. The company even went ahead with a pre-launch offer, introducing a $50 in site credit ahead of its official start of business. The bonus applied to both the BetRivers casino and sportsbook.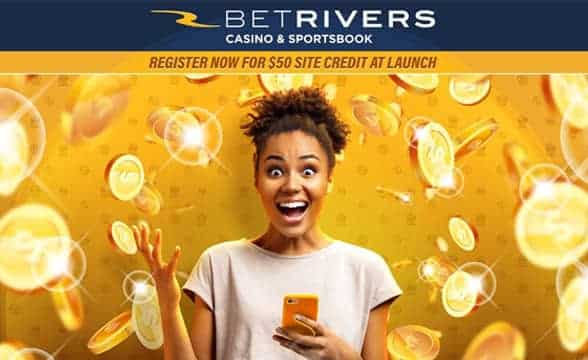 New Jersey
Retail launch: NA
Mobile launch: NA
Rush Street has not hesitated to enter the bastion of all American sports betting, New Jersey. The Garden State offers ample opportunities to sports bettors as exemplified by its constantly improving results so far as the sports handle goes.
Well, BetRivers is a fully-functional part of the sports betting landscape in the state and deservedly so. You stand to benefit from great BetRivers offers, including the traditional $250 welcome bonus. The app is available for both iOS and Android users, and all in all, BetRivers NJ is the core offer of the online sportsbook.
How to Start Betting at BetRivers?
BetRivers makes for a neat and quick experience when it comes to its sportsbook. Everything is intuitive whether you are accessing the sportsbook from desktop or mobile. The button is large so that the UI and UX feel familiar even if you haven't visited the website before. The sportsbook's familiarity is the result of careful market positioning by BetRivers, which has done its due diligence to create intuitive products.
To place a bet, all you need to do is navigate the myriad sporting events located on the left-hand side. You'll find numerous big sports you can bet on. Clicking on any of those will reveal what events, leagues, and competitions are currently available.
Make sure to navigate to the specific event you are interested in and click on the outcome you wish to back. This could be Moneyline, Spread, Totals, or something else, depending on what markets are currently available for this event.
Once you do, the BetRivers' Bet Slip will appear on the right-hand side and invite you to enter the amount you wish to bet. This will also come with a quick calculation of how much you stand to win back if you proceed.
Once you are done with this, you are good to go. You have placed your wager, and all that is left for you to do is wait for the outcome. In case you are betting on live sports, a popular feature with BetRivers, you can participate more actively and even withdraw your money before an event finishes. This sportsbook function is known as "cashout."
Available Betting Markets at BetRivers Sportsbook
BetRivers online sportsbook has clearly spared no effort in bringing you numerous viable betting markets. You will find yourself choosing from numerous opportunities to bet on favorite sports such as football, basketball, baseball, hockey, golf, tennis, martial arts, motorsports, Rugby League and Rugby Union, cricket, cycling, darts, Australian rules, handball, snooker, soccer, table tennis, and more.
To be quite frank with you, there is an almost overwhelming variety of sports you can choose from, whether you are at the Rivers Casino in Pittsburgh or accessing the website's offer through the dedicated BetRivers mobile app. In terms of events, you will find numerous opportunities to bet on.
BetRivers makes sure to cover not just all popular bet types, but also all big events that matter to sports fans. This means that NCAAB and NCAAF events are covered in their entirety, including March Madness and the string of college bowls for football.
You will be able to bet on the Kentucky Derby, U.S. Open, and Wimbledon, and needless to say, participate in various Super Bowl contests, NBA regular season and playoff games, and wager on The Masters. There is really something for everyone with BetRivers, and the sportsbook relies on both the variety and depth of the available markets.
Those of you willing to bet on UFC and boxing events can very well do so. NASCAR and IndyCar are similarly covered by BetRivers. There is a great variety of sports as well as bet types, including Moneyline, Spread, Player Props, Totals, and more.
How Competitive Are BetRivers Odds?
BetRivers offers are certainly worthwhile. The promotions are extensive and easy to use, and so is the online banking system made simple thanks to the company's operation in whitelisted jurisdictions. Yet, one thing that often plays a huge importance in sports fans' decisions on whether to pick one sportsbook over another is how competitive the odds are.
In this sense, there seems to be little to suggest that BetRivers' odds are anything, but some of the finest a sportsbook can offer. As numerous betting options proliferate on the website, we have put the available lines and fixtures to close scrutiny and were very happy with the results.
BetRivers keeps its odds on par with all available sportsbooks on the market. Naturally, some odds maybe a little better or a little worse, depending on the event. BetRivers uses its own dedicated algorithms to crunch numbers and come up with competitive fixtures that will make your next bet slightly more favorable.
Live Betting on Sports with BetRivers
A quick look through the BetRivers sports betting calendar will tell you that the sportsbook is running a busy schedule. Yet, there are many upsides to this, and specifically when it comes to the available betting options. In-play or live betting is touted as a fan-favorite as it allows you quite a bit of flexibility and a deeper level of engagement.
Naturally, BetRivers' desktop and betting app solutions support this type of market, and you will have numerous opportunities to bet in real-time on NFL, NBA, MLB, and all sorts of other games. The bets will naturally range, and many will cover player props or focus on quarters and half-time results.
The odds will change rapidly during live streaming betting, so it's good to know that the overall challenge you will experience betting live will go up as well. Nevertheless, BetRivers has many ways to make this more fun, and admittedly safer to sports fans.
You can bet on various outcomes, but the sportsbook will also offer you an opportunity to cash out your winnings half-way through on many occasions. You'll find numerous ways to balance between your in-play and pre-game betting, and the added benefit of having a live streaming option to launch games live is definitely a huge upside.
You can access live streaming both on the sportsbook app as well as on the desktop website. Which you prefer is down to personal choice really. In our experience, BetRivers' in-play markets are flexible and competitive, making for a great overall experience from a consumer standpoint.
BetRivers Sportsbook Payments
To simplify the process of online banking, BetRivers lists numerous deposit methods and withdrawal options. They all come in handy and ensure that you have great ways to manage your funds and bankrolls. Deposits are usually instant and most withdrawal methods BetRivers offers usually take a very short time to transact your money outside of the sportsbook. The deposit methods you may use include but aren't limited to:
Credit cards
Debit cards
Play+ Prepaid Card
In-person
PayNearMe
Not all of these banking options are available for withdrawal, but they add great flexibility. Some sports fans prefer to bet with their bank cards, as they are familiar and easy to use. Yet, others opt for slightly more secure payment methods such as a prepaid card.
In honesty, the payment options you get at Rush Street's flagship betting brand are all very safe. You will have no trouble transacting money to and from BetRivers, and if you did end up running in a pickle, customer service would always be there to sort you out.
These payment options are also available for the BetRivers Casino, which makes it even easier for consumers to change between game, betting, and other options. Pick the deposit and withdrawal options that make the most sense for you. You can claim the sportsbook bonus with any of them.
BetRivers Mobile App
A huge upside of the offer is naturally the app. BetRivers' betting app is a state-of-the-art solution that powers not just the mobile betting experience, but adds a whole new level of engagement and immersion. At a time when over 90% of sports fans choose to go after mobile betting, delivering a disappointing app is not really an option.
Aware of this, the BetRivers app is on-par with fans' expectations, offering great functionality, bonuses, an integrated live chat and customer support option, as well as access to numerous online sports betting markets. The BetRivers app will run neatly on your iPhone or iPad as well as any Android smartphone and tablet.
To make download simpler, you can find the app on the Google and Apple Store or simply download the Android installation file and start the process.
Is BetRivers Sportsbook Safe?
Yes, BetRivers is quite safe. In fact, the sportsbook is licensed by at least one regulatory authority in each state it operates, with over eight different skins now set up with the help of Rush Street. The betting site is constantly monitored by the regulator and bettors themselves can liaise with regulators and lodged complaints in case they suspect foul play.
However, BetRivers reputation remains sterling. The different websites use advanced secure socket layer (SSL) encryption technology and are vetted by independent third parties and the state regulator in each jurisdiction.
In addition, the sportsbook is dedicated to tackling problem gambling and complies with AML and KYC safety checks, such as varying your date of birth, name, and address to rule out illegal or fraudulent activities. Overall, BetRivers is a benchmark for safety in the wagering industry.
Customer Service
In terms of customer service and potential, BetRivers makes sure to provide customers with the highest degree of online sports betting experience. Customers are welcome to benefit from a reliable offer. In case you un in trouble, however, the website and betting app have dedicated customer service for you to get in touch with.
Customer support is always there to assist you through the dedicated Help Center. You may opt for various support options, including live chat, email or phone. Alternatively, you can visit a property in person, although this is admittedly a much lengthier process.
We recommend using the live chat as the quickest option that will provide you with quick results and an actionable solution.
Final Word: What We Make of BetRivers?
Out of the many online sportsbooks out there, BetRivers offers great real money betting options. The company is dedicated to delivering a bonafide experience to sports bettors of all hues. Players will find numerous opportunities to enjoy the wagering experience benefit from great bonuses and participate in live betting options. Our BetRivers review found no faults with the existing mobile betting, and we can confirm that BetRivers is on par with industry standards and therefore a worthy pick if you are looking for great online sports betting communities.
FAQ
Is BetRivers safe?
Yes, BetRivers is completely safe. The sportsbook is licensed by every state regulator in which it operates currently.
Do I need a BetRivers bonus code?
Yes, a promo code is available for all welcome bonuses across the different states in which BetRivers offers betting services. You may find a promo code or two for other bonuses that are part of BetRivers promotional portfolio.
Is BetRivers available in my state?
Probably. BetRivers is available in the majority of licensed sports betting states. Presently this includes Pennsylvania, Indiana, Illinois, Colorado, Iowa, Michigan, New Jersey, and others. New states are being added constantly.
Can I download a BetRivers app?
Yes, you may download the BetRivers betting app from the Google Play or Apple Store for Android and iOS devices, respectively. The apps are available for a more immersive sports betting experience. Alternatively, you can download the Android app directly from the website, too.
How old do I need to be to play on BetRivers?
21. You must meet the minimum age requirement and be at least 21 years of age to play in most BetRivers sportsbook skins. Some exceptions may become available across different states in the future.